Review: Pioneer Theatre Company's MISS BENNET: CHRISTMAS AT PEMBERLEY is Truly Enjoyable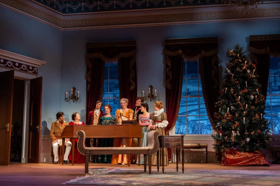 MISS BENNET: CHRISTMAS AT PEMBERLEY is a joyous delight of a holiday offering, deepening the story of the characters we know and love while offering a new romance to root for.
MISS BENNET: CHRISTMAS AT PEMBERLEY, by Lauren Gunderson and Margot Melcon, is a sequel to the cherished novel Pride and Prejudice by Jane Austen. When the Bennet sisters gather together to celebrate the holidays, they begin to see that middle child Mary has matured in ways they hadn't realized. However, they fail to notice the connection she is making with distant cousin Lord Arthur de Bourgh, who has arrived to share in the festivities.
There's no wonder why this play was one of the most produced in America last year. It is well-written, witty, and authentic to the language and characters of the original novel while spinning a new tale that is wholly engrossing on its own terms.
Mary is the star of this story, and Elizabeth Ramos plays her with verve, studiousness, and pent-up passion.
The affable men at Pemberley also light up the stage, including Jamen Nanthakumar as Arthur de Bourgh, Logan James Hall as Charles Bingley, and Greg Balla as Fitzwilliam Darcy.
At their side are Rachel Clausen as Jane Bingley and Jessica Naimy as Lydia Wickham, who wonderfully embody the iconic sisters.
Savannah Moffat and Emily Nash, seniors in the University of Utah's Acting Training Program, play Anne de Bourgh and Elizabeth Bennet, respectively.
The show is well staged by director Julie Kramer, with the movement natural and the relationships well drawn.
The scenic design by Lauren Helpern (Off-Broadway's SKINTIGHT) is majestic but warm, the lighting design by Michel Gilliam (Broadway's BONNIE AND CLYDE) is nuanced, and the period costume design by Susan Branch Towne is equally as skilled.
Jane Austen aficionados should purchase tickets posthaste. They will not want to miss this truly enjoyable show.
MISS BENNET: CHRISTMAS AT PEMBERLEY plays through December 15, 2018. For tickets, call the box office at 801-581-6961 or visit www.pioneertheatre.org.
Photo Credit: Cast of MISS BENNET: CHRISTMAS AT PEMBERLEY