BWW Interview: MEOW MEOW & Thomas Lauderdale of PINK MARTINI Speak About Their New Album and Upcoming Show at the Crest Theatre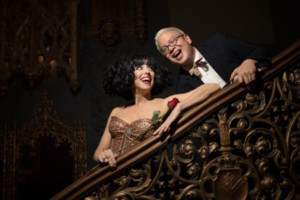 Two spectacular performers will be in Sacramento for one night only on March 19. Thomas Lauderdale, founder and bandleader of the Portland, Oregon-based Pink Martini and the vivacious cabaret songstress, Meow Meow, have combined their talents on one much-anticipated album. Sacramento will get to witness their special energy on Hotel Amour, which comes out on March 22. The duo was gracious enough to speak with BroadwayWorld Sacramento about the album, new projects, and what we can expect to enjoy this week.
Thomas, you went from a political career to leading a band! What caused such a divergent shift in your career path?
TL-The band came out of my political work. In fact, the first performances of Pink Martini were at fundraisers for civil rights, affordable housing, cleaning up the Willamette River, education, musical education in schools, libraries, public broadcasting. So, for the first several years our performances were really for progressive political causes. I kept thinking at some point that I would run for office, but 25 years have passed now, and it's such that the world of politics is worse than entertainment and much more unstable, crazily, and I have a mortgage to pay, and my band members are doing well and we're all able to pay for our lives so it would be absurd to think about running for office at this point. Maybe if my hands fall off and I have no feet and all I have left is my mouth then maybe I would think about going into politics.
MM-When I look at Pink Martini from the outside as a friend of the band, I think it's gone full circle and come back to becoming a very political thing just because of the harmony of its music and its musical choices and in a way a template for communication that I think is really frighteningly missing in ostensible political parties and the way that we are behaving politically.
Thomas and Meow Meow, who have been your biggest influences in music?
MM-I would say for me Nina Simone is a big one in terms of this sort of complexity in her voice. It's not a classically beautiful voice. It's ugly sometimes, it's grotesque, it's absolutely full of emotion, distress, elation, love, profound passion. Nina Simone is a big person for me in terms of the fact that one didn't have to have a totally beautiful voice and that beauty could be in agony, I guess. Incredible passion, I would say. Milva, a fantastic Italian pop singer. She's got a fabulously low voice and I count myself mainly as a baritone. Serge Gainsbourg is a big musical influence as well, I guess for speak singing and sex in music. There is a whole breed of vocalists from the 60's that I really love. People like Noel Coward. He's very cool jazz-band-playing Las Vegas and British extreme linguistic wit. I do love that Weimar period very much. I love the collusion with jazz and modern music from the 20's.
TL-Chopin, Liszt, Schubert, Beethoven, Gershwin. In modern times, Moondog, who was a homeless and blind composer who lived on the streets of New York dressed as a viking for several decades and stood at 6th or 7th Avenue in New York City. One of his last compositions was an album called Sax Pax for a Sax, saxophones for peace, and there is an apocalyptic moment which is an ode to the city of New York, the best song written ever about the city of New York. It's called "New Amsterdam", it's scored for 12 saxophones, one male chorus and one big bass drum, with simple lyrics that are very beautiful. Eden Ahbez, who lived for 30 years outdoors under the 2nd L of the Hollywood sign. He wrote the song "Nature Boy" that Nat King Cole made famous in 1947. Eden Ahbez lived with his wife and orange juicer under the Hollywood sign for 30 years and lived off the royalties of "Nature Boy" for his entire life and made an incredible solo album called Enchanted Island in 1960 or 1961, which is my favorite album of all time. In modern times I would say singers like Jimmy Scott, Rita Moreno, the soundtrack to The Sound of Music, Rufus Wainwright-he is a total genius, and ABBA. There are two new singers who we started working with in Portland, Oregon: Jamie Herrod, who has this sort of otherworldly voice of Jimmy Scott, and Edna Vasquez. She has all of this bravado and an incredible voice.
Meow Meow, you're currently filming Cats with Dame Judi Dench, Taylor Swift, and Jennifer Hudson. Can you tell us about this project and your role in it?
I can tell you it's been quite extraordinary. Sir Ian McKellen is in it, as well, Idris Elba, James Corden, quite an extraordinary cast, and beautiful dances from the Royal Ballet, New York City Ballet, it's quite something. My role is Griddlebone, who is quite a mysterious cat because she appears in different ways from the West End Version to the Broadway version and in this film she appears in a different way altogether, but the poetry of T.S. Eliot is wonderful and this is an iconic piece of musical theatre and it's quite special to be a part of the film. One of my most gorgeous moments was when we were waiting to shoot and everyone was hysterically tired. I played a song for Robbie Fairchild, who was a principal dancer with the NYC Ballet and is now starring in An American in Paris on Broadway and the West End and in Paris and is one of the lead roles in Cats the movie. I played him the duet that we have on our album with Rufus Wainwright and it was so heavenly, I can't quite describe it. He popped the headphones in and he was all of a sudden dancing around the set. It made me incredibly happy and I think that's the response that I like everyone to have to the album when they listen to it-you just can't help dancing. That track is so joyful and there's so much orchestral joy in that and, of course, Rufus' beautiful voice. It's all about the bittersweet joys of love, I suppose, so that would be one of my favorite moments of Cats that I can speak about because it's not directly about Cats, but something joyful that happened onstage.
Meow Meow, you've been referred to as a "post-modern chanteuse," which brings to mind Liza Minnelli as Sally Bowles. Once Cats is finished, will you seek out other musical theatre opportunities?
Yes, I just played Adelaide in Guys and Dolls with the Royal Philharmonic Orchestra at Royal Albert Hall and I've played Titania in A Midsummer Night's Dream at Shakespeare's Globe for the best part of the year. The next one I'm doing is Seven Deadly Sins, which was a satirical ballet from 1933. It's a big political condemnation of the middle classes. I love doing these things as well as singing in a band with my music and orchestras.
Thomas and Meow Meow, your debut joint album, Hotel Amour, releases on March 22. How did you two end up collaborating on this?
MM-We met years ago, which was thanks to Christy Edmonds, who was at that time the artistic director of the Portland Institute for Contemporary Arts. She had seen me performing In Dublin at the festival and said she needed to bring me to the West Coast of America and there was a composer that I must meet, and it was Thomas. She brought me to Portland to play in her festival, I met Thomas, we fell madly in love and that's where it really all began. I then invited Thomas to play with me at Sydney Opera House and he said, "Why don't we write a couple of songs? We should make a little EP for the Sydney Opera House tour." This was 10 years ago, so we just had a couple of amazingly creative days where we went into a flurry of songwriting and recording everything. Over the years when we've gotten together we've kept writing and recording together. It's been a long process of sporadic bursts of hyper hysterical activity and of course we've honed a lot of the songs because we've performed them over the years around the world. We've asked some of our favorite people to come sing on the album, as well.
One of the featured artists on this album is the von Trapp family. I'm sure this gets mentioned a lot because so many of us grew up entranced with The Sound of Music! Is the real family as magical and musically talented as they are portrayed in the movie?
MM-Yes, yes, yes! Differently so, they are their own identities, of course, but they are seriously one of the most beautiful, special souls. TL-They're everything you hope the von Trapps will be and quite a bit more. MM-There was a project when Thomas said to me, you must get on a plane and meet the von Trapps. I got on a plane and came and met them and they are really special angel people in my life. The track that we recorded is very tender, it's the end of the album. August is a really amazing songwriter and I ended up commissioning him to write a number of songs for me. He's just got something like a strange mixture of the von Trapps and folk songs and 60's pop. There's something very unique about their particular take on music and sounds. An exquisite harmony. Everyone should have the von Trapps in their life.
To people who are not familiar with your sound, how would you describe your new album?
MM-The sound is like songs from the 20's, 30's, 40's, 50's, and contemporary songs that we've written, so it's quite an eclectic sound. It's quite a precious gem, I think. Some of the songs are just clever, others are huge orchestra but each song is a little precious gem whether it's a cover or the original songs we've written. "Hotel Amour", the title track, is very much heart and soul, agonizing, beautiful. I hope they're pleasurable to listen to. I think they're very real and immediate but there's magic about them. It should be a sort of journey into beauty and friendship. That's what that musical collaboration is.
You come to the Crest Theatre in Sacramento on March 19 and I have read that we can expect shenanigans in a Thomas Lauderdale/Meow Meow show. What do you have in store for your excited fans in Sacramento?
MM-Well, there are always shenanigans because I'm a great fan of the torch song but I'm also very happy to sing a political song while doing the splits or with my pants on my hips so I'm known as a tragic comedienne and I can never control which bit of me is seen as hilarious or tragic and really I just put it all out there and the audience can decide. It's quite a special combination and we've got beautiful musicians and I think it's a musical treat and, let's face it, a visual feast, as well.
Tickets to see Thomas Lauderdale and Meow Meow are available at www.crestsacramento.com. The Crest Theatre is located at 1013 K Street in Sacramento.
Photo Credit: Preston Thalindroma
Related Articles View More Sacramento

Stories

Shows