Photos: Westchester Broadway Theatre Presents 13
Westchester Broadway Theatre presents 13 from May 15 to 22, 2010.
Evan Goldman, a thirteen year old boy, moves with his newly divorced mother from New York City to Appleton, Indiana, during the year of his Bar Mitzvah. Evan agonizes about fitting in with the "cool" kids and getting them to come to his celebration, while finding himself torn between them and Patrice, his quirky and not so popular new friend. Like kids everywhere, they suddenly have to survive classes, navigate cliques, hang with the right crowd and be "cool". In 100 song-filled minutes, 13 is their provoking, engaging story, told with contagious energy and humor with all-teen performers and a teen band
This production is directed by John Fanelli, produced by Diane Bradsell, Choreography by David Arzberger and Musical direction by Michele Deangelis.
The cast are all members of Protégé, the senior company of The Lighthouse Youth Theatre. Protégé are talented and hard working teens who want to develop their skills in all aspects of the theatre. They are required to take acting, dance, music and other theatre-related classes to improve on all of their abilities. They are also responsible for being part of the production team, working on costumes, playbills, sets, props and all things theatre. The Lighthouse Youth Theatre, located in Thornwood, was created in 2006 by artistic director John Fanelli. LYT produces three full scale productions annually, and runs two performing arts camps.
The Cast: Lily Allen (Chappaqua), Alex Bradsell (Bedford),Trevor Carr (Ridgefield CT), Justin Corsillo (Ridgefield, CT), Jeffrey Crowley (Croton-on-Hudson), Ashley Dassa (Mt. Kisco), Carly Dieck (Katonah), Kaitlin Ferrara (Tuckahoe), Stephanie Ferraria (Mt. Kisco), Kira Goidel (Mohegan Lake), Marissa Heintzman (Pleasantville), Conner Ives (Bedford Hills), Matt Kirby (Ridgefield, CT), John Anthony Loffredo (Katonah), Gregory Markert (Katonah), Mary Kate McGetrick (Mt. Kisco), Carly McLam (Ridgefield, CT), Yanni Metaxas (Katonah), Lauren Moore (Mt. Kisco), Carolyn Savoia (Ridgefield, CT), Allie Short (Ridgefield, CT), Rebecca Simpson-Wallack (Briarcliff Manor), Matt Stout (Dobbs Ferry), Tim Stout (Dobbs Ferry).
The Live Teen Band: Chloe Arnow, Tim Bland and Kevin Crowell (all from Bedford Hills) and John McDermott (Pound Ridge).
For more information please call Lighthouse Youth Theatre at 914-741-4205 or visit: info@lytshows.org
Saturday, May 15th and 22nd
Served lunch at 12 Noon & 1:30 pm Show.
Tickets range from $35 to $70 Plus tax for Lunch & Show
Call The Box Office at (914)592-2222
Group Discounts for Parties of 15 or more: (914) 592-2225

For more information, visit www.BroadwayTheatre.com
Photos by Gene Moore


Cast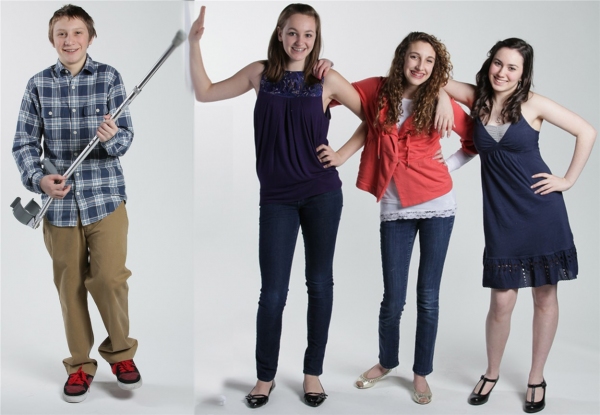 Justin Corsillo, Carly McLam, Allie Short, and Carolyn Savoia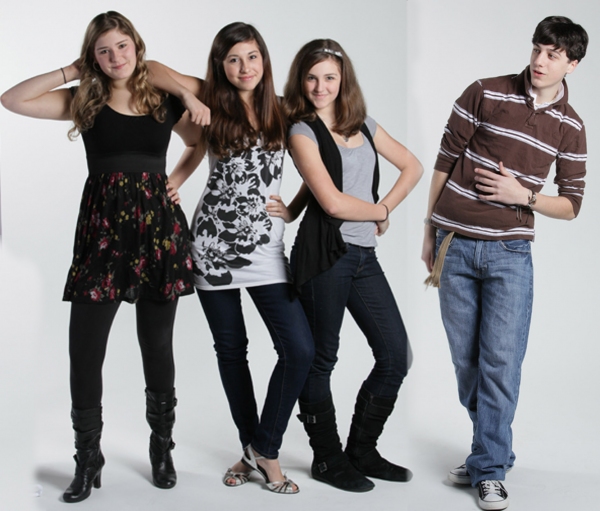 Kira Goidel (Mohegan Lake), Ashley Dassa (Mt. Kisco), Carly Dieck (Katonah) and Jeffrey Crowley (Croton-on-Hudson)