Interview: Joe D'Urso of ROCKLAND / BERGEN MUSIC FESTIVAL at German Masonic Park, Tappan NY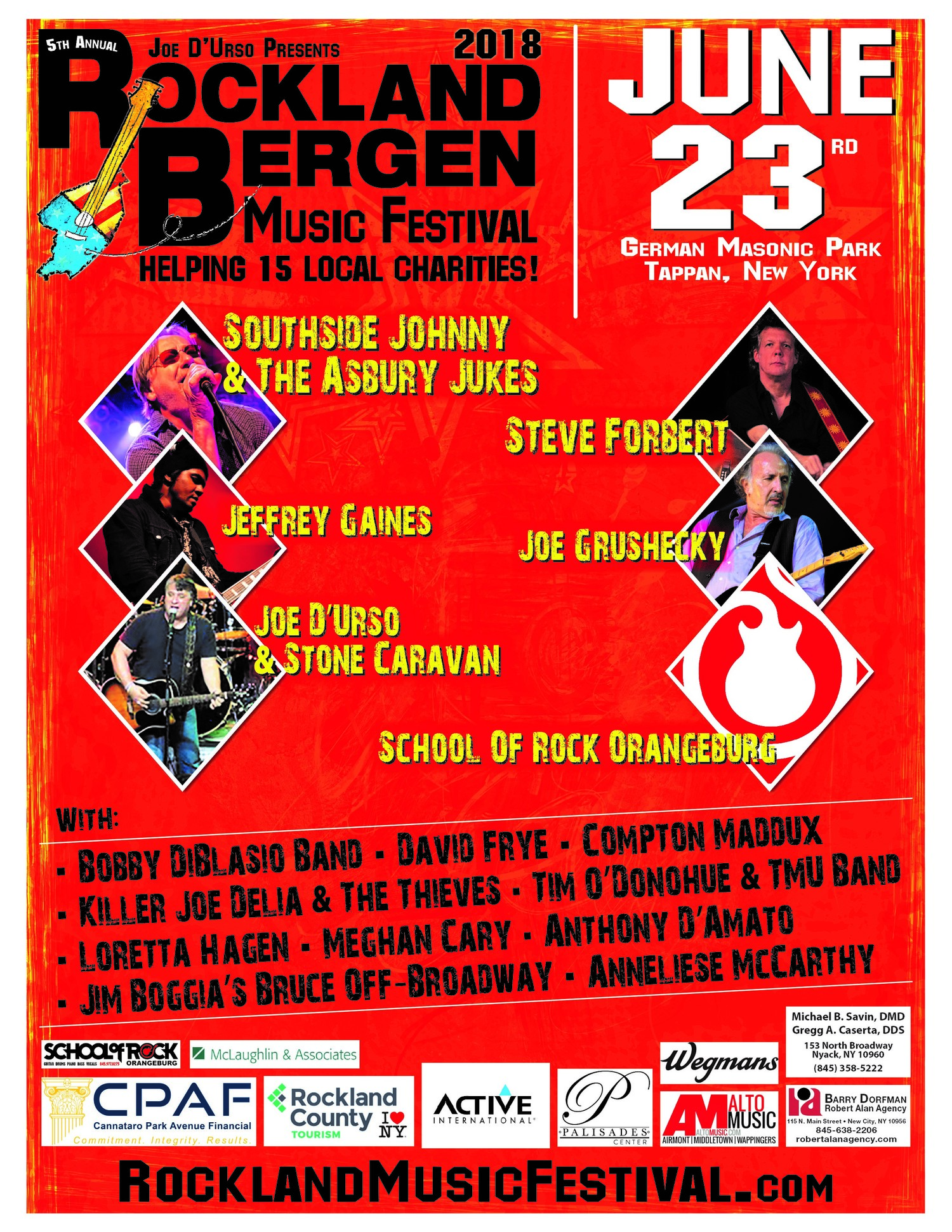 Joe, tell us a little bit about this year's festival.
The RBMF, now in it's 5th year, is a small roots music festival that highlights singer-songwriters, working musicians and roots rock bands from the original music world. It's kind of like an "anti-festival" from what we have gotten used to here in the States which packs people and charges lots of money for tickets, parking and food and beverage. I really dislike those events and so when I started the RBMF it was time for me to put my money where my mouth was so I worked with each food and beverage vendor. We have large craft beer for $5! Parking is $5! Waters are $2! Quality food by Noco Catering of Tallman, NY and healthy (vegan and vegetarian as well) from True Food of Nyack, NY and a ticket price that allows you to see 16 live performances (no overlapping sets) from anywhere from $40 to $50 depending on when you have purchased your ticket. The RBMF was put together with the mindset of putting the "music fan" first, as well as the performers as we treat everyone with the respect that I would personally like when I go to an event. Hosting this Festival once a year is a labor of love and allows me the opportunity to see my small "dream festival" come to life.
This venue is very unique. Sort of the ideal space for a festival.
German Masonic Park in Tappan, NY is such a throwback type venue. You just don't find places like this everyday. From it's large field and covered pavilion to it's shaded "village area" it really makes for a relaxing setting plus it has a bathroom building which makes many festival goers happy that they don't need to visit a port-a-john! I also have a very long love affair with Tappan as I was raised and schooled there as a child and my father still lives in the house where I was raised. It's also a very beautiful hamlet with deep American history/roots as it was one of George Washington's headquarters during the American Revolution and has the oldest tavern in America (The '76 House). We will be hosting the last event of the Festival on Sunday, June 24 with a Bluegrass Brunch from 11am-2pm.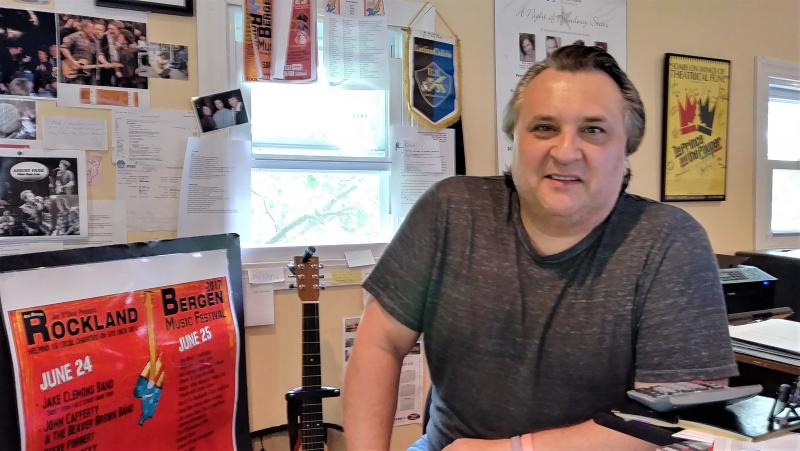 Who are some of the past artist that have performed at the festival?
I have been very fortunate to book a good handful of Grammy Award Winners (Shawn Colvin, Tom Chapin, Joe Grushecky), Rock & Roll Hall of Fame members (Jorma Kaukonen, John Sebastian, Vini Lopez/E Street Band), Legendary Musicians (David Johansen, Garland Jeffreys), great Americana songwriters (Steve Forbert, Willie Nile, Marshall Crenshaw, Greg Trooper) some of the best live touring bands (Southside Johnny & The Asbury Jukes, The New Riders of The Purple Sage and John Cafferty and The Beaver Brown Band) as well as some great talented working musicians (Jake Clemons, James Maddock, Jesse Malin, Jeffrey Gaines, Anthony D'Amato, Guy Davis, John Eddie, Aztec Two Step, Professor Louis & The Crowmatix, Ben Arnold, Hollis Brown, Jesse Terry as well as many other regional and local songwriters/musicians).
Who are the headliners this year?
This year we have 16 headliners on Saturday, June 23rd as I look at every artist as a headliner as when they are performing at RBMF they are the only thing that is going on at that moment so RBMFestival goers can see every performer over the course of the day as we have no overlapping performances: Southside Johnny & The Asbury Jukes, Steve Forbert, Joe D'Urso & Stone Caravan, Joe Grushecky, Jeffrey Gaines, School of Rock, Bobby DiBlasio Band, Killer Joe & The Thieves, Loretta Hagen, Meghan Cary, Anthony D'Amato, Tim O'Donohue & TMU, David Fry, Compton Maddux, Anneliese McCarthy and Jim Boggia's Bruce Off Broadway.
We also have two concerts as part of the RBMF at The Turning Point in Piermont, NY and those shows, on Friday night June 22 and Saturday night June 23 will host (over two nights): Erin Elkins, The Wonderful Wino's with Vini "Mad Dog"Lopez, Joe D'Urso & Stone Caravan, Slippery Chickens, Joe Grushecky and Joe D'Urso's Acoustic Excursion
Tell us about the charitable/human interest side of the festival:
I truly believe this is where we differ from any festival in the country, if not the world. Through my association with Active International's Joe Allen, we will host and highlight 15 "not for profit" organizations on site. Each of these groups do not have to pay any fee to be on site, they each receive a nice donation from Active International via RBMF, they can raise funds on site and give out information about the work they do and hopefully make connections and bring in more people to help them with the work throughout the year and their Cause. I jokingly refer, getting all these folks involved, to my "Harry Chapin/Pete Seeger inner-self erupting"!
The "mission statement" of the Rockland-Bergen Music Festival Mission Statement reads: RBMF's mission is to bring great music to the beautiful areas of Rockland and Bergen counties area while raising awareness and consciousness of many organizations that are doing great work in various fields of health and humanity and have them be discovered and supported by music fans.
I've been in the music business since I was 22 years old (luckily, I worked at the legendary music agency Premier Talent right out of college for 10 years) and I will be turning 54 years old on June 24. I know this method to putting on a music festival is very unusual and certainly not easy but I thought to myself, "If I was going to put in all this effort and time why would it not be for the very things I have always cared about? Why would I choose this event, in the town where I grew up, where my aging father still lives, a town where my mother is buried, to not bring to life the very things that have kept me good company on this path I've chosen over the past 32 years and that has been: "real" music and charitable groups. Folks with the live hearts and the live minds..."
Any particular special moments you recall from prior years?
A few come to mind right away: watching Willie Nile stand off to the front of the stage and looking up like a kid as John Sebastian performed in a downpour and then finding out it was John's/Lovin' Spoonful's "Darling Be Home Soon" that made Willie go and buy a guitar as a kid. Knowing the RBMF was one of the last Festivals that the wonderful Greg Trooper performed at and him thanking me backstage for inviting him. We had met in 1996 when I supported him on a few shows in the north of Italy. Closing the show last year with me in between Jake Clemons and Jeffrey Gaines and all three of us singing "With A Little Help From My Friends". Having Jorma Kaukonen join The New Riders Of The Purple Sage for an electric guitar set/jam before performing his beautiful, closing acoustic set for the festival. Watching bass player Johnny Pisano stand on speakers about 25 feet off the ground and hoping insurance would cover any mishap! Seeing David Johansen drive his car past where the performers park in the backstage "village" almost right up to the back of the stage and him looking out the window and yelling "Hello Joseph" with a huge Cheshire Cat smile. Then one of my college interns turned to me and said "I don't know who that guy is but he is definitely a Rock Star! No truer words may have been spoken that weekend! The wrap up jams at The 76 House and having almost every artist who performed one year go to The Turning Point, in a incredible evening downpour, and perform again for free. I remember being really touched as some of those same performers gave me back their performance fees that day knowing that the rain took a huge toll on the box office and attendance. That is not the norm in the music business but neither is the RBMF...
Where can folks get tickets? - www.RocklandMusicFestival.com and www.Ticketfly.com
BWW.com would like to thank Joe D'Urso for taking the time to chat with us! Tickets are available now.
-Peter Danish