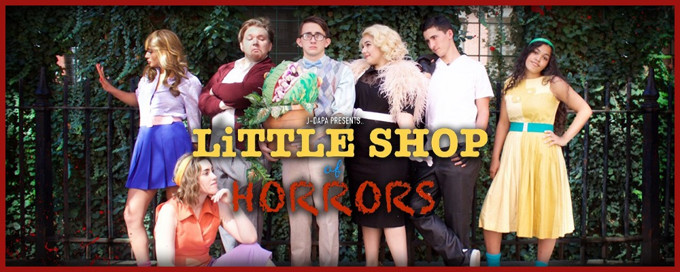 Little Shop Of Horrors at Johnston Dance & Performing Arts (J-DAPA
Dates

10/24/2019 - 10/26/2019

Theatre


345 Cherry Hill Road
Johnston, 02919
Facebook Instagram

Tickets Info

$13.00 online, $15.00 at door
Phone: (401) 944 - 4866




Don't feed the plants! "Little Shop of Horrors" has been capturing audiences since its original broadway casting and movie debut over thirty years ago. After a "total eclipse of the sun," Seymour Krelborn discovers a "strange and interesting plant," dedicating the name "Audrey II" to his co-worker crush, Audrey. After continuously feeding the plant over time and receiving everlasting fame for his unique find, Seymour realizes that Audrey II is out for much more "blood" than intended.

The Audrey II has recently been found outside of Johnston High School, and Johnston Dance & Performing Arts is ready to open up Mr. Mushnik's newly renovated flower shop on the big stage. Get into the Halloween spirit by coming to see JDAPA's production of "Little Shop of Horrors," running October 24-26th at 6:30 PM! Don't miss out on this rock, horror comedy. #FeedMeJDAPA #JDAPAOnSkidRow

PRODUCTION INFORMATION:
• https://www.facebook.com/events/734588300287745/ or www.j-dapa.org.

"Little Shop Of Horrors" (PG-13)
Directed by: Donna Cordeau-Tellier
Johnston Dance and Performing Arts (J-DAPA)
345 Cherry Hill Road Johnston, RI 02919

October 24, 2019 @ 6:30 PM
October 25, 2019 @ 6:30 PM
October 26, 2019 @ 6:30 PM

Tickets: $13.00/online, $15.00/door (on sale to public Monday, September 30th @ 6:00 PM).
https://www.tututix.com/client/j-dapa/

• FOR OUR SATURDAY SHOWING ONLY, we will be offering a pre-production deal in the JDAPA Café for $25.00/ticket, including preferred seating, a three-course dinner & the performance.

**All online ticket sales will end at 10:00 PM the night before each performance.

Little Shop Of Horrors is presented through special arrangement with Musical Theatre International (MTI), including all authorized performance materials.