Click Here to Visit the College Center

Blogs are the opinions of the authors and do not necessarily reflect the opinions of BroadwayWorld. BroadwayWorld believes in providing a platform for open and constructive conversation.

Student Blog: The Best Advice I've Gotten from Musicals
As we approach the end of the semester and finals, here is a list of some of my favorite motivational quotes from musicals.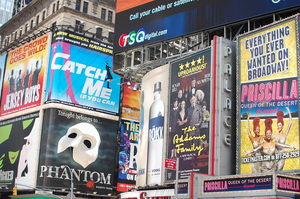 Are the last few weeks of the semester getting you down? Here are some of my favorite motivational quotes from musicals:
1. Today at least you're you, and that's enough -Dear Evan Hansen
2. The things we do today will be tomorrow's news -Newsies
3. Sometimes what's meant to break you makes you brave -Mean Girls
4. You can like the life you're living. You can live the life you like. -Chicago
5. You're gonna change the world and then we're all gonna brag -In the Heights
6. You can conquer every challenge. You can face each stepping stone-- Be the hero of your story. -Big Fish
7. Just because you find that life's not fair, it doesn't mean that you just have to grin and bear it. -Matilda
8. The sun will come out tomorrow -Annie
9. Don't just sit and take it, stick it to the man! -School of Rock
10. One: Pursue the truth. Two: Learn something new. Three: Accept yourself and you'll accept others too! Four: Let love shine. Five: Let pride be your guide. Six: Change the world when you change your mind! -Kinky Boots