Photo Flash: Burning Coal Theater's 1960
Burning Coal Theatre Company, a small professional, theatre based in Raleigh, North Carolina will conclude its 2008/2009 season with the world premiere of 1960, written by Ian Finley and the Burning Coal Theatre Company, directed by Jerome Davis, Burning Coal's Artistic Director. The production runs April 9 - 26, 2009 at Meymandi Theatre at the Murphey School, 224 Polk Street, Raleigh, NC. Performances are April 9 - 11, 16 -18 and 23 - 25 at 7:30 pm and April 12, 19 and 26 at 2 p.m.
All performances are Thursdays through Saturdays at 7:30 pm and Sundays at 2pm. All tickets are $20 or $15 (students, seniors 65+ and active military personnel). Thursday night tickets are $10 apiece accept for the opening night gala on April 9, which is $30 (includes drink, hors d'euvres, cake and coffee with the cast afterward). We also have $5 student rush tickets available 5 minutes before each performance. The first Sunday of the run, April 12th at 2 p.m. will be the 'Pay What You Can' performance. The first Saturday, April 11th at 7:30 p.m. will be audio described for the visually impaired. For further information, please contact Burning Coal's managing director, Simmie Kastner, at 919.834.4001 or visit our website at www.burningcoal.org.
In the summer of 1960, the Raleigh City School Board met and voted to begin the desegregation of Raleigh City Schools. That September, a seven year old African American student began the second grade at the Murphey School. He was the first black student to attend a white school in Raleigh. This series of events capped off a years-long battle that began with the passage of Brown vs the Board of Education. Burning Coal company members have gone out into the community and interviewed people who were among the participants in the civil rights movement. Playwright Ian Finley has then crafted from many interviews and hundreds of hours of research a play that takes us on a whimsically poignant journey to the heart of that distant time.
About the Playwright. Ian Finley is education director for Burning Coal Theatre Company. He holds an MFA in playwriting from NYU and an undergraduate degree from the University of Utah. He has been published and has had productions of his plays in six states, including New York, Florida, Utah and North Carolina. His past work includes a series of "Oakwood Plays" about the bizarre and wonderful people now buried in the Oakwood cemetery whose lives once graced or scandalized Raleigh. Other members of the Burning Coal company, including Jen Suchanec, Sherida McMullan, Morag Charlton, Jerome Davis, Lynn Guglielmi and others contributed to the writing of the play through interviews with surviving participants of the civil rights movement or their children and research into the civil rights era.
About the Director. Jerome Davis is Burning Coal's founding artistic director. His work for the company includes Hysteria, The Prisoner's Dilemma (American premiere), Hamlet, Rat in the Skull, Pentecost (twice), Winding the Ball (American premiere), The Steward of Christendom, The Weir, Night and Day, Inherit the Wind, and others. He has worked as an actor with Trinity Rep in Providence, Philadelphia's People's Light & Theatre Company, the New Jersey Shakespeare Company, Wellfleet Harbor Actors' Theatre, Columbia University, the MINT, 29th Street Rep, Soho Rep, Phoenix Theatre and the Barrow Group. He has worked with or studied with Ellen Burstyn, Ben Gazzarra, Adrian Hall, Richard Jenkins, Steve Harris, Amanda Peet, Hope Davis, David Wheeler, Ralph Waite, Nikos Psacharapolous and Julie Bovasso.
ABOUT THE CAST & CREW. The cast of 1960 includes Jade Arnold, Jackson Bloom, Ann Cole, David Coulter, Emelia Cowens, Joan J, Warren Keyes, Khy'ri McKenzie, Greg Paul, Aaron Wright, Jackson Bloom, Tara Polhemus, Al Singer,
Olivia Wells and Kaimy Masse. Lighting design by Christopher Popowich of Pittsburgh, PA, set design by Simmie Kastner or Cary, NC, properties by Lauren Sexton of Raleigh, costumes by Kelly Farrow of Raleigh, musical
director Julie Florin of Raleigh. Choreography by Amy Murphy of Raleigh.
Photo by the Right Image Photography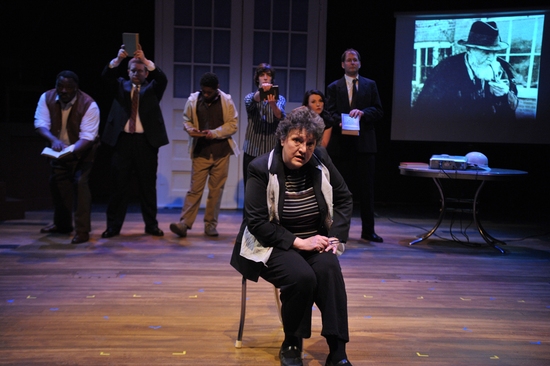 Jan Morgan

Ann Cole

Olivia Wells and Mimi Cowans

Mimi Cowans and Aaron Wright