BWW Review: THE WIZARD OF OZ National Tour at North Carolina Theatre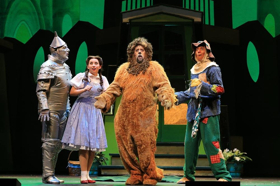 Based on Victor Fleming's 1939 film musical of the same name as well as L. Frank Baum's 1900 novel, The Wizard of Oz (of course) follows Dorothy Gale, a young girl who lives on a farm in Kansas with her dog, Toto, until a cyclone arrives, picks up her house, and blows them away to the land of Oz. Things in Oz are strange and beautiful, but Dorothy just wants to go home. She's helped by the Good Witch of the North, but she's also in trouble with the Wicked Witch of the West, who seeks revenge for the death of her sister; the Wicked Witch of the East, for which she blames Dorothy.
This stage adaptation first debuted in London at the Royal Shakespeare Company in 1987 after the then-artistic director, Terry Hands, asked for a show that could be performed annually over the Christmas season. Since then, the show has been performed by schools, community organizations, and regional theatres all over the world. This production that's currently playing at the Raleigh Memorial Auditorium through March 18th is actually a nonunion national tour.
The adaptation by John Kane is pretty straightforward, though it does face the challenge of adapting a 100-minute film into a live stage show. For one, he's able to elaborate on the already established plot where necessary, even offering some nice additions that weren't in the MGM classic. Though there are a few moments that did kind of overstay their welcome. Not to mention that I felt the pacing could've been handled better (especially for a family-oriented show where kids could easily lose their attention after a while).
Though under the direction of Dean Sobon, there is a wonderful cast of performers that should keep audiences invested. Kalie Kaimann as Dorothy Gale gives a performance that really makes you care for her throughout the show. Her three companions in Oz are perfectly portrayed in this production with Chris Duir as the brainless Scarecrow, Christopher Russell as the heartless Tinman, and Victor Legarret as the Cowardly Lion. As the story's classic antagonist, Emily Perzan is wickedly spunky as The Wicked Witch of the West.
Overall, this nonunion tour isn't the best stage production of The Wizard of Oz that ever was. While the production values are fine, they're not exactly first-rate, though there are still some dazzling special effects. I think the most that this production has going for it is a talented cast and some nicely staged musical numbers by Amy Marie McCleary.
For more information regarding the tour, please visit:
https://nctheatre.com/shows/wizard-oz
https://wizardofoztour.com/