Review: JERSEY BOYS National Tour at North Carolina Theatre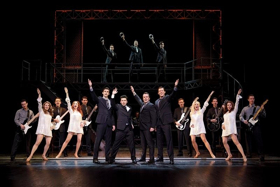 Jersey Boys is presented in a documentary-style format that dramatizes the formation, success and eventual breakup of The Four Seasons. When I last met up with these boys, it was during their return engagement at DPAC back in 2015. Since then, the Broadway production celebrated its 10th anniversary, closed up shop, and is now running Off-Broadway at New World Stages.

As for this national touring production that's currently playing at the Raleigh Memorial Auditorium through November 18th, it's in great shape! Book writers Marshall Brickman & Rick Elice have both done an excellent job of structuring the musical as four 'seasons', where each member of the group narrates their own perspective of the story. Yet, through it all, we the audience get to watch Frankie Valli go on a journey from a naive 16-year-old boy to a more mature adult.

With that benefit, each actor who plays one of The Four Seasons gets their own opportunity to shine under the direction of Des McAnuff. Actor Jonny Wexler does a terrific job in the role, even showing off himself as a real triple threat. Not to mention that when he sings, he sounds a lot like the real Frankie Valli. Corey Greenan is perfectly cast as tough guy Tommy DeVito, who was the one that first took young Frankie under his wing, teaching him everything he knew. Eric Chambliss is very charismatic as songwriter Bob Gaudio, who was the one that came up with the sound for The Four Seasons. Jonathan Cable is very good as bass player Nick Massi, who was the one who helped Frankie with his vocal training. Together, they all do an enthusiastic job performing the hit songs to Sergio Trujillo's energetic choreography.

Great storytelling? Check. Great musical performances? Check. With both of those ingredients, what more do you need? With Jersey Boys, you should be in for (oh) a night out to remember.
For more information regarding the tour, please visit:
https://nctheatre.com/shows/jersey-boys%20
http://www.jerseyboysinfo.com/tour/