Tour Scottsdale Public Art With Cycle The Arts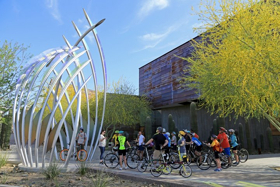 There's no better way to experience a portion of Scottdale's immense public art collection than through the annual Cycle the Arts, coming up Sunday, April 14, in south Scottsdale.
Scottsdale Public Art and the City of Scottsdale present this free public art tour via bicycle every April during Valley Bike Month. The tour offers participants the chance to see multiple sculptures and other public artworks around south Scottsdale, all while getting in a leisurely, 10-mile bike ride.
"Cycle the Arts is a great way for residents of Scottsdale to learn the stories behind the public art they see every day around town or to discover pieces they might not have known existed," said Kevin Vaughan-Brubaker, public art manager for Scottsdale Public Art. "Each stop on the ride features either the artist who designed the piece, a board member who approved the piece, or a staff member who managed the piece to share in-depth information and answer questions from riders."
Vaughan-Brubaker said Cycle the Arts is also a great way for visitors to enjoy Scottsdale's urban desert setting and to learn more about the various destinations throughout the city.
Check in is at 8:30 a.m. April 14 at Western Spirit: Scottsdale's Museum of the West, 3830 N. Marshall Way. Among highlights on this family-friendly ride are "Diamond Bloom" by artist Curtis Pittman and the towering "One-Eyed Jack," one of the newest additions to the Scottsdale Public Art collection, by artist John Randall Nelson.
A special aspect of this year's ride is a stop at artist Kevin Berry's "Tributary Wall," which is celebrating its 20th anniversary. Additionally, Gerd Wuestemann, president and CEO of Scottsdale Arts, will be joining the ride and speaking about exciting plans for renovations at Scottsdale Civic Center Mall.
Participants will follow an experienced ride leader as they check out the City's system of bike lanes, paths and amenities-all of which have earned Scottsdale a Gold Bicycle Friendly Community rating by the League of American Bicyclists.
Susan Conklu, senior transportation planner for the city, said she enjoys coordinating Cycle the Arts in conjunction with Scottsdale Public Art because it combines two of her passions - art and bicycles - in one event.
"I like meeting bike riders who are just learning about public art for the first time, as well as friends of Scottsdale Public Art who may be newer to bike riding in Scottsdale," Conklu said. "We mix them all together in small groups on an easy-paced ride that includes ride rules at the beginning to teach safe biking operations."
This south Scottsdale route is the only ride offered this year and should be finished by noon. Helmets are required. All children must be accompanied by an adult. And all riders should remember to bring water.
Although Cycle the Arts is a free event, RSVP is required. Visit ScottsdalePublicArt.org/events for more information.
Scottsdale Public Art is a branch of Scottsdale Arts, a nonprofit organization that also includes Scottsdale Center for the Performing Arts, Scottsdale Museum of Contemporary Art and Scottsdale Arts Education & Outreach
Related Articles View More Phoenix

Stories

Shows
More Hot Stories For You