Photo Flash: Valley Youth Theatre's Charlotte's Web, The Musical Opened Friday Night to a Sold-out House
Charlotte's Web, The Musical spun onto the Valley Youth Theatre (VYT) stage Friday, October 7 and performed a toe-tappin', hand-clappin' production to a sold-out house.
Pull on your boots and come on over to Valley Youth Theatre! Take a front row seat at the Zuckerman Farm, home to all the fun and unforgettable animals from E.B. White's beloved classic children's story. Meet a friendly spider, named Charlotte, who teaches a cute piglet, Wilbur, who is doomed to become bacon, the true meaning of trust, sacrifice and real friendship.
Experience what David Appleford, of Valley Screen and Stage, calls a real "treat." Appleford says, "as with many of the plays and fairy-stories presented at VYT, the theatre continually helps keep traditional imaginary tales alive, at a time when electronic toys, gadgets and games have increasingly replaced old fashioned, fun story-telling as a form of entertainment." Appleford continues, "what a treat it must be for a child to be introduced to Fern, Wilbur and Charlotte for the first time, live on stage at a theatre, especially when it's done as well as it is here, at Valley Youth Theatre."
Charlotte's Web The Musical features a talented cast of young actors from all across the Valley ranging in age from 7 to 18-years-old. Featured cast members include Corinne Niezgodzki of Phoenix in the title role as Charlotte; Albert Johnston (Tempe) playing Wilbur, Ella McDade (Phoenix) as Fern Arable, Andy Wissink (Phoenix) as Templeton, Justin Morre (Avondale) as Homer Zuckerman, Riley Schor (Tempe) as John Arable, Jared Barbee (Goodyear) as Gander, Emma Dabill (Scottsdale) as Goose, Taryn Landis (Glendale) as Sheep, Vivian Nichols (Chandler) as Lamb and Riley Thornton (Gilbert) as Lurvy.
Rounding out the cast of Charlotte are many talented, up-and-coming entertainers playing all kinds of fun farm animals, farmers and ensemble characters.
Directed by Valley Youth Theatre's Producing Artistic Director, BoBB Cooper, Charlotte's Web is the second production of VYT's 28th Season. It runs October 7, 2016 through October 23, 2016. Performance days and times are as follows: Saturday(s): October 15 & 22| 12:00pm & 3:30pm;Sunday(s): October 16 & 23 | 12:30pm & 4:00pm. Ticket prices are $18 not including fees. Charlotte's Web is presented at Valley Youth Theatre, 525 North First Street Phoenix, AZ 85004. For more information or to purchase tickets call the VYT Box Office 602.253.8188 or visitwww.vyt.com
Established in 1989, Valley Youth Theatre (VYT) is an award-winning, professional quality, 501(c)(3) non-profit theatre dedicated to helping young people achieve their full potential through meaningful engagement, education and excellence in the performing arts. Alum include celebrities such as Emma Stone, Jordin Sparks, Kimiko Glenn, Chelsea Kane, Charity Dawson, Krystina Alabado, Max Crumm, Nick Cartell and many others. VYT is the winner of nearly 100 National Youth Arts awards, voted "Best Star-Making Machine" and "Best Live Theater" onazcentral.com, heralded as "Best Place to Take a Bow" by Phoenix Magazine and rated one of the "Top Ten Places to Become a Future Star" by The Arizona Republic. VYT produces six main stage shows each season including two at the Herberger Theater Center. For more information, visit VYT.com or call (602) 253-8188.
Photo Credit: Eric Ochoa


Corinne Niezgodzki (Charlotte) and Albert Johnston (Wilbur)

Andy Wissink (Templeton)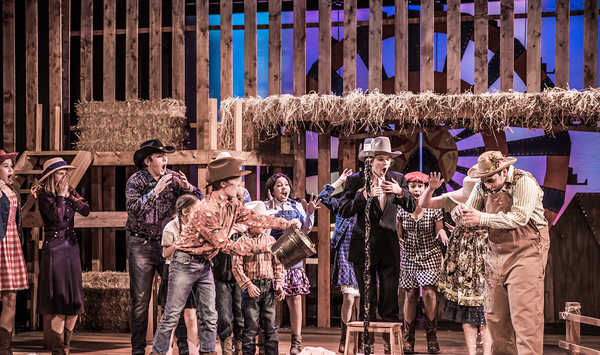 Charlotte's Web Cast

Albert Johnston (Wilbur)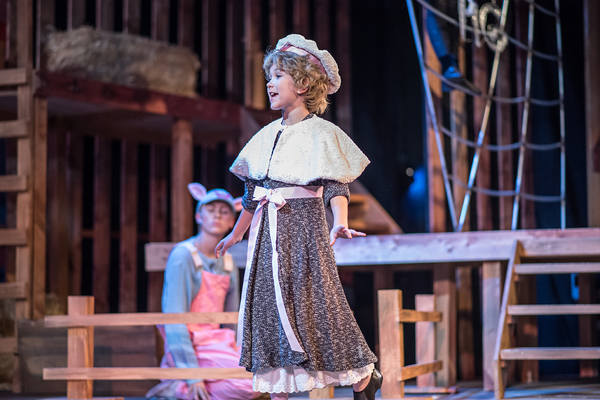 Vivian Nichols (Little Lamb)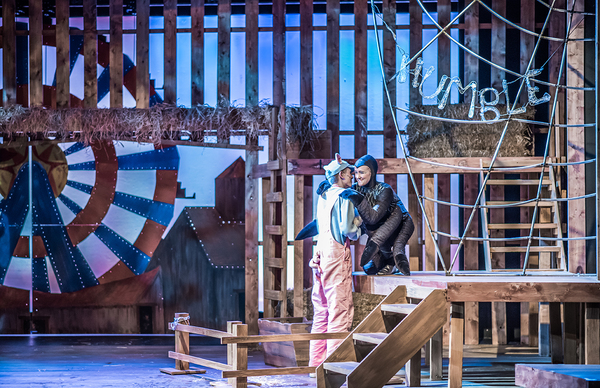 Corinne Niezgodzki (Charlotte) and Albert Johnston (Wilbur)
More Hot Stories For You