Photo Flash: FOOTLIGHT FRENZY At Pheonix Greyhound Park 8/28-11/15
The Copperstate Dinner Theater At Phoenix Greyhound Park is pleased to announce the opening of the comedy Footlight Frenzy. The show plays August 28 through November 15, 2009.
Footlight Frenzy will play at the Copperstate Dinner Theater, 3801 E. Washington inside the Phoenix Greyhound Park. Performances are Friday & Saturday evenings dinner 6:30, curtain 8:00, with Sunday matinees with dinner 12:30 and curtain 2:00. The ticket price for all performances is only $39.95 per person which includes dinner and the show as well as tax and gratuity.
Dinner is a sit-down service, not buffet, with a choice of four delicious entrees: prime rib, grilled salmon filet, teriyaki chicken breast, and vegetable lasagna. Meals come with side dishes, salad with choice of dressing, rolls and butter. Appetizers, desserts and beverages are extra. A full bar is available. Reservations can be made at (602) 279-3129. In a desperate attempt to save their bankrupt "School for Unusual Children", an inexperienced PTA group valiantly mounts an ambitious benefit play, written by a has been Broadway director. His near hysterical direction and the group's questionable talent turn the production into a shambles. Everything that can go wrong does as the scenes shift back and forth from the real tribulations of the performers to the play they are "performing", and it is hard to tell which is sillier. This is fast and furious theatrical fun of the first order, with us watching the fun from the "back" of the stage! Anyone who likes 'Noises Off' will love Footlight Frenzy. Footlight Frenzy is written by
Ron House
,
Diz White
,
Alan Shearman
and Bud Slocumb. The show is based on "Fleeting Moment' by House, White, Shearman, Mark Blankenfield, Brandie Kemp and Mitchell Kreindel.
The Copperstate Dinner Theater production of Footlight Frenzy is directed by Copperstate's Producing Director Peter J. Hill. The cast includes Noel Irick, Jessica Godber, Sean Owen and Peter J. Hill.
For more information and to purchase tickets, call (602) 279-3129 or visit
www.copperstatedinnertheater.com
.
Photo Credit: Copperstate Dinner Theater

Sean Owen as Johnny Chicago, Roger Prenger as Uncle Julian, Noel Irick as Addie Starr, Jessica Godber as Gwendolyn Vandermorgan and Charlie LeSueur as Chas Courtney

Sean Owen as Johnny Chicago and Jessica Godber as Gwendolyn Vandermorgan

Sean Owen as Johnnt Chicago and Roger Prenger as Uncle Julian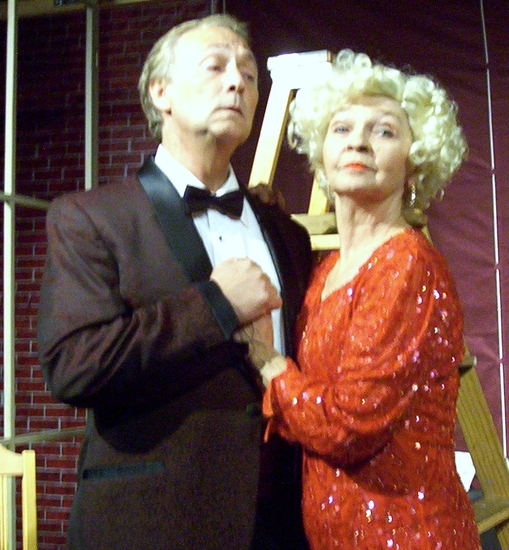 Charlie LeSueur as Chas Courtney and Noel Irick as Addie Starr