BWW Review: The Sedona International Film Festival Presents ONE DAY HOME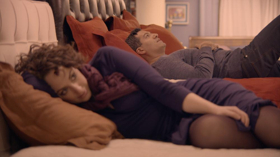 ONE DAY HOME, screenwriter and actress Rebecca Louise Miller's debut as a filmmaker, is a touching and sensitively executed allegory about hope. What may, at first glance, appear to be a short comedic film about "mattress shopping" is instead an exhortation to spring back from life's disappointments and to move forward.
Miller stars in the film, delivering a rich and emotion-laden performance as Frida, a divorcee (downcast still twenty-six days after "losing her ring") shopping solo for a mattress during a one-day department store sale. Her sharp expressions and body language convey a woman forlorn and wrapped tightly in grief.
Cinematographer Autumn Eakin's camera captures Frida's mood in vivid detail. The feeling of Frida's loneliness and drift is palpable and in marked contrast to the images of one after another of happy couples snuggling while sampling mattresses.
When Miguel (Frank Harts), a low-pressure and affable salesperson, asks Frida if she's shopping only for herself, the sting intensifies. He understands and leaves her to test a spring coil mattress, remarking presciently, "When you find the one, you'll know."
Frida dispenses of her coat and finds momentary release from her tension as she unwinds and writhes atop the bare mattress. (Miller reveals great depth and reach in her performance.)
Meanwhile, another lone shopper, Adam (Alfredo Narciso), gravitates to an adjacent mattress.
Thus begins a casual but restrained exchange about the differences between coil and foam and the proper amount of time required to test a mattress ~ because, after all, a mattress is the most important purchase one can make!
The conversation evolves as side by side Frida and Adam begin to share perspectives and personal information. For example, in a charming and witty tete-a-tete, Frida confesses to having chronically cold feet, thus explaining why she is wearing (mismatched) socks.
As Frida and Adam connect with each other, they are surrounded by messengers of possibility. Like angels in their midst, each expands upon Miguel's earlier proposition, subtly and not so subtly, exhorting Frida to let go of the past and take a chance on romance. (After all, this is a store that the staff calls "Vegas!")
Another clerk (Catherine Curtin) takes note of their compatibility, assuming that they are already a couple. To accentuate the point, one half of a decidedly happy couple (Michelle Hurst) who sees the budding attraction between Frida and Adam, declares, "Waiting for the right time is a prescription for a wasted life!" Frida is urged to close the deal and get Adam's number.
The question is whether Frida and Adam will seize the moment or let possibility pass by. In a film whose arc toward this question's answer has been deftly directed by Drew Denny with the added benefit of a superb cast, ONE DAY HOME is an enchanting and smile-inducing paean to hope and optimism.
ONE DAY HOME was one of the featured short films at this year's Sedona International Film Festival.
Still credit to Autumn Eakin
Sedona International Film Festival ~ https://sedonafilmfestival.com/ ~ 928-282-1177
Mary D. Fisher Theatre, 2030 W. Highway 89A
Festival run: Saturday, February 23rd through Sunday, March 3rd.
Programs continue year-round.
Related Articles View More Phoenix Metro

Stories

Shows