BWW Review: Greasepaint Youtheatre Presents URINETOWN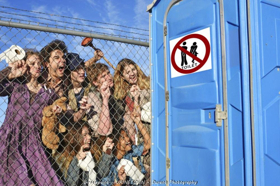 If you're looking for a good-natured satire on the excesses of capitalism, you're-in-luck with URINETOWN ~ the Mark Hollmann and Greg Kotis musical that riffs on a draconian vision of a pay-to-pee society.
In the wake of a twenty-year drought, private toilets have been banned and the use of public toilets is rationed out for a fee imposed and regulated by Urine Good Company (UGC). (In this show, it's the puns that freely flow!) Violations of the restrictions are punishable by exile to a fearsome and mysterious place called Urinetown. As is the inevitable case with all oppressive regimes, (think Les Mis!), heroic rebels rise to reclaim their freedom, love blooms, ramparts are breached, and there's some collateral damage.
If you're looking for a high-spirited rendition of the musical, look no further than the stage of Greasepaint Youtheatre where a stellar cast of young actors is delivering a wicked pissah (i.e., really great) performance. Their characters are so finely defined and crisply portrayed, a tribute not only to the talents of these teens but also to the astute and attentive guidance of the highly accomplished actor and director Bob Sorrenson.
As Officer Lockstock, the show's co-narrator and UGC's regulator, Justus Popken strides the stage with a manner that hovers midpoint between that of Officer Krupke and a Keystone Kop.
Liv Boscardin is a jewel as Penelope Pennywise, the officious and stern overseer of Public Amenity #9, where the pee-needy wait helplessly in line with bladders that ache to be free.
Preston Kersting is outstanding as both singer and actor in his portrayal of Bobby Strong, Pennywise's assistant, who breaks his chain of subservience when his dad, "Old Man" Strong (Ethan Drew), pees at will and is carted off to Urinetown. Now the romantic lead and carrying the banner of insurrection, Bobby is Prince Valiant or Robin Hood or whichever swashbuckling hero comes to mind in charge of the resistance.
Rebellion is the price to be paid for the pound-foolishness of UGC's avaricious executive, Caldwell B. Cladwell, played with sinister panache and evil glee by Raymond Cusick. This guy knows how to squeeze every last bit of wit out of a line or gesture.
With another nod to classic Broadway musicals, the play gives Bobby a kindred spirit in the form of (strike a note of irony!), Cladwell's daughter, beautiful and blonde Hope. Alyssa Granger is charming, first as the loyal and unwitting first daughter and finally as Bobby's eyes-wide-open heartthrob.
Of course, there has to be a waif, a street urchin that sees with a child's eye the truth of the streets. Benny Cowans plays that role as Little Sally with a sweet innocence that is immensely engaging.
Each of these performers ~ indeed, the entire ensemble ~ exudes palpable energy and enjoyment in their roles. They are explosive, particularly when they unite around Madison MacDonald's vibrant choreography ~ no more so than in what is a standout moment of song and dance explosion ~ the show-stopping performance of Run, Freedom, Run. It is the expressive, robust, and infectious cry of freedom! For which, a standing O is well-deserved.
URINETOWN THE MUSICAL runs through February 24th at the Historic Stagebrush Theatre in Scottsdale.
Photo credit to Laura Durant
Greasepaint Theatre ~ https://greasepaint.org/
Venue: Stagebrush Theatre, 7020 East 2nd Street, Scottsdale, AZ
Box office: 480-949-7529
Related Articles View More Phoenix

Stories

Shows
Herb Paine is President of Paine Consulting Services, now in its thirtieth year of operation, specializing in organizational development, strategic planning, turnaround management, mergers, and (read more...)