BWW Review: THE CURIOUS INCIDENT OF THE DOG IN THE NIGHT-TIME at Walnut Street Theatre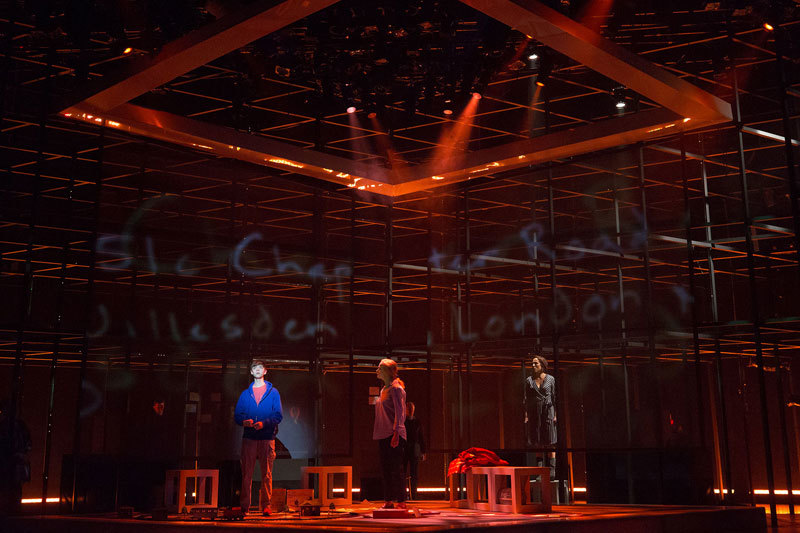 When I was a kid, The Curious Incident of the Dog in the Night-Time was always perched at the top of my bookshelf, saved in that place where only the best, most life-changing books are stored.
The novel is told from the perspective of Christopher Boone, a 15 year old kid bursting with curiosity, creativity and genius. He also happens to be autistic. His voice in the novel was so essential and so cleverly written that when I heard my favorite first-person book was being turned into a play, I couldn't help but wonder how it would affect how Christopher was portrayed.
When the lights went up at Walnut Street Theatre's The Curious Incident of the Dog in the Night-Time, my worries dissolved almost immediately. It's true, Christopher no longer narrates his own story, but his voice and all its nuances gleam through in Ryan O'Gara and Christopher Ash's artful lighting and projection design.
When he's angry, the lights go bright blood red. When Christopher is overwhelmed, they're neon yellow, supported with projections of T.V. static. And when he's thinking, the lights turn into a sea of twinkling stars, as awe-inspiring and inexplicable as the cosmos themselves. Along with a minimalist set by Roman Tatarowicz, the stage is transformed into Christopher's brain, and you get just as sucked into his perception of the world as you would reading the book.
When supplemented by dance-like stage choreography by director Bill Van Horn, you're left with a production in which every scene appears picture perfect. You get the same feeling watching this show as you do when you're hiking and reach the summit: disbelief that you have this brilliant of a view.
Populating this ethereal scene is a stellar cast that puts their all into it. Real-life high schooler Austin Nedrow (Christopher) is so believable and respectful as the autistic hero, and brings so much feeling into the role you have no choice but to root for him. Nedrow is truly star-material, or as Christopher -- an aspiring astrophysicist who can't understand metaphors -- would put it, burning helium and hydrogen.
Ian Merrill Peakes (Ed, Christopher's dad) can usually be seen playing more hysterical character roles, but brings honesty and genuine love to the role of a caring father who wants his son to reach his full potential. Peakes doesn't check his comedy at the door for this drama, and introduces some hilarious line readings that are a much-needed break from the complicated story.
The rest of the cast totally fits the bill for the group of quirky characters Christopher meets through his journey. If everyone else could master comedic timing as well as Peakes (and the Walnut could get a British dialect coach) this would be a perfect production.

The Curious Incident of the Dog in the Night-Time runs until April 28, and tickets can be purchased HERE.