BWW Review: Philly Pops SINATRA AND FRIENDS
Music Director Michael Krajewski has re- created a splendid homage to Frank and his Rat Pack! Sinatra and Friends features the talented Michael Andrew and Ashley Brown, Broadway's Mary Poppins, Beauty and the Beast, and The Sound of Music Live! Sinatra staples like "My Way" and "You Make Me Feel So Young" will pair with Dean Martin's "Everybody Loves Somebody", Sammy Davis Jr.'s "That Old Black Magic", and Liza Minnelli / Sinatra blockbuster "New York, New York".
The Pops are in stellar form as always and the audience is excited and prepped for yet another wonderful tribute to Ole Blue eyes and Andrew does not disappoint. His croon is still swoon worthy as he cranks out Sinatra favorites "I Get a Kick Out of You", A lovely medley of "Fly Me To the Moon", "Come Fly With Me" and "The Lady is a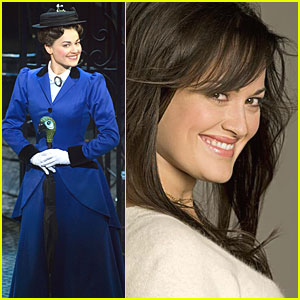 Tramp". The Pops offer a robust "Mack the Knife". Cue the entrance of Broadway's Ashley Brown who floors the crowd with Liza Minnelli's "Maybe This Time". Brown did not just 'feed the birds' but raised the rafters with a shockingly powerful performance andvoice. She also treats the crowd to a highly stylized
version of "Ring Them Bells".
The second act brings back Andrew for Dean Martin's "Everybody Loves Somebody" followed by "Ain't That a Kick in the Head". Maestro Krajewski playfully infuses variations of Sinatra's "All or Nothing at All" as performed in three different era- styles of music, followed by the Pops "Air for Oboe and Strings" a 1945 piece conducted by Frank Sinatra. Then the magic happens when Ashley Brown is brought back to send the pipe organ hiding for cover as she turns in the most powerful female version of "My Way" proving her instrument just as powerful as the 67 pieces accompanying her. The crowd is immediately on their feet and in her hands!
A Frank and Dinah (Shore) medley is sung by Andrew and Brown including "You Make Me Feel So Young", "Them There Eyes", "Taking A Chance on Love", "Anything But Love" but the vocal chemistry of the two seems a bit mismatched as they sing..."Side by Side", Brown clearly having the lion's share of vocal prowess. They finish together with "New York, New York" to a satisfied and surprisingly awed audience.
SINATRA & FRIENDS plays at the Kimmel Center for a limited engagement of April 6-8 at Verizon Hall, Philadelphia. For tickets and information visit www.phillypops.org or call 215.893.1999. Check out the Pops new 2018-19 Season.
Photos: The Philly Pops