Review: LOVE NEVER DIES Comes to Philly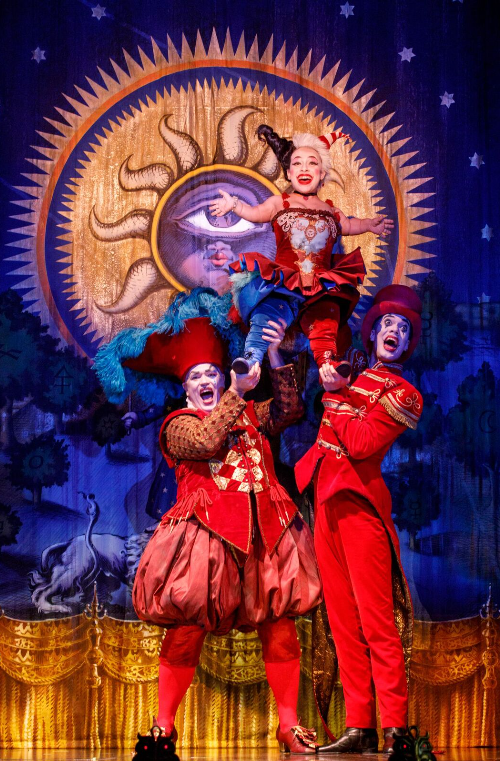 Did we really think Sir Andrew would leave the Phantom behind? Imagine his longing to resurrect the masked man! The 1980's staged creation and the unprecedented success of Phantom of the Opera has become one of the most iconic Broadway shows of all time. Since the Phantom simply disappears..Thus, Love Never Dies. No, it lives on with great impact ten years later! For those who've not seen the film version released a few years back, I promise not to spoil it all. Phantom Phans; weigh in on this beautifully sung Carnival of Madness. The Music of the Night or... another Night of Music?
If you're a Phantom geek, guilty as charged, you might be blown away by the opening scene and song "Till I Hear You Sing" performed in magnificent fashion by the multi-talented Bronson Norris Murphy, and penned by the only composer who could even remotely pull it off. This time the musical opens scene one with the BIG money song and there are more of them. Admittedly I was expecting to be underwhelmed by the staged show after seeing the film, which was suitably creative but lacked a bit of passion, imo.
Yes, the Phantom is up to new tricks on Coney Island. Coney Island, really? Having
seen ALW's interview as to his reasons for a sequel he simple alludes to the fact that the Phantom cleverly disappears from Paris, the year is 1907, the coming of age for America, Industrially and culturally. What better opportunities to not only hide far away in a thriving country but to also extend his vast talents there among the freaks of Coney Island? This is the premise. So the story unfolds...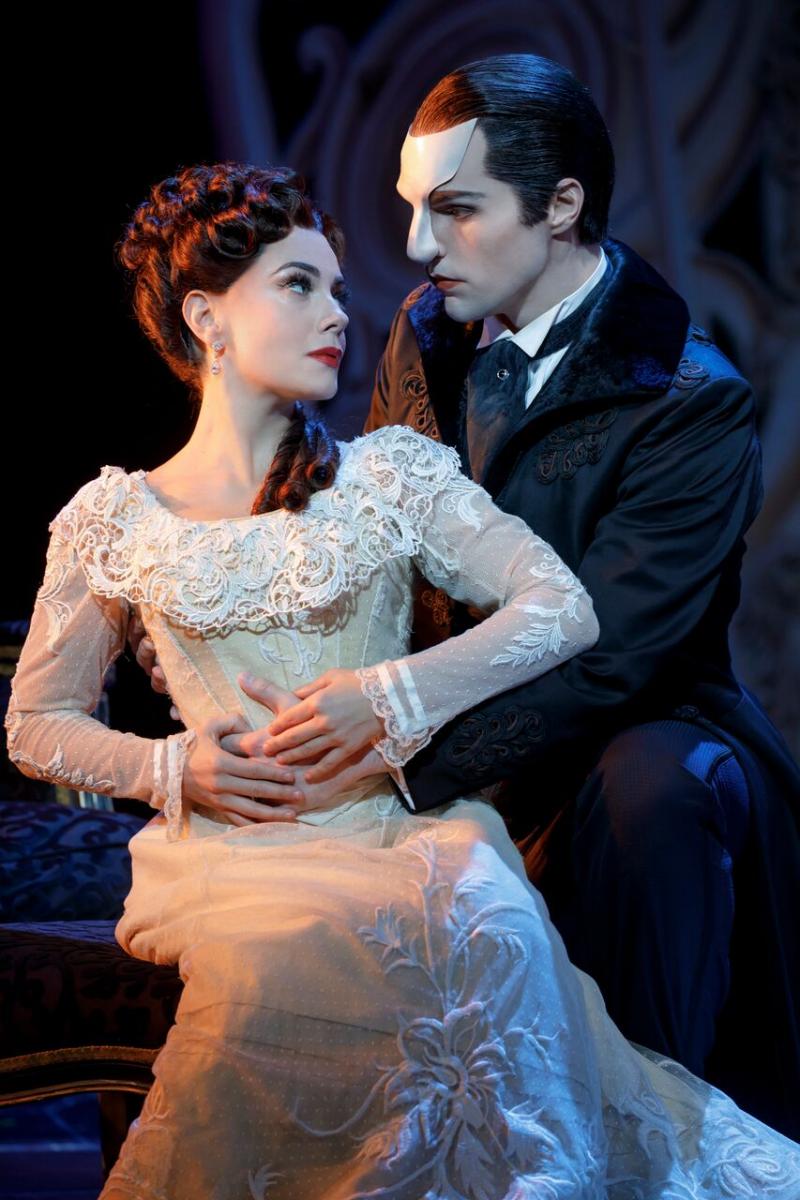 The score is surprisingly intriguing and yes at times wonderful and stacks up nicely with some of Andrew Lloyd Webber's best work, in my opinion. Also this company of actors is well endowed with talent nailing these compositions at the very highest level. It's a 1907 character reunion featuring Christine Daae, Meghan Picerno of New York City Opera, who possesses a most gorgeous, passionate voice for this role. Broadway talent abounds. Bronson Norris Murphy dons the mask and a killer voice throughout the entire night with amazing energy and great passion. Philadelphia native Sean Thompson wonderfully plays the wounded warrior Raoul, Karen Mason plays the staunchly and almost evil Madame Giry and Mary Michael Patterson, former Christine on Broadway plays Meg Giry. We are talking serious acting and passion from this group. The chemistry between Murphy and Picerno whose duets "Beneath a Moonless Night" and "Once Upon Another Time" are both romantic and steamy, something that was sorely missing in the film version. Christine and Raoul have a beautiful; 10 yr. old musically-inclined (hint) son Gustave. Alternating these roles are played by Christian Harmston and Jake Heston Miller. Both boys are outstandingly talented and Picerno shares much tenderness and a lovely little song "Look With Your Heart" with the dear boy.
So, here's the plot with NO SPOILERS. Having conveniently vanished at the end of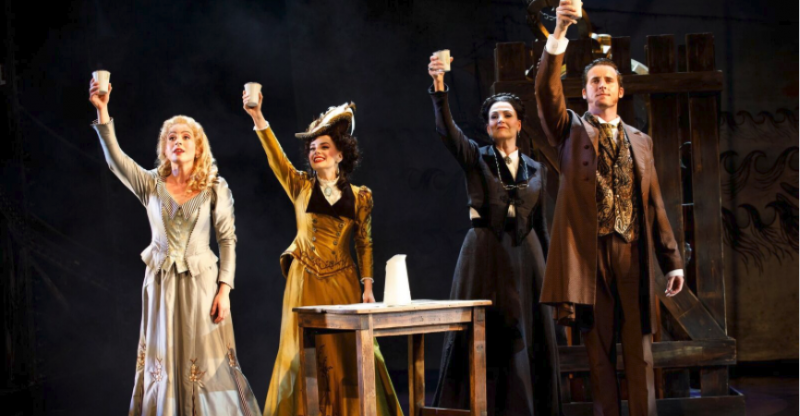 "The Phantom of the Opera, "Mr. P or in some cases Mr. Y" as he's now called is still pinning for his young ingénue and you got It... Love Never Dies. Our Christine now married to Raoul, is a seasoned opera star and feeling less in love than that romantic roof top feeling when they sang "All I Ask of You". As for the bored and broke Raoul, well, things are no longer a blissful carriage ride in the park. Seems our masked Eric was whisked away by his faithful patron-like pals Madame Giry and her daughter the lovesick Meg whose the shining star headliner at Coney Island. Then, like an old family reunion they're all brought together, minus the Phantom, as one of Webber's cynical songs "Dear Old Friend" ushers them all into a web of "wonder-what's-going on-here" plot. The score sits nicely in "Phantom"-land as it forwards the plot. Many references and hints of the original show are weaved throughout the production, of course. There's a catchy song "Devil Take the Hindmost" as Raoul and Phantom face off in a a heated argument of who will win Christine's affection. There's a sinister pop-orchestral theme to accompany the Coney Island crew who are all pretty eerie yet surprisingly entertaining throughout the production. This colorful crew makes good use of the macabre surroundings.
SPOILER: OK, you guessed it Mr. P also stands for papa. There's little that really lets the Phantom or the audience ponder about what an heir would mean for his life and he's not the only one shocked at his sudden inheritance! The hint of an attachment almost happens briefly but those moments are lost as the circus begins. They barely connect until the end. The book by Ben Elton places much emphasis, time and pageantry on the Coney Island's creepy carnival shenanigans. Sets are impressive and craftily whisked on and off amidst a barrage of actors running through the dark and skillfully directed by Choreographer Graeme Murphy AO. Production Director Simon Phillips handles this substantial amount of people nicely through 17 scenes, though sometimes feeling rushed from one to another. There's a lot of ground to cover with this one! Gabriela Tylesova is the genius responsible for the gorgeous costumes and set designs, which are the outstanding part of this wild and lavish show. Christine's delicious purple gown set against a giant peacock- feathered background is stunning as Picerno sings the show-titled song "Love Never Dies" leaving the crowd stunned at her voice and passion.
You may be surprised by the ending but you'll not be bored with this fabrication. While the Phantom of the Opera was and still is sensual, emotional and a theatrical pleasure in every sense, Love Never Dies is intriguing, even beautiful at times and modernized as the ending leaves little option for another "Music of the Night"...or does it?
LOVE NEVER DIES plays at the Academy of Music in Philadelphia October 2-7. For tickets and more information visit www.kimmelcenter.org Tour Information: www.loveneverdies.com
Photos by Joan Marcus
---
Join Team BroadwayWorld
Are you an avid theatergoer in Philadelphia? We're looking for people like you to share your thoughts and insights with our readers. Team BroadwayWorld members get access to shows to review, conduct interviews with artists, and the opportunity to meet and network with fellow theatre lovers and arts workers.
Interested? Learn more here.
---