BWW Review: A COMEDY OF TENORS at Walnut Street Theatre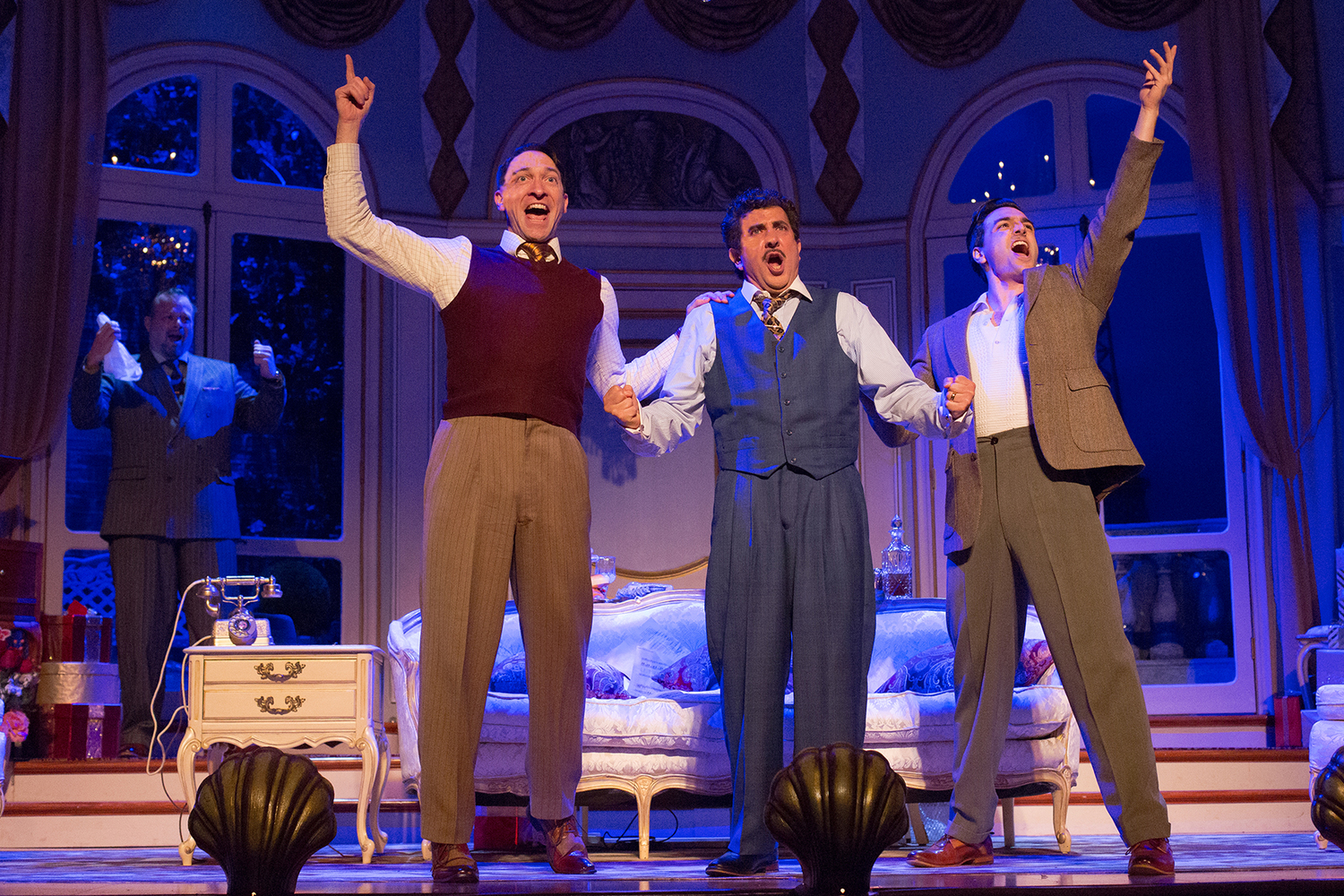 The curtain opens on a lavish hotel room, stacked with gifts and flowers. But there's lingerie on the floor, the couch cushions are astray, and a bedraggled producer is yelling about the fate of his one-night-only opera extravaganza... and that's just the start.
A Comedy of Tenors is a raucous comedy about three opera performers, their producer and their wives filled with slapstick, disguises, and hilarious irony. As the opera the characters are putting on gets closer and closer, the silliness grows and grows.
The Walnut, which has shown fairly middle-of-the-road sets in the past, stuns from the start with a rich cherry-red curtain with gold lining. The curtain rises to reveal a bigger-than-life hotel room (designed by David P. Gordon) in which most of the play takes place. Every time one of the three doors on stage opens, the audience knows another stunt will be pulled and they're prepared to erupt into laughter.
Each member of the experienced, seven-person cast pulls equal weight and sucks every laugh out of the tired weeknight audience. Philly favorite Frank Ferrante directed the play, and is scene-stealing as Tito, a once-popular tenor who is struggling to get back in the spotlight. Ferrante's bold stage presence is hard to match, but his tenor harmonizes wonderfully with Ben Dibble (Max) and Jacob Tischler (Carlo).
The women in the show have the audience eating out of their hands the second they enter the stage. Maria (Karen Peakes), is Tito's exhausted but loving wife, and her dejected lines about marriage and motherhood are hilariously relatable. Mimi (Alanna J. Smith), Tito and Maria's daughter, is young, optimistic, and in love. As the child of diva-opera singer Tito, she is over-the-top, but her brazen nature brings a fun twist to your average ingenue. Racon (Dreya Weber) is Tito's lost lover, but is a muscular and demanding Russian. The play turns average female archetypes on their head.
A Comedy of Tenors is exactly the kind of play the Walnut excels at: campy but sexy, and entertaining yet touching. The audience roots for every character to succeed and through twists and turns, there's a happy ending. Though the show was written in the 1990's, it takes place in the 30's and feels like it's a traditional Golden Age comedy.
The levity and wit of the script is attractive to all ages -- older folk laughed along with young couples and college students. With a cast filled with some of Philly's best character actors, it should be added to any theater-goer's must see list.
The show runs until March 3rd, and tickets can be purchased HERE.
| | | |
| --- | --- | --- |
| | Donations | Arts Orgs |
Related Articles View More Philadelphia

Stories

Shows