BWW Preview: Eastern Bridge's THE STORY OF TWO POETS Comes to Philadelphia
Certain things are never truly lost or forgotten, as their significance is held dear to too many hearts. These hearts need little reminder of how beautiful the memory of that special thing makes them feel - how it transports them back to that moment in time when life seemed possible amidst the seemingly impossible. Sometimes, this great joy comes in the form of people and the profound influence they have over others; sometimes, their words are powerful enough to shake not only a generation, but those for many decades thereafter.
For the Polish people, this influence comes in the form of Agnieszka Osiecka and Sir Jeremi Przybora, two poets considered true "treasures of Polish culture" for over three decades. United by their love for the written word, their two-year romance sparked the creation of an original play - a play which brings the beauty of their love and words to the stage in their native tongue. Presented by Eastern Bridge Theatre Troupe for the first time since its New York debut, The Story of Two Poets will soon take the stage for a one-night performance at the Associated Polish Home in Philadelphia.
Returning for this special performance after it marked Eastern Bridge's New York debut, The Story of Two Poets is the theatrical adaptation of Listy na wyczerpanym papierze ("The Letters on Depleted Paper"), a collection of love letters and poems written during what can only be described as a fairy-tale romance which began in 1964. Osiecka, who wrote the lyrics for many of Poland's most popular songs and Przybora, who created the notable "Elderly Gentlemen's Cabaret," sent many secret correspondences to each other over the course of their two-year romance; this would have remained a secret, had their children not discovered their letters. In 2010, Agata Passent and Kot Przybora published Listy na wyczerpanym papierze and gave new life to this beautiful relationship that Eastern Bridge will now present in Philadelphia.
A troupe of unique origins and aspirations, Eastern Bridge strives to bring together the voices, experiences and talents of those who are culturally or ethically different. In playwright (and actress) Anna Rak's own words, "Hearing foreign voices in the arts helps us steer clear of singular and cookie-cutter perspectives, empowering and opening an audience up to the complexities of different cultures, religions and views." The Story of Two Poets works well to give the yet-unheard foreign voice the proper exposure and means of expression it deserves; this time, it is through the formerly-hidden romance of two of Poland's most iconic figures.
Presented in Polish with English subtitles, The Story of Two Poets will be performed for a single night at the Associated Polish Home in Philadelphia. With its three hundred seat theater and a reputation of bringing quality entertainment to Philly's large multigenerational Polish community, Rak and fellow playwright/co-star Maks Kubis were thrilled to be invited to perform their play on its stage. They are excited to share their work with whosoever wishes to experience the beauty of such a poetic romance, yet also to foster an appreciation among those in the audience who may have lost tough with their Polish heritage. As Rak explains, "There are many Polish speakers, particularly those who have lived in America their whole life, who are not familiar with the music and poetry so tightly connected to their roots."
The Story of Two Poets can be said to be a unique production: not only does it mark the Troupe's first bilingual production, but this bilingual aspect in general is also rather a delicacy in the world of theater. Rak and Kubis knew that the story of Osiecka and Przybora would be best told in its native Polish tongue, but also wanted the American audience to have a multicultural experience and therefore added English subtitles. With this in mind, they reached out to Jaroslaw Rybski, who professionally translated the text to give audiences the most authentic version of this beautiful story.
"This specific material is very hard to translate, not only because of the many historical and cultural references that can only be fully understood by the native Poles, but also because of the poetic nature of the language spoken by the characters in the play."
So, when the show was first performed in New York with the use of original language to make the production "exotic and irreplaceable", both actor and audience were able to appreciate the story of Osiecka and Przybora in its native tongue, regardless of who may have understood and who needed to rely on subtitles.
"During the New York run, a large part of the audience consisted of non-Polish speakers, [and] it was a heart-warming experience to see their appreciation of the show. A bilingual production was definitely something unusual. People strive to constantly experience new things and in today's world, it is hard to stay fresh and original. [We wanted to give] audiences something different, something exotic."
Regardless of who they consisted of, New York audiences were very receptive to The Story of Two Poets, so Rak and Kubis are excited to bring their play to a Philadelphia audience. And who wouldn't be excited to delve into a hidden romance between two poets who understood how to capture the true essence of beauty? In their words did they become true "symbols of the Polish contemporary poetry and song." Yet, their significance to the Polish people spans much farther than the beauty of their words, but what they represented and spurred in the time they were written.
"Our grandparents and parents speak of them with sentiment, remembering how much comfort and joy the sung poetry would bring back when living in Poland was rather tough - when our country was under the communist regime. Nowadays, nobody comes close to Jeremi Przybora, Agnieszka Osiecka and the other phenomenal poets of the communist Poland. The love letters we present are masterpieces in today's world, but Agnieszka and Jeremi communicated that way naturally. We often wonder if they were even aware of their brilliance."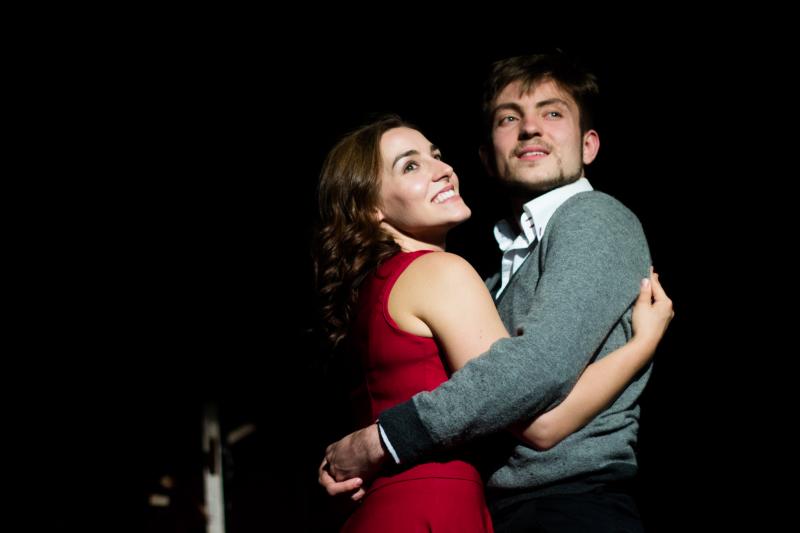 When their romance was disclosed to the public in 2010 by their children, Rak and Kubis wanted to pay their respects to such icons by expressing the newfound beauty of their love upon the stage. "For us, it was a chance to look at this romance from a different perspective. We only knew pieces of their relationship included in their letters." What they thus created was The Story of Two Poets, and the consistency of their romance, so newly founded among this collection of letters and poems, will prove beautiful to whoever is fortunate enough to be in Philadelphia to see the show.
"We want the audience to simply relax and let the music and the text do the magic. It is ultimately a story about two people who loved each other very much; people who were able to express their love beautifully through language. We hope it will also bring reassurance of the power of storytelling, no matter the spoken language."
The Story of Two Poets is directed by Ewa Szewczyk and musically directed by
Erica Umhoefer, starring Anna Rak as Agnieszka Osiecka and Maks Kubis as Jeremi Przybora. Translations are by Jaroslaw Rybski and James Amorosino serves as Technical Director. It will be performed on the 18th of November at 8PM at the Associated Polish Home in Philadelphia, located at 9150 Academy Road. Tickets are $15 and may be purchased at the door.
Please click here to see a clip of the show and to learn a bit more about the production.
Enjoy!
Photo Credit: Anna Kuzmina (AK47Division)