BWW Review: CIRCUS OZ - PRECARIOUS at His Majesty's Theatre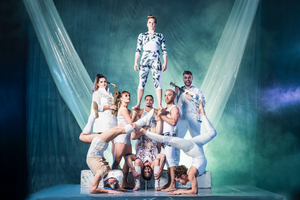 It's the middle of winter in Perth, so what better way to spend a chilly evening than letting Australia's elite circus company, Circus Oz, get your heart pumping with death-defying stunts and laughter? This year they've brought their climate-minded show Precarious out West, with its team of high flyers, live musicians and riggers to keep us on the edge of our seats as they show us their comedic and athletic prowess.
The show begins at a slow burn but escalates quickly to dizzying heights. The cast begins pre-show climbing around in the audience, raising the energy in the room to match theirs. First, we witness some beautiful aerial work, which was lovely, flawless, but not quite the sort of original, bold, innovative Circus Oz act I was expecting. But oh, how they had me fooled! It wasn't long before a performer was climbing atop sheets of plastic perspex, balancing on their millimeter-thin edges. Not only did it look frighteningly difficult as the sheets wobbled and swayed underneath her, but it looked rather painful to boot.
There's some interesting pole work where four performers serve as anchors while others climb and balance from and drop down it, just barely escaping a nasty crush. It's all well-controlled of course, but we let these moments of 'extreme danger' astound us like a magic trick.
I've seen more than one impressive hula-hoop act, but the one in Precarious takes the cake. Adam Malone performs as a mad scientist who could teach Frank-N-Furter a new trick or two. But he's got more than one big trick up his sleeve; later in the show he does a trapeze act balanced on his head in the swing. It goes against the known laws of nature, I'm sure.
Not a moment in the show passes without something to capture the attention of our eyes and ears. The two live musicians are positioned at the rear of the stage with a multitude of instruments and gadgets at their fingertips. With a drum kit, a bank of synths, two voices and a sax, they create a soundscape that perfectly underpins the show, with all its drops, spins, tumbles, launches, and bits of physical comedy.
And without the aid of the two visible riggers in black, half of the show wouldn't be possible. They work off stage and on, a visual indication of just how much planning, safety and deftness goes into each moment in the production - if we weren't already aware.
The show's final, stunning act is a giant Jenga game which sees the ensemble stacking rectangular blocks on top of each other to be climbed until the final block is placed nearly as high as the proscenium arch, and one lone polar bear-costumed performer edges her way up on her tiptoes, clinging to the block for dear life.
This final picture is a sobering parallel to the images that have been widely distributed of lone polar bears clinging to life on rapidly diminishing ice. Will we humans continue to balance precariously on the edge of disaster and force other animals off the edge in the process?
Let's hope not. Circus Oz does a fantastic job of balancing fun and teaching, and all ages will benefit from Precarious's ethos.
Related Articles View More Australia - Perth

Stories

Shows