BWW Interview: Tumble Circus Co-Founder Tina Segner Talks UNSUITABLE At Fringeworld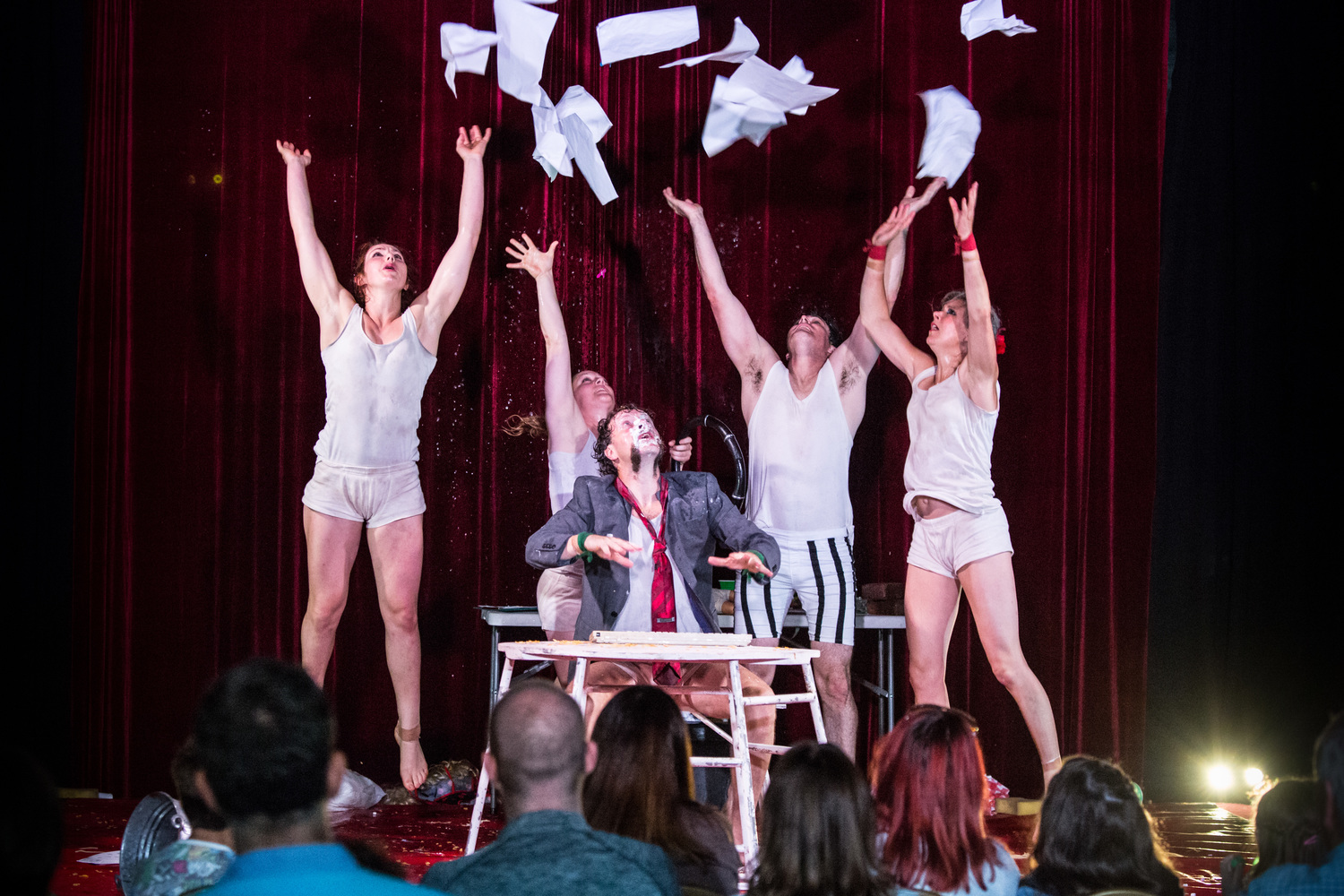 Belfast's self-proclaimed 'circus of the absurd' returns to Perth for a string of shows as part of Fringeworld 2018. Broadway World caught up with Tina Segner, co-founder of Tumble Circus, to chat about all things UNSUITABLE.
The first thing I have to ask you, what exactly is the difference between mainstream circus and what you do (non-traditional Irish circus)?
We've been talking for quite a few years about the style of our company, and first we said okay maybe we're contemporary circus, maybe we're creative circus, maybe we're new circus. But all these terms never really fitted with us. And then all of a sudden we went, well we're a circus but we're a non-traditional circus. So it basically means that we are a new circus company and we have no animals, it's all human, but we use the techniques from traditional circus and we mix it with new art forms and draw from lots of different other forms like comedy and movement and theatre. I think the best way to describe our circus is the fact that we're a non-traditional circus company.
Tina, you and Ken Fanning lead Tumble Circus, but how are your shows devised? Is it a more collaborative workshopping process or do you go in with a really clear concept of what the show is going to look like?
It depends. We have different ways of creating shows. For Unsuitable, we got some funding from the Arts Council in Ireland three years ago and it was going to be a co-production between Tumble Circus and Casus which is a Brisbane based company. Our styles are really different, but the way we train and the similarities in how our companies work lined up. So we wanted to do a collaboration with them and see what we could learn from each other. And we were really fortunate, we had six performers and we spent three weeks just creating work and it was very much devised between the six of us.
We already had some ideas and Ken normally comes up with lots of strong ideas. So we generally workshop around them and then we find music, and we just workshop the ideas and the comedy and the movement and the tricks and skills we want to have in the different acts. And we feel that it's a lot better if the performers have an input for the act because then they feel an ownership of it. Everyone has something really unique about them so instead of us trying to put something on a performer we want to let the performer bring out their strengths.
There's also a strong element of satire and political commentary in Unsuitable; how do you find the balance between the political, and an audiences desire for comedy and spectacle?
For Unsuitable the challenge we set ourselves from the beginning, the criteria we made was that all the acts were going to be political or have some kind of political context which as an audience member you can either acknowledge it or not. It's kind of your choice how much you look into that. But we wanted to make all the acts have a political aspect. Sometimes it's a bit trial and error. One of our earlier shows was great, very political, but I think the first few times we performed it people came and they didn't quite get it. People come to theatre because they want to see tricks, they want to see circus, they want to clap and be amazed - they don't want to be preached at. But subtly we can do it. We want to make people think when they see our show, so they remember it. If you just see something nice and beautiful you tend to go "Oh yeah that was amazing, that was beautiful!" but then you forget about it. We want people to connect emotionally with what we're doing. And we find the best way to do that is through laughter as well.
Something else that jumped out at me about Unsuitable was that it's billed as much more than just juggling and acrobatics. Can you talk a little bit more about the use of poetry, and storytelling?
We live in Belfast, and Ireland has a really strong tradition of storytelling. With the acts we mix it in with the skills. We really want the audience to get to know each of our characters in the show so they care about something, not just like we're some gymnastics competitor. As the show progresses we want the audience to get a little more in each act about who we are and what we are. Of course we don't tell them everything - they also have to use their imagination! The audience sees things and tries to make sense of them, and often they make up their own story about who these characters are from the snippets that we give them.
You've got a wide array of cast members from all over the world. What does having so many different skillsets under one roof bring to this kind of performance?
Doing shows with more people means that you can just do more. For years its only been me and Ken doing shows. We've always wanted to do shows with more people but it's much harder to do bigger shows - there's more people so it takes more organisation and we've never been in the position to do it until now. The more people you have the more ideas you get when you're making things, you get different qualities of movement, persona, comedy. And of course, you can make bigger more spectacular acts because you have more people onstage. Another thing that's also quite nice is that the show ends up being a little bit easier as an individual performer as well!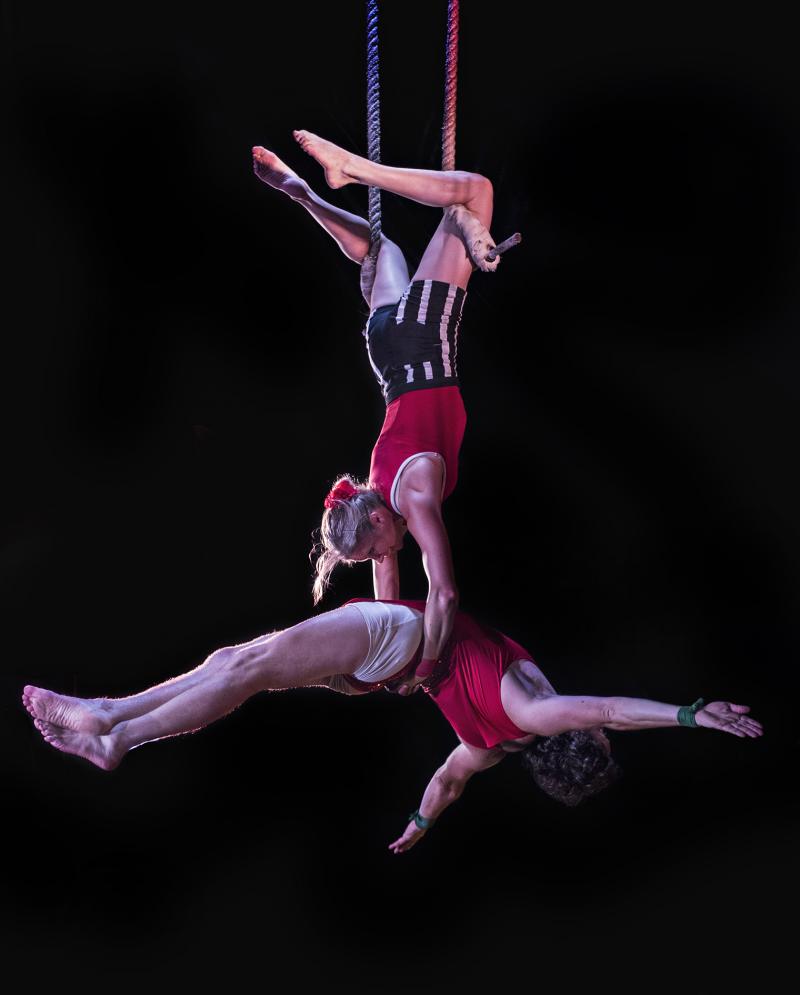 What is the most challenging part of the show?
Physically, it's our trapeze act. And making people laugh! I have a solo speech and I have to make sure that I start right so that people laugh at the right moment. That's the most difficult.
I agree, comedy can be very hard!
Yes, because it's so subtle! And if you say a sentence just a little bit wrong you can go, "Oop, no I did that wrong! And now I've lost the punchline!" But when you know the next sentence you're going to say people are going to start laughing at it? It's great. And that's when you know you have them with you, they're in the moment.
What has been the most rewarding part of bringing Unsuitable to Western Australia and to Fringeworld?
We open on Monday, and we're really excited about it. We have an act in the show called 'Day In A Life' and I think that's the act I'm most excited about performing in front of an audience. I think they're going to be genuinely surprised and shocked, and have a sore belly from laughing so much. Whenever we perform that act anywhere in the world people love it and they say they've never seen anything like it. It's a really great act and it's a lot of fun to do. And I'm not going to give it away anymore, people are just going to have to come see it!
You've been involved in circus for over twenty years, what do you think is going to be the next big trend in circus over the next twenty years?
I think circus is going to just keep growing and growing, and I think it's going to go back to quite stripped back again, so there's not lots of big productions. I think it's going to integrate with lots more theatre and dance. Whenever we speak to people and they ask, "Do you like Cirque du Soleil?" we kind of go well, we do circus but we're really nothing like them. It's like dance, you can't just put dance into one style because there's so many different styles. People still think that circus is just one style, which it's not, but because there's no names for the different genres it's really hard for people to understand. People still think of circus as very much traditional with animals and tents, but there's so many other great circuses now. Its very much smaller companies with maybe up to ten performers going into theatres? What we'd like to do is perform our show, this very new, creative, non-traditional circus but tour it in a big top. Just to open it up so people can see that touring circus can be anything, and it doesn't have to be just clowns with red noses and horses.
What else are you looking forward to seeing at Fringeworld?
I arrived in Perth at the beginning of January and I briefly looked over the circus section of the Fringeworld program - I ignored everything else because just the circus section was so exciting! I remember seeing it and looking through every show going, "All these shows are amazing shows!" I'm really looking forward to seeing Casus Circus' Driftwood. And there's another company from Brisbane called Company 2. I'm very excited about their show Sediment.
What does Unsuitable have that no other show at Fringeworld this year does?
Our background. We're from Belfast and it's a really troubled city still. It's a great city with great people wanting to make it a better place, but it's also a really raw city. We're not just a circus company that's nice to look at. Basically it's one hour of hammer smashing circus from Belfast. It's revolutionary, it's trying to change the world. I mean, the name Unsuitable came from the fact that we were doing the show and people said, "This is a little bit unsuitable!" And we went, "Well that's a good thing! Let's have more of that!"
Tumble Circus Presents: Unsuitable
5-17 February, 2018
The Big Top; Fringe World Pleasure Garden
Tickets from $22
For more information and to book tickets head to www.fringeworld.com
Ellin is a Perth native who works as a performer, teacher, and also as an academic and researcher in the performing arts. Her passion for (read more...)