Latest News on John Fischer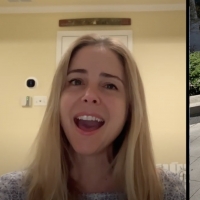 VIDEO: Andrea McArdle, Kerry Butler, Christopher Jackson & More Unite to Sing 'Tomorrow'
by Stage Tube - Apr 24, 2020
When you're stuck with a day that's gray and lonely, just stick up your chin, grin, and sing 'Tomorrow'! Watch below as stars of stage, screen and more unite to sing the beloved anthem in celebration of our incredible health care providers.
BWW TV: 4th Annual BROADWAY CABARET FESTIVAL at Town Hall
by BroadwayWorld TV - Nov 1, 2008
The 4th Annual Broadway Cabaret Festival concluded on Sunday, October 19th with Broadway Originals! After the concert the cast took a few short steps next door to Spanky's BBQ for a little post show celebrating, our BWW TV cameras were there to bring you all the fun!