Latest News on Shea Coughlin
Shea Coughlin News
BWW Review: JESUS CHRIST SUPERSTAR at ACT Of Connecticut
by Sean Fallon - Apr 2, 2022
On Friday, April 1, I had the pleasure of seeing the ACT of CT's unique adaptation of Andrew Lloyd Webber's JESUS CHRIST SUPERSTAR.  This 1971 musical that is primarily told through music with lyrics by Tim Rice has been redesigned and reinterpreted by the director, Daniel C. Levine who has incorporated elements of The Handmaid's Tale into this adaptation. 
The Sherman Players And Shakespeare In Sharon Present An Evening Of Shakespearean Monologues At The Sherman Playhouse
by Stephi Wild - Jan 21, 2022
On February 27th, The Sherman Players, in conjunction with Shakespeare in Sharon will present AN EVENING OF SHAKESPEAREAN MONOLOGUES, compiled and directed by Jane Farnol.
BWW Review: NICKEL MINES at ACT Of Connecticut
by Sean Fallon - Jan 20, 2022
On Thursday, January 20, I had the pleasure of seeing a phenomenal show that I have been waiting to see for about two years!   It was well worth the wait!  The ACT of Connecticut has struck gold with NICKEL MINES, an emotionally intense musical based on the true story of an Amish school shooting, perpetrated by an outsider, in Lancaster County, Pennsylvania, on October 2, 2006.  The use of song, interpretive dance, and dialogue are all combined to tell the story.  It is not presented in a strict linear time sequence, yet it somehow brilliantly flows together in an ideal way, parts of the story taking place in 2011.   With book by Shannon Stoeke and Andrew Palermo, and music & lyrics by Dan Dyer, this show which is also directed and choreographed by Andrew Palermo stars an extremely talented ensemble cast, backed by an amazing live band.  The depth, power, messages, and entertainment value of this production are all so strong that it is difficult to put them into words.  Not only was I highly entertained, but by God's grace, I feel like I left the show a better person than who I was when I entered, more focused on my own need to forgive others.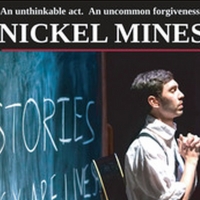 ACT of Connecticut Announces NICKEL MINES 'Community Talkback Series'
by Stephi Wild - Jan 19, 2022
NICKEL MINES is a new musical centered around the 2006 Lancaster, PA Amish schoolhouse shooting in which a lone gunman shot ten girls (five fatally) before taking his own life. This breathtaking piece of theater explores multiple perspectives from that fateful morning, is a living memorial to the young girls who tragically lost their lives, and is a powerful exploration of community, perseverance, and hope.  
Western Connecticut State University 2020 BFA Graduates Present Virtual Senior Showcase
by A.A. Cristi - May 7, 2020
The Western Connecticut State University B.F.A. Musical Theatre and B.A. Acting Class of 2020 is being featured in a Virtual Senior Showcase to provide industry professionals the opportunity to view their work. The digital showcase highlights all 21 graduating seniors from the competitive and dynamic theatre arts programs at WCSU. Each senior is featured on a dedicated page on the website, with a headshot and resume, two contrasting song cuts or monologues and a 90-second performance reel.
The College Showcase Must Go On (Virtually!) - Students From Montclair State, Boston Conservatory, Auburn, and More!
by Taylor Brethauer-Hamling - May 3, 2020
We've been compiling showcase videos from college seniors all around the country. Although their performances were cancelled, the show must go on-- virtually! This entry features Students From Montclair State, Boston Conservatory, Auburn, and More!
Photo Flash: Terrence Mann Directs MAMMA MIA! At Connecticut Repertory Theatre
by A.A. Cristi - Jun 6, 2019
Connecticut Repertory Theatre presents the first production of the 2019 Nutmeg Summer Series: "Mamma Mia!," the Tony Award-nominated musical based on the songs of ABBA.  
Photo Flash: HAIR to Open at Sherman Playhouse Tomorrow
by BWW News Desk - Jun 29, 2017
On Friday, June 30, The Sherman Playhouse will premiere its summer production of the rock musical Hair, with book and lyrics by James Rado and Gerome Ragni and music byGalt MacDermot. The curtain rises at 8:00 p.m. for a five-week run.
HAIR at The Sherman Playhouse this Summer
by Rebecca Russo - May 18, 2017
On June 30, The Sherman Playhouse will debut its summer production of the rock musical Hair, with book and lyrics by James Rado and Gerome Ragni and music by Galt MacDermot.