Latest News on Bjorn DuPaty
Bjorn DuPaty News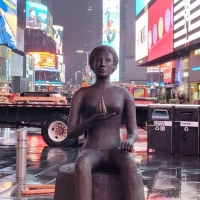 Lorraine Hansberry Statue 'To Sit A While' to Return to New York at Astor Place During A RAISIN IN THE SUN Performances
by Chloe Rabinowitz - Sep 21, 2022
During A RAISIN IN THE SUN's preview performances through Opening Night, theatergoers will be able to visit To Sit A While, a statue of Lorraine Hansberry by sculptor Alison Saar, at Astor Place.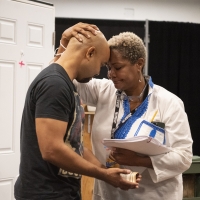 Photos: See Tonya Pinkins, Francois Battiste & More in Rehearsals for A RAISIN IN THE SUN at The Public Theater
by Chloe Rabinowitz - Sep 12, 2022
A Raisin in the Sun, featuring Tonya Pinkins as Lena Younger, Francois Battiste as Walter Lee Younger, and more will begin performances in the Newman Theater with a Joseph Papp Free Performance on Tuesday, September 27 and will run through Sunday, November 6. See rehearsal photos here!
Tickets Now Available For EMILY WAS HERE - An XR Storytelling Experience On The Brooklyn Bridge
by Grace Cutler - Jul 17, 2022
Experience a new type of storytelling as you walk across the Brooklyn Bridge. 'Emily Was Here' XR stands for eXtended Reality. They merge digital and physical - fusing elements heard or seen on an app to locations you explore physically.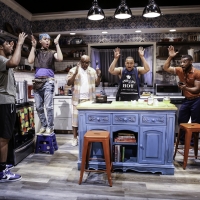 Review: THE HOT WING KING at Studio Theatre
by David Friscic - Jul 5, 2022
The feelings and attachments of men, whether gay or straight, as they fight for self-respect and survival in a harsh world are portrayed in playwright Katori Hall's Pulitzer-Prize winning play The Hot Wing King. The compromises, commitments, camaraderie, and fractious relationships of a non-traditional family are explored with immediacy and sophisticated insight by Ms. Hall. Like all superbly written plays, one is continually taken by surprise as the play develops and nothing is as expected. The writing here is on the caliber of playwrights Annie Baker or August Wilson.
Playwright Steps Into THOUGHTS OF A COLORED MAN and Saves Performance From Being Cancelled
by Stephi Wild - Dec 22, 2021
Last night at Broadway's new hit play, Thoughts of a Colored Man, playwright Keenan Scott II made the rare move of going on in one of the roles, after a cast member tested positive for COVID-19 and two non-COVID related illnesses felled the cast.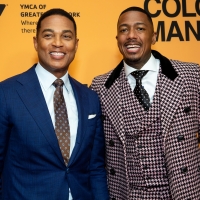 Photos: Broadway Walks the Red Carpet on Opening Night of THOUGHTS OF A COLORED MAN
by Jennifer Broski - Oct 14, 2021
Just last night Thoughts of a Colored Man officially opened on Broadway at the John Golden Theatre. We have photos from the star-studded red carpet!
Meet the Cast of THOUGHTS OF A COLORED MAN on Broadway
by Stephi Wild - Oct 13, 2021
Thoughts of a Colored Man officially opens on Broadway on October 13, at the John Golden Theatre. Meet the cast and learn more about who is starring in the play!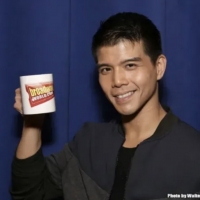 Wake Up With BWW 9/8: New DEAR EVAN HANSEN Film Clips, and More!
by Stephi Wild - Sep 8, 2021
Today's top stories: watch new clips from the Dear Evan Hansen film, Pretty Woman tour casting, and more!
Bjorn DuPaty and Garrett Turner Complete the Cast of THOUGHTS OF A COLORED MAN
by Chloe Rabinowitz - Sep 7, 2021
Casting has been completed for the upcoming Broadway premiere of Thoughts of a Colored Man with Bjorn DuPaty and Garrett Turner joining as understudies. Rehearsals begin Tuesday, September 7th. 
Lewis Center Presents A PAST BECOMES HERITAGE: THE NEGRO UNITS OF THE FEDERAL THEATRE PROJECT
by Chloe Rabinowitz - Mar 29, 2021
The Lewis Center for the Arts' Program in Theater at Princeton University will present A Past Becomes a Heritage: The Negro Units of the Federal Theatre Project, an evening of play readings and a panel discussion in collaboration with New York City-based collective CLASSIX, on March 30 at 7:30 p.m.
Bjorn DuPaty Videos
Delta Sponsored 2012 Guthrie Theater Season Which Featured Obama Inspired Julius Caesar
by Alan Henry - Jun 12, 2017
On Sunday night, Delta Air Lines announced that they were ending their four-year-old sponsorship agreement with the Public Theater over their current Shakespeare in the Park production of JULIUS CAESAR. The play, which is set to open at Central Park's Delacorte Theatre on Monday, depicts the Roman dictator in a way that calls to mind President Donald Trump.