STRIKE UP THE BAND!! McCallum Theatre Concert Band Under The Baton Of CEO Mitch Gershenfeld Features Hillgus, MacLeod, Siegel And More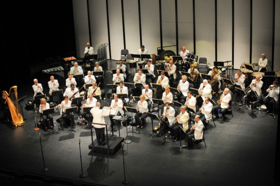 It's time to strike up the band for the 7th annual concert by the McCallum Theatre Concert Band, with conductor and McCallum Theatre President & CEO Mitch Gershenfeld, on Sunday, March 24, at 3:00pm. Highlights of this year's concert will be a performance of the beloved "Carnival of the Animals" by Saint-Saens featuring pianist Jeffrey Siegel and a new text written and performed by David Gonzalez, and special guest appearances by Gavin MacLeod (narrator) and former TEN Tenor Chad Hilligus (guest vocalist). And, after the concert, there is free ice cream for everyone!
The McCallum Theatre Concert Band brings together the best musicians from the recording and film studios of Los Angeles. "There was a time in this country when towns had concert bands," Gershenfeld commented, "and I thought the McCallum Theatre should honor that tradition with our own concert band." In bringing together the Concert Band, Mitch says, "We have an ensemble of such skill and experience that even John Philip Sousa himself would be in awe! You're heard these musicians in countless movies and television shows and we're thrilled they will be on our stage again this year for this concert."
Mitch Gershenfeld (Conductor) began his career as a musician in his hometown of Philadelphia, and performed with symphony orchestras, Broadway road companies and in recording studios. He taught music at the University of Wisconsin-Madison and the University of Denver. He has conducted orchestras and theatrical productions, and was the Music Producer for the Cultural Olympiad of the 1996 Olympic Games in Atlanta. "I loved playing in concert bands growing up," Mitch says, "and that led me to a career in music, which led to arts management and, ultimately, to the McCallum Theatre." Mitch joined the McCallum Theater in 2000 as Director of Operations and Presentations and has been President and CEO of the McCallum Theatre since 2012.
Chad Hilligus (Vocalist) has produced, directed and performed in over 250 shows in more than twenty different countries across North America, Europe, Asia and Australia. He is a former member of the multi-Platinum vocal group The TEN Tenors and gained international acclaim starring as Tony in the 50th Anniversary World Tour of West Side Story. Chad has served as Resident Artist at Sarasota Opera, Nashville Opera, Tulsa Opera, San Diego Opera, and he frequently appears as a solo artist at concert venues across the country. As a producer, Chad has collaborated with icons including Lucie Arnaz, Alan Cumming, Florence Henderson, Gavin MacLeod, Lily Tomlin and a long list of Broadway notables. In 2016, Chad produced and directed "Carol Channing's 95th Birthday: In Celebration of a Broadway Legend" at the McCallum Theatre. Last season, he produced and directed a centennial concert production of West Side Story at both the McCallum Theatre and Boston's Symphony Hall with Keith Lockhart and The Boston Pops. Chad currently serves as a Senior Development Manager at the McCallum Theatre and as the Artistic Programming Consultant for The City of Temecula.
Gavin MacLeod (Narrator) is one of America's most beloved veterans of stage and screen. He is best known as Captain Stubing on ABC's world-wide smash "The Love Boat" and as Murray Slaughter on "The Mary Tyler Moore Show." He and his wife Patti, hosted "Back on Course" on TBN for 17 years and, for 31 years he has served as the ambassador for Princess Cruises. Recently, Gavin found additional success in faith-based films, including playing a lead character close to his heart in The Secrets of Jonathan Sperry. His most recent book, This Is Your Captain Speaking, pulls back the curtain on the ups and downs of his life and reveals his deep faith in God. In December 2017, he concluded a highly successful run in the world premiere of the new play, Happy Hour at the CV Repertory Theatre. Last season, he was featured in the McCallum Theatre's West Side Story in Concert. He and his wife Patti live in Rancho Mirage, California. They have 7 children and 10 brilliant grandchildren.
David Gonzalez (Storyteller) is a storyteller, poet, playwright, musician, arts advocate, and public speaker. He was a cultural ambassador for the U.S. State Department, and is the recipient of the International Performing Arts for Youth "Lifetime Achievement Award for Sustained Excellence." He was named a Fellow of the Joseph Campbell Foundation and was nominated for a Drama Desk Award for "Unique Theatrical Experience" for The Frog Bride. David has created numerous productions, including the critically acclaimed ¡Sofrito! with The Latin Legends Band, and MytholoJazz, both of which enjoyed sold-out runs at New Victory Theater. Sleeping Beauty was co-commissioned by the New Jersey Performing Arts Center, Brooklyn College, and the McCallum Theatre. David was a featured performer at the National Storytelling Festival, and appeared for three seasons at the Royal National Theatre in London. The Man of the House was commissioned by the Kennedy Center for the Performing Arts, and The Boy Who Could Sing Pictures was commissioned by the McCallum Theatre and The Performing Arts Center at SUNY Purchase. David earned his doctorate from New York University's School of Education, and worked as a music therapist with handicapped children for many years. His poetry/jazz project City of Dreams tours to colleges, festivals and theaters throughout the country. He was the Artistic Director of The Crisálida Community Arts Project of the McCallum Theatre which conducted 300+ outreach experiences for the East Valley towns of Coachella, Thermal, Mecca and Indio. Crisálida is hosting acclaimed poet Jimmy Santiago-Baca for a series of readings and workshops this year.
Jeffrey Siegel (Pianist) has been presenting Keyboard Conversations®, a brilliantly polished series of concerts-with-commentary that combines captivating comments with virtuoso performances of piano masterpieces at the McCallum Theatre for over fifteen years. He has been soloist with the world's great orchestras, including the Berlin Philharmonic, London Symphony, New York Philharmonic, Los Angeles Philharmonic, The Philadelphia Orchestra, The Cleveland Orchestra, Boston Symphony Orchestra and Chicago Symphony Orchestra and many others. Born into a musical family, Jeffrey Siegel studied with Rudolf Ganz in his native Chicago, with the legendary Rosina Lhévinne at The Juilliard School and, as a Fulbright Scholar, with Ilona Kabos in London. He performed Gershwin's Rhapsody in Blue with the McCallum Theatre Concert Band in 2014.
This year's McCallum Theatre Band Concert is presented through the generosity of Jo Ann Davis and Kay Hanson.
Tickets for this performance are priced at $60, $40, $30 and $20. Tickets are available at the Theatre's website at www.mccallumtheatre.com or by calling the McCallum Theatre Box Office at (760) 340-2787.
David Green is the Executive Director of The American Foundation For Arts Education, founded by Carol Channing and her late husband, Harry Kullijian -- working (read more...)