Review: SOUTH PACIFIC at Desert Theatricals At Rancho Mirage Amphitheater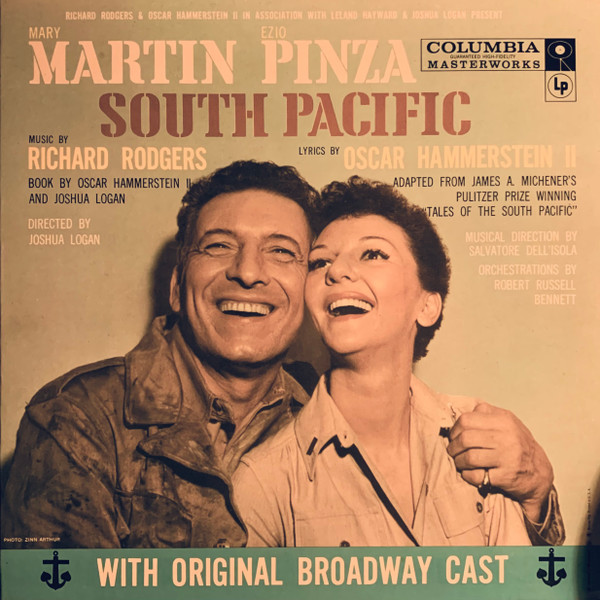 My parents loved South Pacific so much we had the 33 record. I remember hearing the song Bali Ha'i and feeling all kinds of mystical, with visions of a smoking volcano on an island in the distance. I can recall singing Happy Talk and Gonna Wash That Man Right Outta My Hair. Of course my parents made me perform the latter for their friends. I was six; that ish was hilarious.
I remember that album cover probably more than any other visual memory of my childhood except the Danny Kaye album where he performs Peter and the Wolf and Thumbelina.
Anyway, I was once again excited to attend another production by Desert Theatricals as they've inspired my new found love of musical theater. A clarification: My "musicals" experience was based on movies. The only one I ever liked was West Side Story, I found the rest of them boring. This theater company awakened me to the fact that what makes live musicals great is the amount of sheer energy emanating from that stage. It makes me feel like I'm some kind of energy succubus (I'm not) because of how invigorating it is. And when the technicals support the talent, it's divine. This production was no different.
As its name suggests, the musical South Pacific is set on the island of Tonga in the South Pacific. It's war time, and Seabees are whiling their time until they are called for active duty. Nurses are falling for rich Europeans that are now local, and GIs are falling in "love" with the poor local girls. It is a story of love and racism that permeates all of our foreign wars or in the case of Viet Nam - conflicts.
But no one goes to musical theater for lessons, they go for the performances and all the song and dance, and this cast definitely brought the goods.
This is the first time (to my knowledge) that I've seen Joe Savant on stage or heard him sing, and I hope it's not the last. His Emile Debeque, the Frenchman who was much more integrated into the island culture than Nellie (Lizzie Schmelling) knows. Emile is not hiding it from her, but the fact that he has two young children from a native mother just never came up until after they were engaged. Savant has a rich, buttery voice that is absolutely swoon worthy. Well cast, well sung and acted. Speaking of Nellie, Schmelling continues entertaining audiences in her role as the light and carefree young nurse that falls for Emile.
Although the love story of Cable (Christian Fonte) and Liat (Shelby Victoria) was secondary, and furtheried the theme of racism, I don't recall Liat singing or even speaking, but she definitely fit the role of the beautiful young girl who captures Cable's "heart".
Manny dela Rosa gave a fun performance as the houseman and later as one of the Seabees, and as always, Gilmore Rizzo brings his fine voice and comedic chops to the stage.
But the night goes to Catrina Teruel as Bloody Mary. Once she steps on the stage, she shines brighter than the moon on that cold cold night, and her talent and energy makes you forget about the temperature every time she opens her mouth or moves. Add to that, her vocals are outstanding. She's another actor I'd love to see more of in the valley.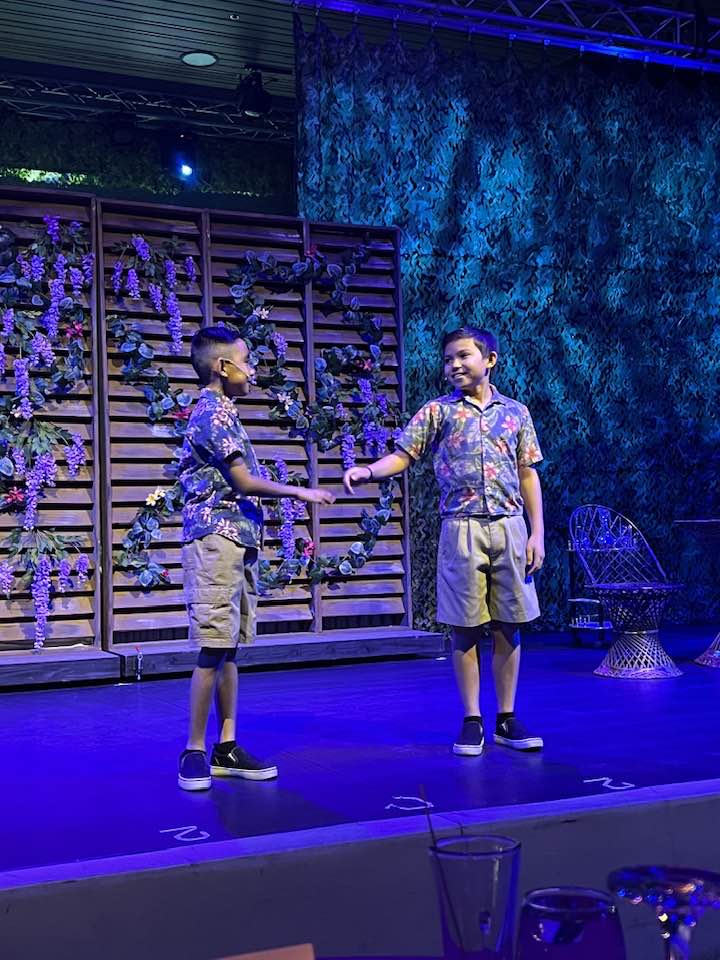 My last callout on this show is a two-fer. Emile's young sons played by Elija Zion Estella and Aiden Lizada. The moments of them singing Dietes Moi were truly engaging, and the young men never broke character. Well done.
Standout songs:
Some Enchanted Evening - Nellie and Emile
Nothin' Like a Dame - Seabees
Bali Ha'i - Bloody Mary
Younger Than Springtime: Cable
This Nearly Was Mine - Emile
I'd encourage you to go however their shows have a short, three-day run, so instead I will urge you to get your tickets now for their next production, the biggest one they have staged so far: Beauty and the Beast, music by Alan Menken, lyrics by Howard Ashman and Tim Rice, and a book by Linda Woolverton. It's a good company, producing all of your favorite musicals in the dreamy mountainscape of the Rancho Mirage Amphitheater. All win here.
Desert Theatricals Presents Beauty and the Beast Tickets
Producer: Desert Theatricals (Ray Limon, Joshua Carr)
Presenting Partners: The City of Rancho Mirage.
Director/Musical Director: Joshua Carr
Ray Limon: Choreographer
Orchestra Leader: Scott Smith
Cast:
Joe Savant as Emile DeBeque
Lizzie Schmelling as Nellie
Catrina Teruel as Bloody Mary
Christian Fonte as Cable
Shelby Victoria as Liat
Gilmore Rizzo as Luther Billis
Alex Compomizzi as Stewpot
Peter Zappia as Professor
Paul Zappia as Adams
Billy Franco as Quale
Koby Queenen as McCaffrey
Manny Dela Rosa as Seabee/Henri
Carlos Mendoza as Marine
Don Savage as Captain Brackett
Jeffrey Scott Adair as Commander Harbison
Jana Givoney as Dinah
Emily Rose Unnasch as Janet
Charlotte Upp as Connie
Mia Mercado as Bessie
Elija Zion Estella as Pierre
Aiden Lizada as Jerome
Musicians
Scott Smith: Conductor/Piano
Darrel Gardner: Trumpet
Gary Tole: Trombone
Lisa Cherry: French Horn
Alan Yankee: Reeds
John Reilly: Reeds
Cindy Brogan: Violin
Mari Mizutani: Violin/Viola
Teresa DiPietro: Cello
Mikael Jacobson: Bass
Brad Vaughn: Percussion
Technicals:
Gavan Wyrick: Lighting Design
Nick Wass: Productions Design
Joshua Carr/Tom Brooks: Set Design
Crew:
Lee Stone: Stage Manager
Uriel Avila: Sound Support/Crew
Leslie Upp: Costume Coordinator
TomBrooks: Set Construction/Tech Director
*Photos: Jennifer Yount Photography