Review: MID CENTURY MODERNS at Oscar's Cabaret
A jukebox romp to Palm Sorings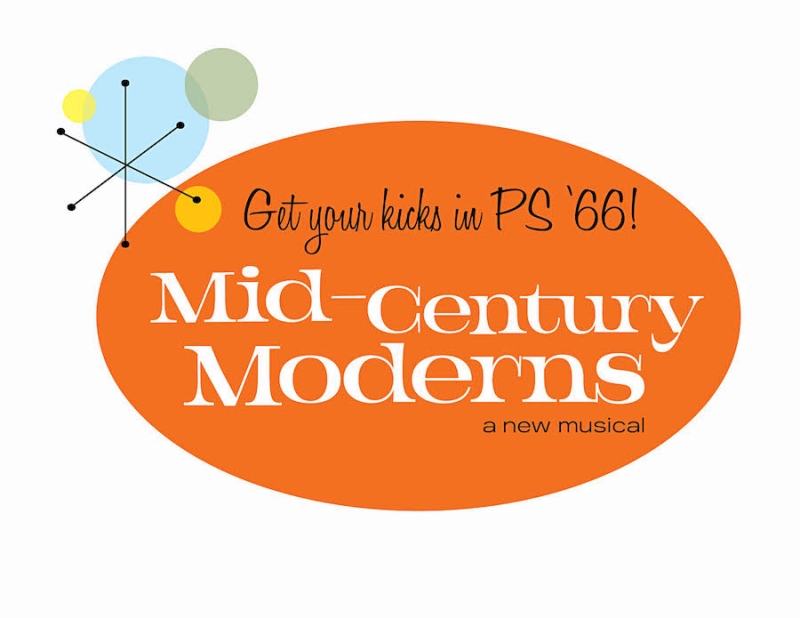 This is the second time I have seen Mid-Century Moderns, the first time I loved it so much I went on Facebook to tell people about it. That is a big deal for me, I stopped going to Facebook in 2018, but I really wanted to tell people about this play. It was produced this past summer at Desert Rose Playhouse, and it was terrific. It was recently remounted at Oscar's.
Many productions have their challenges, but this jukebox musical has seen the 'best of times and the worst of times', and I'm not even Dickens with you (you're not alone, I groaned too). It not only had challenges to overcome, but some pretty serious setbacks, not to mention what happened in the original theater space.
Producers Mark Christopher (who also wrote and directed) and Dan Gelfand (who was instrumental in the music selections) secured Desert Rose Playhouse (DRP) for the show's premiere. A series of unfortunate events closed DRP's doors occasionally (and then finally in August 2022), like a roof leak that flooded their space, and positive Covid tests causing them to have to shuffle their season. That not only affected DRP, but Mid Century Moderns. It was slated to run right when there was a Covid positive test from who knows where, but the little LGBTQ theater had to close its doors for a bit. The show was rescheduled and had a sensational run, which my colleague Stan Jenson reviewed here.
The reviews were so positive from local news outlets that they hunted for a new space. Unbeknownst to the producers, I loved the play so much, I tried to make a case for them to remount in a different space, but got nowhere.
But local cabaret club, Oscar's, saw there was an opportunity. They already had big names coming in like Sandra Bernhardt, and trombonist Gunhild Carling, as well as a drag celebrity impersonator show, but a play was something new for them. Christopher and Gelfand knew, despite the challenges, they could make it work.
Oscar's has a much smaller stage offering nearly no depth at all. That required some new staging, and a new set. They brought in set designer Bruce Weber, who created a 3-D set out of a nearly flat space. The bed was genius. Also, they got the original lighting designer, Mariah Pryor for this run. Both Weber and Pryor are Desert Theater League (DTL) winners in their respective categories.
Next, the play took a one-two punch, when one of the cast members injured themselves, and another had a heart attack five days before opening. That required one shift in cast members, and two complete recasting of roles. They soldiered on.
How does it play in the new space, and with the new script and players?
I'm glad you asked. Keep in mind, I saw the jukebox musical prior, so I would not have noticed these things had I been a first timer. One of my favorite laugh out loud moments came with a 'sex scene' in the original, but with the new staging it still plays, but not with afore-mentioned big laugh, but still funny, however the fix, in itself, was laugh out loud funny, and well used multiple times throughout this production, drawing a hearty laugh each time. So, losing one very funny bit of choreography resulted in many more laughs due to the space constraints. Sometimes your darlings need to die (to reword the quote) for the greater good of the whole (to be very clear: that is a writer's metaphor, and does not pertain to actual people.)
Here's the story: Maryann (Christine Tringali Nunes) is a brand new widow. She was married for 20 years to Ernie (Gary Powers), a man twice her age. She has always dreamed about California, so she takes his life insurance money, buys a car and heads to Santa Monica to be an executive secretary. She is quite smitten by an architect named Brewster (James Owens) whose firm is there; she has read about him.
Along the way she meets Tom (also James Owen), and after a stop in Palm Springs, she bonds with some locals, in particular Mrs. Honeyhouse (Heather Joy who also plays Maryann's best friend in Minnesota: Doris) and her two tenants, Michael (Joseph Portoles - who learned the script in 4 days) and Ricky (Carlos Garcia). That's all you need to know about the plot. Just remember to buckle up.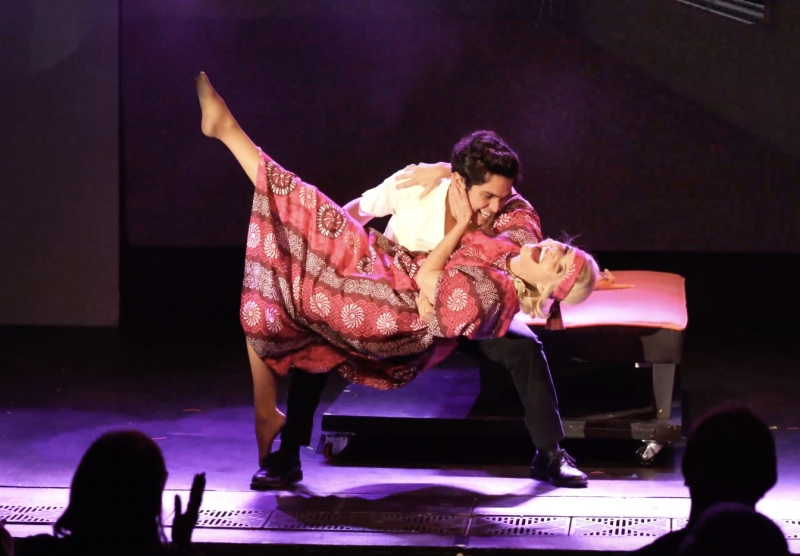 Tringales does a terrific job as the lead. Her large expressive eyes have an anime feel. Even when she is neither singing or speaking, she is able to telecast emotion to the audience. She also has a some of the best comic timing I have seen this year.
Like Nunes, Garcia and Portoles take already funny lines and situations and add a very fun performance. The audience is having a ball every time they step on the stage. Nice work.
Joy brings a new, softer side to Mrs. Honeyhouse. She's a totally unflappable badass, and has a few very funny moments.
Although Ernie is dead, he continues to pop up during the play. Powers portrayal is just what the role calls for, and it feels like he walked right out of an old 1960s movie. He has one other role that I won't ruin for you.
Owens handles both Tom and Brewster with panache. Having both of her love interests played by the same man is kinda meta in that this is really about Maryann's journey and her rebirth as a worldly California girl, and the men she is dating involved with along the way are just side stories on her journey, so in the grand scheme, they're the same guy with a different name.
Let me also say, you will not hear one weak voice or sour note the entire night. All of the actors are dynamite vocalists, and while they all sing a lot, each has a big spotlight turn. It is a very fun and creative jukebox musical that speaks to the times (1966) and the vibe of our little city. All of the music perfectly punctuates Mark Christopher's delightful script.
If you get a chance to see this little powerhouse if a show, I promise you big, big, belly laughs.
Mid Century Moderns on Facebook
Oscars - The Scene of Palm Springs
Producers: Mark Christopher, Dan Gelfand
Book/Director: Mark Christopher
Maryann: Christine Tringali Nunes
Doris/Mrs. Honeyhouse: Heather Joy
Tom/Brewster: James Owens
Ernie: Gary Powers
Bartender/Ricky: Carlos Garcia
Michael: Joseph Portoles
Dancer/choreography: Miss Dee Dee Starr
Lights: Mariah Pryor
Set: Bruce Weber
Sound/Projection: Alex Danson
Stage Manager/Costume & Prop supervisor: William Kates