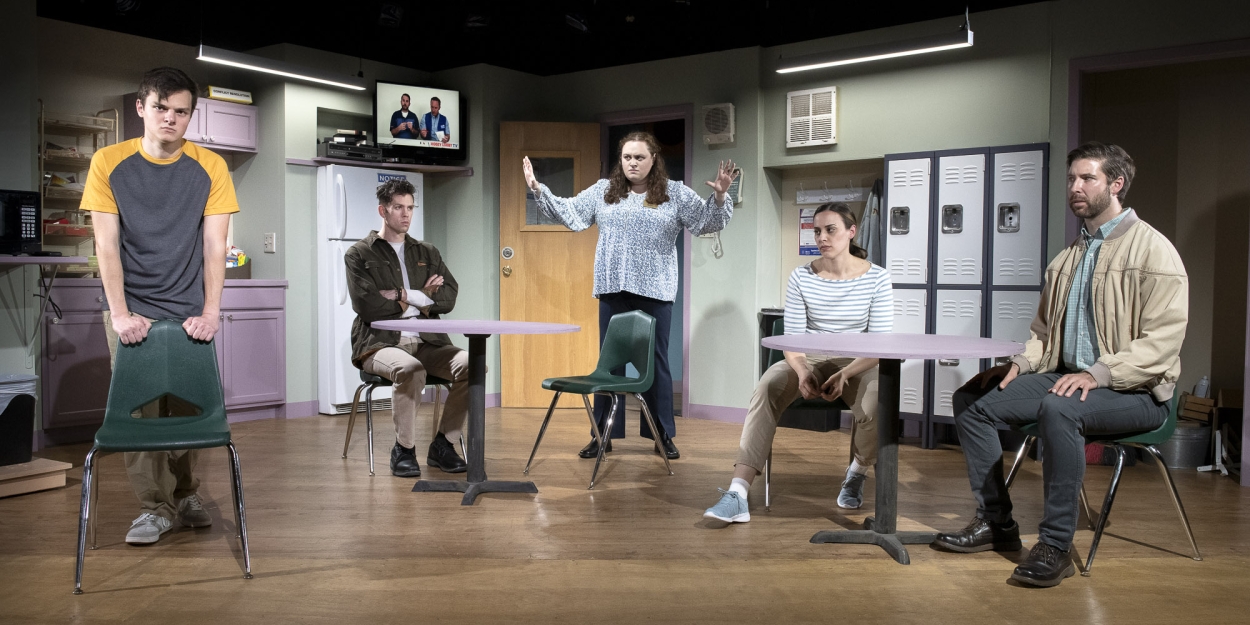 Review: A BRIGHT NEW BOISE at Dezart Performs
Now at Dezart Performs through January 22, 2023
Doomsday cults, romance novels, adoption nightmares, "outlandish" art forms, and corporate greed are the ingredients in Samuel D. Hunter's 2010 simmering A Bright New Boise produced by Dezart Performs, now playing at the Pearl McManus Woman Center.
Set at a Hobby Lobby (notoriously known for their strict adherence to "Christian law") in Boise, Idaho, only the obscenity spewing Pauline (Nicole Delsack) seems to care about the business, albeit reluctantly, through her recently acquired corporate lens. She was thrown into the job without warning, and has managed to resuscitate the failing store into the black.
As far as staff, she's got her best cashier Alex (Jacob Cherry), an adopted seventeen-year old boy who writes performance art music; Anna (Lea Madda), an awkward young woman with a penchant for romance novels still living at home; Leroy (Austin Minard), a t-shirt shock artist, and Alex's older "brother"; and she's in the process of hiring Will (Eric Patrick Harper), who has a few dark secrets, when our play begins in the break room.
What she doesn't know about Will, an aptly stoic performance by Harper, is that he is/was (we're not 100% sure) a member of a doomsday cult that recently had a scandal involving the death of a follower. Will is named in the news reports but it doesn't click for Pauline until Leroy lays it all out in a bid to get rid of him. Minard's Leroy is arrogant yet protective of his little brother who is, we learn early on, Will's estranged son. Will is desperate to reconnect with Alex, but is it as a father or as a cult member, or both? The crux of Pauline's being is about second chances as long as it doesn't affect her store. She is bawdy, she is frustrated, and she is wonderfully portrayed by Delsack bringing all the humor out in the role.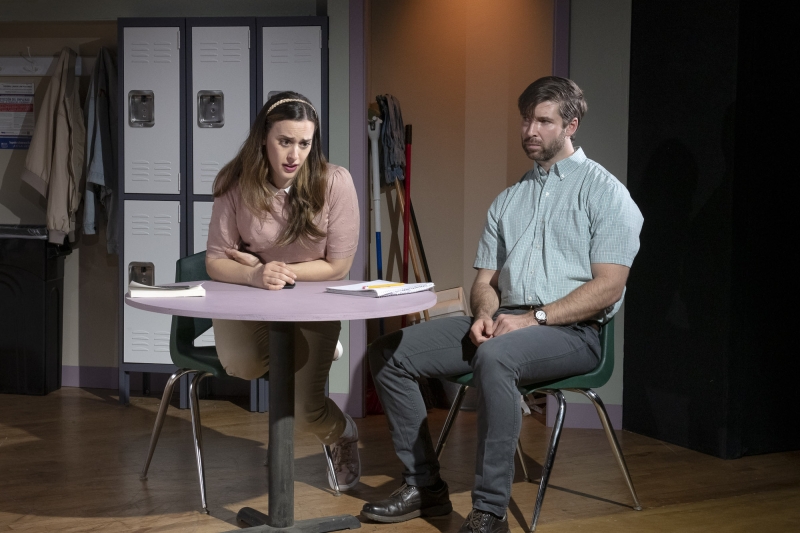 Anna and Will both hide in different sections of the store after closing; Anna, so she can read her romance novels, and Will, to use the Wi-Fi to write his blog about the Rapture. They develop a friendship that leaves Anna wanting more than Will can give. I mean, this guy is living for the Rapture, he has nothing to offer anyone but his own despair. The role of Will is difficult, the inner conflict of the character needs to be portrayed without words. Harper plays the role as if Will is in a daze, unless he is talking to his son and trying to make a connection. It's the only thing he wants - that and the Rapture. Harper does a nice job portraying all of that.
Madda's Anna is awkward, goofy, and wide-eyed at the prospects of having an entanglement with Will, but his sole focus is Alex. While initially it seems like an over-the-top performance, Madda remains true to the character she has created and she is as lovable as she is odd. Very nice work by Madda.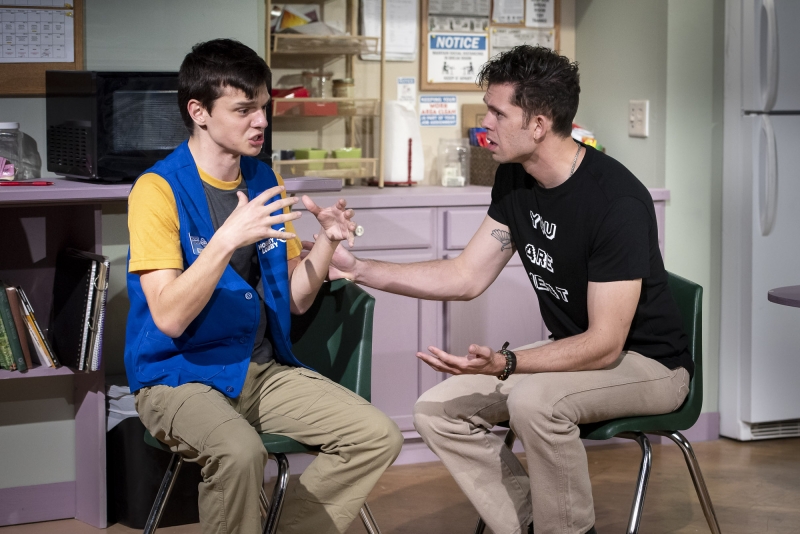 We finally come to Alex - who lives inside his head listening to avante garde music and creating "lyrics" that are more angry shouting than anything else. Initially, he seems a bit stoic like dad, but mixed in with that is his terrible life with his drunkard adoptive parents, leaving him vulnerable to the religious zealotry of his birth father. His mother gave him up for adoption to get him away from that doomsday cult, and now it's at his workplace.
Cherry gives us one of the finest performances I have seen to date from any theater, big or small. He is a wonderful actor and brings out all of the nuances in this complicated character.
Clark Duggar's sound and video design is terrific, and Jimmy Cuomo's set was as bleak as all of the break rooms I have ever had the displeasure of utilizing. Phil Murphy's lighting design and Frank Cazares' costume hit the mark.
I always do a little research on the plays, and I was surprised to see a few reviewers describe different productions of the play as "very dark" and I had such a good time at this production, I did not get why that was always mentioned. So I watched a few videos of other productions. And now I know why. The warmth and the humor Michael Shaw's direction brought to this show was missing in the others. The subject matters may be deep and dark, but they did not mine for comedy as Shaw does with this production. His skill combined with this cast, makes "Boise" not just bright, but brilliant.
The show runs through January 22, 2023.
Production photos by David A. Lee
A Bright New Boise by Samuel D. Hunter
Producers: Michael Shaw & Clark Duggar
Director: Michael Shaw
Cast
Alex: Jacob Cherry
Will: Eric Patrick Harper
Leroy: Austin Minard
Anna: Lea Madda
Pauline: Nicole Delsack
Technicals:
Set Design: Jimmy Cuomo
Lighting Design: Phil Murphy
Costume Design: Frank Cazares
Sound & Video Design: Clark Duggar
Scenic Artist: Tom O'Brien
Props Master: Louise Ross
Stage Manager: Kyle T Hester