Luck Be A Lady! GUYS AND DOLLS Begins Its Run At The Palm Canyon Theatre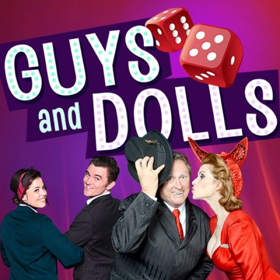 The Palm Canyon Theatre (PCT) will become a pantomime of hustle and bustle as the regional repertory company presents Guys and Dolls January 18-February 10. Set in New York City in the 1940s, Guys and Dolls is about some big city gamblers and the women who love them. The Tony award winner for Best Musical tells the overlapping stories of the lovable rapscallion, Nathan Detroit (Paul Grant), engaged for 14 years to Miss Adelaide (Se Layne), a headliner at the Hot Box Club and that of high-roller Sky Masterson (Nicholas Sloan), who falls in love with mission worker Sarah Brown (Jamie Leigh Walker).
Nathan runs a famous floating crap game, and an ongoing plot line involves his quest for a safe place for the game as Adelaide continues her quest to convince him to marry her. Meanwhile, Sarah, mistakenly believing that Sky set up an illegal game at the mission, tries to fight her affection for the charismatic crapshooter. Other notable PCT company members include Jacob Samples as Nicely-Nicely Johnson, Ben Reece as Benny Southstreet, and Tom Warrick as Arvide Abernathy.
Derik Shopinski is the show's director, choreographer and costume designer. The show's musical director is Steven Smith with set design by Kirsten Cunningham and lighting design by JW Layne.
Guys and Dolls is based on "The Idyll of Miss Sarah Brown" and "Blood Pressure" - two short stories by Damon Runyon - and also borrows characters and plot elements from other Runyon stories - most notably "Pick the Winner." The book was written by Jo Swerling and Abe Burrows with music and lyrics by Frank Loesser.
Guys and Dolls premiered on Broadway in 1950. The musical has had several Broadway and London revivals, as well as a 1955 film adaptation starring Marlon Brando, Jean Simmons, Frank Sinatra and Vivian Blaine.
Guys and Dolls runs at PCT January 18-February 10. Show times are 7 p.m. on Thursday, and 8 p.m. on Friday and Saturday. The Sunday matinee begins at 2 p.m. Tickets are $32-$36. Student tickets are $15, with valid ID purchased at the Box Office.
For tickets, sponsorship opportunities or other information, call the PCT Box Office at 760-323-5123 or order online:PalmCanyonTheatre.org. The Palm Canyon Theatre is located at 538 North Palm Canyon Drive, at the corner of Alejo Road and Palm Canyon Drive. Box Office hours are Tuesday-Saturday, 10 a.m.-4 p.m.