It All Comes Out Of The Piano! Billboard Chart-Topper Peter Cincotti Brings His Signature Style To The McCallum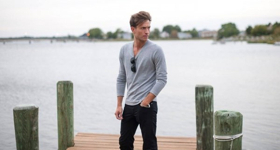 The McCallum Theatre presents Peter Cincotti on Saturday, December 1, at 8:00pm as part of the Fitz's Jazz Café at the McCallum series. Born in New York City, Peter Cincotti started tinkling the keys of a toy piano when he was three years old. A year later, he started taking lessons, but his mother asked the teacher to let him play whatever he wanted and to not force classical technique. By the age of nine, he was composing and, in his mid-teens, took up singing. Peter soon became a quadruple threat - pianist, singer, composer and arranger. He spent much of his childhood going to school during the day and playing clubs at night. Legendary music producer Phil Ramone was there one of those nights, a discovery that led Ramone to produce Peter's debut album which reached #1 on the Billboardjazz charts, making 18-year old Cincotti the youngest artist ever to do so.
While still in high school, Peter played in clubs in Manhattan, participated in the National Grammy Band, was honored in the John Lennon Songwriting Contest, and was invited to perform at the White House. He also won a coveted award at the Montreux 2000 Jazz Festival in Switzerland for his swinging piano rendition of Dizzy Gillespie's "A Night in Tunisia." In 2001, Peter was the youngest artist ever to play the storied Oak Room at the Algonquin Hotel.
In 2004, Peter released his second CD, On The Moon, which showcased his contemporary, unique, and undeniably infectious twist on his original songs and standards such as "I Love Paris," "St. Louis Blues,"and "Some Kind of Wonderful." The release was followed with a world tour, from two sold out shows in New York, to London's Royal Festival Hall, to Walt Disney Concert Hall in Los Angeles.
Peter has performed in some of the world's most prestigious venues from Carnegie Hall to L'Olympia in Paris, collaborated with artists ranging from Andrea Bocelli to David Guetta, has been featured in films such as Spiderman 2, and represented the global fashion brands Ermenegildo Zegna and Tod's. Peter's talents also took him to film, playing the featured role of Dick Berhke, Bobby Darin's best friend and musical director in the film about Bobby Darin, Beyond the Sea. He also appeared as himself in Season 3 of the Netflix series "House of Cards," singing a duet with the President played by Kevin Spacey.
Along the way, his vibrant and socially-aware songwriting caught the ear of Grammy winner David Foster, who produced Peter's third album East of Angel Town. His first CD of all original material, East of Angel Town, explored musical styles that blended pop, rock, blues, funk and jazz.
Peter's experiences have shaped his music through the years, changing the layers of his sound and the dimensions of his style. He has morphed genres and blended influences in a variety of ways, but his story currently unfolds over uncharted terrain on his most recent album Long Way From Home. Written, arranged, and produced by Peter, this collection of songs is the product of "moving my pianos to a house on the Jersey Shore, building a recording studio, and spending the majority of the last two years alone at the control board," he explains. "It felt great to work through the night with no New York complaining neighbors and explore every idea in my head. At one point, whenever I fell asleep, a new song would introduce itself in whatever dream I was having. So I'd wake up and write it down. Several songs on this album were written that way. It got to a point where I felt like I wasn't even composing, I was just writing down what was already there. Never before have I used the piano in this way. A few years ago, I began having these visions of an album that brings active, rhythmic piano playing back into the landscape of modern music."
With his sophisticated songwriting, and fresh takes on standards, Peter has proven that he's an artist who's going to be around for a long time.
Tickets for this performance are priced at $75, $65, $45 and $35. Tickets are available at the Theatre's website at www.mccallumtheatre.com or by calling the McCallum Theatre Box Office at (760) 340-2787.
Related Articles View More Palm Springs

Stories

Shows
David Green is the Executive Director of The American Foundation For Arts Education, founded by Carol Channing and her late husband, Harry Kullijian -- working (read more...)