GREATER TUNA, Starring Founder Chuck Yates, Concludes Coyote Stageworks Tenth Anniversary Season The Annenberg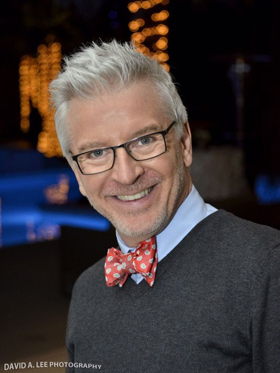 Coyote StageWorks, the Coachella Valley-based award-winning Actors' Equity professional theater company, will conclude its Tenth Anniversary season with the comedy "Greater Tuna" that will run for nine performances from March 22-31, 2019 at the Palm Springs Art Museum's Annenberg Theater. "Greater Tuna" is a hilarious send-up of small-town morals and mores. Set in a fictional small town in Texas, this popular comedy stars two skillful, transformative actors who will take on 22 roles as they portray the town's wacky inhabitants. "Greater Tuna" was written by Jaston Williams, Joe Sears, and Ed Howard and will star Alan Denny and Chuck Yates. The production will be directed by Larry Raben. "Greater Tuna" was the very first production Coyote StageWorks mounted ten years ago.
"In 2009 we started our production company with this hilarious show, and our audience members have been asking us to restage it for years," said Chuck Yates, Founding Artistic Director of Coyote StageWorks. "The play is a significant challenge, as the two actors eventually play 22 different roles in a breakneck fashion. We are thrilled to mount this production at the Annenberg Theater and end our season the way we started this company ten years ago."
About Greater Tuna
Set in the fictional town of Tuna, Texas, the "third-smallest" town in the state, "Greater Tuna" explores the town's quirky inhabitants- men, women, children and animals. It is an affectionate comment on small-town, Southern life and attitudes but also a withering satire. "Greater Tuna" was originally produced in 1981 in Austin, Texas. One year after its premiere, "Greater Tuna" opened Off Broadway, ran for over a year, and went on to tour major theaters all over America and spots overseas for the next thirty-some years, becoming one of the most produced plays in American theatre history. It features two actors creating the entire population of Tuna through quick-change artistry, different costumes, vocal characterizations, and inventive voicework.
About the Actors
Alan Denny has been a member of Coyote StageWorks company and is reprising his roles in Greater Tuna for the 10th Anniversary of Coyote StageWorks. He also served on the Board of Directors for seven years.
Denny has been involved in the entertainment industry for many years, wearing many hats. He has appeared in productions such as: DA, The Rocky Horror Show, Jesus Christ Superstar, Shenandoah, Strider, and Chicago. Other shows from his time in New York are, Marat/Sade, As Is, Outward Bound, The Tempest, Closer Than Ever, Fashion Police, Box Office Poison, and Kiss Me Quick Before the Lava Reaches the Village.
While living in New York, Denny was Music Director, Founding Member, and Board member of the Eclectic Theatre Co. where he wrote, directed, played piano and performed in several musical revues and plays. He also worked with three other NY theatre companies; Love Creek, Red Light District, and Current Shakespeare. Not only sticking to being onstage, he has also designed and assisted behind the scenes doing everything from sets, costumes, props, and marketing materials to working the box office.
Alan currently sings with A Cabbello and Modern Men, the Coachella Valley Men's Chorus. He moved to the area 6 years ago and currently lives in Cathedral City.
Chuck Yates - Five-time Desert Star Award-winner and Founding Artistic Director of Coyote StageWorks, Chuck has acted in Greater Tuna; A Tuna Christmas; Art; The Cocktail Hour and most memorably as Truman Capote in Tru. As Artistic Director/Producer he's overseen all of CSW's productions garnering a total of 77 Desert Star wins, received the Joan Woodbury Mitchell Award, the Michael Grossman Inspiration Award, two consecutive "Best Live Theater" wins in Desert Magazine and received The Shiny Apple Award for work and contributions to the students of the Palm Springs Unified School District.
Outside of Coyote StageWorks, he performed in Tru (Invisible Theatre, Tucson. MAC Nomination Best Actor) and Into the Woods (Musical Theatre University). For the Coyote StageWorks Play Dates Series, Yates appeared in Dada Woof Papa Hot, and directed Our Mother's Brief Affair; The Velocity of Autumn, The Play About The Baby; Bakersfield Mist, and The Understudy. He also directed Laurence Luckinbill in Teddy Tonight! (Invisible Theatre, Tucson; Northcoast Rep; and the McCallum Theater). New York stage appearances include Landscape of the Body; Slam!; Come Back to the 5 & Dime, Jimmy Dean, Jimmy Dean; and Holy Ghosts. Chuck also wrote for the television shows "Caroline in the City" and "Dharma & Greg," each garnering a People's Choice Award. He is a graduate of The Alabama School of Fine Arts, the American Academy of Dramatic Arts - NY, and studied privately with the late, great Geraldine Page.
Tickets for Coyote StageWorks' staged productions are $45 - $55 for matinees and $50 - $60 for evening performances. Free wine tasting sponsored by Trio one hour before the performance on Saturday, March 23rd. A Q&A session with cast members will follow Thursday matinees. To purchase individual tickets or subscriptions, call 760-325-4490 or visit annenbergtheater.org. For group sales, call 760-318-0024.
This season, Coyote Stageworks has expanded its free Play Dates Reader's Series at the Camelot Theaters/Palm Springs Cultural Center to an almost monthly event. The popular Play Dates will feature fresh and compelling scripts read by new and established actors. The last Play Date of the 2018-2019 season will be a production of "A Doll's House, Part 2" (a 2017 Tony Award winner and recently listed as "The most produced play of the season in the US") on June 2.
The 2018-2019 Coyote StageWorks season is generously sponsored by David Lee. Earlier this year, David Lee also issued a $30,000 challenge grant that doubled any donation the company received. Greater Tuna is sponsored by Mel & Dorothy Lefkowitz and Dennis Flaig & Clint Moore.
The organization benefits from the expert leadership of its Business Advisory Board, comprised of Barbara Keller, David Lee, Dorothy Lefkowitz, John P. Monahan, Ann Sheffer, and Martin Wiviott. It also benefits from the insights and advice from its Artistic Advisory Board, comprised of Lucie Arnaz, Gloria Loring, Laurence Luckinbill, and Lorna Luft.
Coyote StageWorks is a nonprofit, 501(c)3 company dedicated to advancing theatre as a vital art form in the desert communities of the Coachella Valley. It is their mission to provide a forum for thought-provoking, entertaining, and culturally significant works in an environment that nurtures the creativity of the individual and the enrichment of the community. These shows are not Palm Springs Art Museum or Annenberg Theater presentations. For more information about Coyote StageWorks, please visit coyotestageworks.org.