Follow The Clues To Walnut Street Theatre's BASKERVILLE - A SHERLOCK HOLMES MYSTERY At The McCallum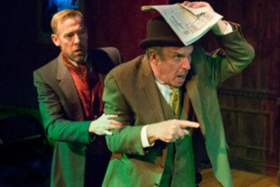 The McCallum Theatre presents the Walnut Street Theatre's production of Ken Ludwig's Baskerville: A Sherlock Holmes Mystery, an adaptation of Sir Arthur Conan Doyle's The Hound of the Baskervilles, on Tuesday, February 27, at 8:00pm. Baskerville features Ian Merrill Peakes as Sherlock Holmes and Bill Van Horn as Doctor Watson. Additional cast members are Sarah Glicko, Dan Hodge and Jered McLenigan.
Laughter is "elementary my dear Watson." Ken Ludwig's acclaimed adaptation of Sir Arthur Conan Doyle's 1902 classic mystery The Hound of the Baskervilles is full of intrigue and laughs. The male heirs of the Baskerville line are being murdered one by one and the renowned sleuth Sherlock Holmes, along with his trusted side-kick Dr. Watson, must work feverishly to crack the curse before it dooms the newest heir. Witness five talented actors playing 40 quirky characters, and venture deep into a world filled with disguises, silly accents and murderous deceit. The journey winds through treacherous Devonshire moors, crowded railway stations, foggy London streets and gloomy baronial mansions. Join the investigation as these intrepid detectives follow leads, unravel clues, hit dead-ends, and zigzag with the story until the shockingly funny conclusion. All is not what it seems. Do you know whodunit?
Ian Merrill Peakes (Sherlock) 9th Walnut show (Harvey, Ideal Husband, Of Mice and Men, Great Expectations, etc.) and 124th professional production. Two Best of Denver Awards, nominated for seven Barrymores (won 3), four Helen Hayes Awards (won 1) and winner of the 2003 F. Otto Haas Award. Proud Philadelphia actor.
Bill Van Horn (Dr. Watson/Director) Recently at Walnut Street Theatre: Forum, Oz, A Christmas Story, Mary Poppins, Driving Miss Daisy, Elf, The Prince, Fiddler on the Roof, directed The Glass Menagerie, and created and starred in O Captain, My Captain: Whitman's Lincoln. Bill is a permanent member of The Acting Company at Theatre at Monmouth in Maine.
SARAH GLICKO (Actress 1) Recent Walnut Street Theatre credits include Around the World in 80 Days; Love Story; and The Buddy Holly Story. Sarah is a proud member of the Wilma Theater's critically acclaimed HotHouse ensemble. Wilma favorites: Blood Wedding; Constellations; When the Rain Stops Falling; and the U.S. premiere of Tom Stoppard's The Hard Problem. She has also worked locally with Azuka, Arden, Lantern, Inis Nua and Act II Playhouse.
Dan Hodge (Actor 1) Regional credits include 39 Steps; Travels With My Aunt; The Mousetrap; Private Lives; Peter and the Starcatcher (Walnut Street Theatre); The Real Thing (Wilma); Glengarry Glen Ross (Theatre Exile); Around the World in 80 Days (Barrymore Award - Leading Actor) (Delaware Theatre); Rape of Lucrece, Fair Maid of the West (Philadelphia Artists' Collective.)
Jered McLenigan (Actor 2) Walnut Street Theatre credits: Peter & the Starcatcher, Rise & Fall of Little Voice, Good People. Recent credits include InterAct's How to Use a Knife, Wilma Theater's Blood Wedding, Adapt!, Constellations (Barrymore Award, Leading Actor/Play). Jered is a Wilma Hothouse company member and has received the Supporting Actor/Play Barrymore twice
Walnut Street Theatre (Producer) The Walnut Street Theatre is the oldest theatre in America, founded in 1809. In 1982 it returned to its origins as a producing theatre under the internationally known producer, Bernard Havard, and it now boasts over 56,000 subscribers. Under his leadership, the Walnut established a strong commitment to artistic excellence and a dedication to developing American theatre artists through its nationally known programs, including its highly regarded apprentice program. The Walnut has received numerous awards for its artistic achievements, including the Barrymore and Carbonell Awards. Widely known for successful collaborations and co-productions both in England and the U.S., the Walnut has established a strong international reputation.
Most noteworthy American actors of the 19th century and many from the 20th century have appeared on stage at the Walnut. Some of the Walnut's shining stars include: Edwin Forrest, Edwin Booth, the Drews, the Barrymores, George M. Cohan, Will Rogers, The Marx Brothers, Helen Hayes, Henry Fonda, Katharine Hepburn, Marlon Brando, Jessica Tandy, Ethel Waters, Audrey Hepburn, Sidney Poitier, Lauren Bacall, George C. Scott, Jane Fonda, Robert Redford, Julie Harris, Jack Lemon, and William Shatner.
The theatre has been home to many pre-Broadway try-outs of plays that would go on to become American classics, such as A Streetcar Named Desire starring Marlon Brando, A Raisin in the Sun featuring Sydney Poitier, The Diary of Anne Frank featuring Susan Strasberg, Mister Roberts, starring Henry Fonda, and Neil Simon's first Broadway play, Come Blow Your Horn.
The Theatre is proud to share their production of Ken Ludwig's Baskerville, A Sherlock Holmes Mystery. For more information about the Walnut Street Theatre, please visit www.walnutstreettheatre.org.
Tickets for this performance are priced at $77, $57, $47 and $27. Tickets are available at the Theatre's website at www.mccallumtheatre.com or by calling the McCallum Theatre Box Office at (760) 340-ARTS.

Related Articles View More Palm Springs

Stories

Shows