Dublin To The Desert! The McCallum Theatre Brings PBS-TV's Biggest Concert Sensation CELTIC THUNDER To The Coachella Valley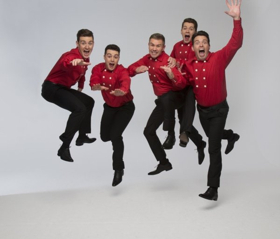 The McCallum Theatre presents Celtic Thunder on Friday, November 16, at 8:00pm. The Celtic Thunder X tour is the show's 12th tour of the U.S. and Canada since Celtic Thunder's debut in 2008. The airing of their first Public Television special came that same year and Celtic Thunder has consistently remained one of the most popular musical shows for PBS stations throughout the United States.
There's no resting for Public Television phenomenon Celtic Thunder. The multi-Platinum Irish group disembarked from its third Celtic Thunder Cruise in November 2017 and completed a Symphony Tour in December 2017, all while making preparations for their new Celtic Thunder Xdouble CD and double DVD packages which were released in March 2018. The releases celebrate the group's 10th Anniversary, and the Celtic Thunder X tour of 75 cities across the U.S. and Canada which began in the fall of 2018.
The new music and footage from Celtic Thunder X is also a television special, which began airing nationally in March 2018. The special was filmed in Dublin in 2017 at the Helix Theatre. Celtic Thunder has become one of Public Television's largest draws. Their shows have aired over 22,500 times across 50 states on PBS. The group is among the top five audience-generating acts on the network.
Celtic Thunder have sold over 3.4 million albums in the U.S., toured the U.S. and Canada coast to coast 12 times, performing almost 1,000 shows to date and selling over 1 million tickets. Celtic Thunder has been hailed as Billboard's "Top World Music Artist," along with "Top World Music Imprint" and "Top World Album" in 2008, 2009, 2011, 2015, and again in 2016.
Celtic Thunder's official YouTube channel, "Thunder Tube," has received over 98 million views since 2008, and has more than 163,000 subscribers. The Celtic Thunder website www.celticthunder.com reached over 5.3 million users last year. Celtic Thunder's monthly newzine, www.theceltictimes.com, has a readership of 1.2 million and 100,000 subscribers. Celtic Thunder has appeared on multiple national TV programs including "The Today Show," "CBS Early Show Saturday," "Fox & Friends," QVC, and numerous regional shows in major cities.
The singers of Celtic Thunder (Neil Bryne, Emmet Cahill, Ryan Kelly, Damian McGinty, and Michael O'Dwyer) deliver a mix of traditional and contemporary songs. And no Celtic Thunder show would be complete without an encore of their rousing anthem "Ireland's Call."
Neil Byrne was asked to record backing vocals for the first Celtic Thunder DVD in 2007, moved to lead guitar, and in 2011, became one of the lead vocalists in the show. Neil has toured America, Canada and Australia with the show and performed on both Celtic Thunder Cruises. In 2015, Neil partnered with animator Aidan McAteer and composed the musical score to the Irish short film Deadly. Collaborating with Celtic Thunder musical director David Munro, Neil and David won "Best Film Score" at the Underground Cinema Awards for Short Film. Neil has released albums as a solo artist and in collaboration with Celtic Thunder cast mate Ryan Kelly.
Emmet Cahill hails from Mullingar in County Westmeath in Ireland and graduated from the Royal Irish Academy of Music. Emmet started with Celtic Thunder on the "Heritage" tour. The baritone of Celtic Thunder shows, Emmet performs belting solo numbers showcasing the richness of his voice. Emmet released his solo album in 2016. During his professional career, Emmet has immersed himself in a variety of musical genres, awakening his passion for Irish music as well as other styles. Indeed, the Irish Music Association named him "Tenor of the Year" in 2013.
Ryan Kelly, an original member of Celtic Thunder, was between banking jobs when his brother told him about the audition for an Irish touring band. Ryan has toured the U.S., Canada and Australia with Celtic Thunder since 2008. In 2016, he undertook his fourth tour "Down Under" with Celtic Thunder and his tenth North American Tour with the show. In his solo career, Ryan has released two World Billboard chart-topping self-penned solo albums, In Time in 2011 and Life in 2013 to critical acclaim and has won several Irish Music Awards - including "Top Solo Performer in a Concert" in 2011 and 2014.
Damian McGinty was invited to join the inaugural cast of Celtic Thunder and has performed in six specials for Public Television and four U.S. and Canada tours. In 2011, Damian auditioned for TV's "The Glee Project" and was chosen as one of two winners, landing a role in Fox's series "Glee." In 2013, Damian returned to Public Television performing on specials first with former Celtic Thunder cast-mate Paul Byrom and later with Ethan Bortnick in "The Power of Music." He returned as a Guest Artist on "The Very Best of Celtic Thunder" tour and collaborated with Celtic Thunder on the recording of their show "Legacy."
Michael O'Dwyer is from County Tipperary. He discovered music when he started playing the cornet at the age of seven, and also learned to play saxophone, drums, bass guitar and piano. Michael made his stage debut at fifteen as Joseph in a youth production of Joseph and The Amazing Technicolor Dreamcoat. With his hometown's musical society, he played Pish Tush in The Mikado and Jesus in Godspell. In the drama and arts society at Mary Immaculate College in Limerick, he played Danny Zuko in Grease. Michael auditioned for Celtic Thunder and he joined as a cast member in the North American and Canada Legacy Tour in Fall 2016.
Sharon Browne (Producer)
A veteran of more than 30 years in the music industry, Sharon Browne needs very little introduction. Her career has focused on promoting established artists as well as breaking new acts and launching them on the world stage. In addition to being Celtic Thunder's creator and producer, she is the original producer of Celtic Woman and has worked with top Celtic acts Riverdance, Phil Coulter, The Wolfetones, Clannad and many more. In Celtic Thunder, Sharon has channeled her years of music industry experience, her production expertise, and her unique vision into sculpting new and exciting shows each time. Under Sharon's guidance Celtic Thunder has been named Billboard's Top World Music Artist numerous times. Her belief in the magic of Celtic Thunderis infectious. Her inexhaustible energy, along with her determination and inability to accept "no" for an answer, has created this incredibly successful show.
David Munro (Musical Director)
A graduate of Glasgow University, David started his musical life as a concert pianist then turned his attentions to ballet and opera. David has worked with The Royal Ballet, Scottish Ballet, Miami City Ballet, Singapore Ballet, Mark Morris Dance Company, Jiri Kylian (NDT), Random Dance and L.C.T.D, among others. A prolific composer, his commissions "The Musical Story Book" for B.B.C. Radio 4 were nominated for a Sony Award in the U.K. David joined Celtic Thunder in 2011 as Musical Director and has toured with the show ever since. He has composed original songs for Celtic Thunder and is responsible for all musical and vocal arrangements. "One word sums up the prevailing mood behind every note in Celtic Thunder. That word is collaboration. We have the finest singers, musicians and engineers on every project that we can find, and they have all contributed greatly to what you hear."
www.celticthunder.com
Tickets for this performance are priced at $100, $90, $80 and $60. Tickets are available at the Theatre's website at www.mccallumtheatre.com or by calling the McCallum Theatre Box Office at (760) 340-2787.