Comedy Legend Bob Newhart Headlines The McCallum Theatre For One Hilarious Night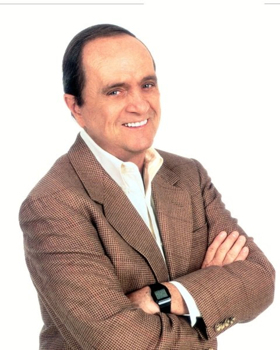 The McCallum Theatre presents Bob Newhart on Saturday, November 17, at 8:00 pm. One of the most important, influential, and beloved figures in the history of American comedy, Chicago native Bob Newhart has been entertaining audiences around the world for over 50 years. Bob's career began in a quite unassuming fashion, while working as an accountant in Chicago. Bored with his accounting work, Bob would call Ed Gallagher, a friend from a suburban Chicago Stock Company, and improvise comedy routines. It was suggested that they record and syndicate them. They did and were imminently unsuccessful. Ed, an advertising executive, was offered a job in New York and accepted it, leaving Bob with the difficult job of going it alone.
He knocked around Chicago finding occasional work in voiceovers and commercials while still writing additional material. Through disc jockey friend Dan Sorkin, Bob met with the head of the newly-launched Warner Brothers Records, who, upon hearing Bob's material, offered him a contract. And so, The Button-Down Mind of Bob Newhart came into being, winning three Grammy Awards and becoming the first comedy album to reach #1 on the charts. He was an immediate sell-out in nightclubs and theater stages all over America.
Seven more albums followed, each extremely successful multi-Platinum projects. His record for holding the number #1 and #2 Billboard chart positions was ultimately broken by rock band Guns 'N Roses.
Bob has enjoyed success in television and films as well and hosted the "Tonight Show" an astonishing 87 times. His early TV effort, the "Bob Newhart Variety Show," earned an Emmy Award and a Peabody Award and was followed by the television success of "The Bob Newhart Show" (1972-1978) and "Newhart" (1982-1990).
He has appeared in over 14 feature films, including Elf, On a Clear Day You Can See Forever, Catch 22 and Legally Blonde 2, and has starred with the likes of Steve McQueen, Bobby Darin, Barbara Streisand, Madeline Kahn and Walter Matthau. He's also provided character voices for major animated films.
Bob has headed back to the small screen on a recurring basis. In 2005, he appeared as Morty, the estranged boyfriend of Susan's mom, Sophie (guest star Lesley Ann Warren), on "Desperate Housewives." He was featured in a TNT original adventure drama, "The Librarian: Quest for the Spear;" a second and third installment of "The Librarian" has been broadcast on TNT. He also enjoyed acting turns on the NBC drama "ER," for which he received an Emmy nomination. Bob made a guest appearance on "NCIS" playing a retired coroner opposite series star Mark Harmon. He had a recurring role on "The Big Bang Theory," for which he was awarded his first ever Emmy Award.
Bob's first book, I Shouldn't Even Be Doing This, published in 2006, became a New York Timesbest seller and the best-selling celebrity memoir of the year. He received a Grammy nomination for the spoken word version of his book.
Bob's awards and recognition are many. He was inducted into the Academy of Television Arts and Sciences Hall of Fame and the Illinois Broadcasters Hall of Fame; received a star on the Hollywood Walk of Fame; and won the Mark Twain Prize for American Humor. In 2002, a statue of Bob, depicting Dr. Robert Hartley sitting in an armchair next to an empty couch, was unveiled on Chicago's Magnificent Mile. In 2009, the National Association of Broadcasters presented Bob with its Hall of Fame Award at a gala in Las Vegas. In 2012, Loyola University Chicago, from which Bob graduated in 1952, dedicated The Newhart Family Theatre. In 2015, he received a Lifetime Achievement Award from the Publicists Guild of America. Among Bob's favorite honors are his selection as Grand Marshall of the 102nd Tournament of Roses Parade, joining 101 other world-famous leaders, stars, politicians and other world notables.
www.bobnewhart.com
Tickets for this performance are priced at $108, $78, $68 and $48. Tickets are available at the Theatre's website at www.mccallumtheatre.com or by calling the McCallum Theatre Box Office at (760) 340-2787.