BWW Review: Desert Theatreworks' Production of ON GOLDEN POND is Golden, and Not to be Missed.
For those feeling "meh" about attending Ernest Thompson's ON GOLDEN POND because they'd rather not see a tearjerker: Desert Theatreworks' (DTW's) production will make you reevaluate everything you thought you knew about the play. DTW's fresh version, which is more a dramedy than a true drama, is not to be missed.
The story revolves around an elderly couple, retired English professor Norman Thayer, Jr. (Arnie Kleban), and his loving but hovering wife, Ethel (June August), on their annual summer pilgrimage to Ethel's childhood home in Maine. Curmudgeonly Norman, approaching eighty and experiencing significant memory loss, finds himself obsessed with death - especially his own. The story involves whether Norman will make peace with their estranged only child, Chelsea (Daniela Ryan), and how he will react to her new fiancé, Bill (Greg Aratin) and his thirteen-year-old son, Billy (Angus Feath). Spoiler alert for those who dislike sad endings: No one dies, Norman and Chelsea reconcile, and Norman develops new purpose in his life.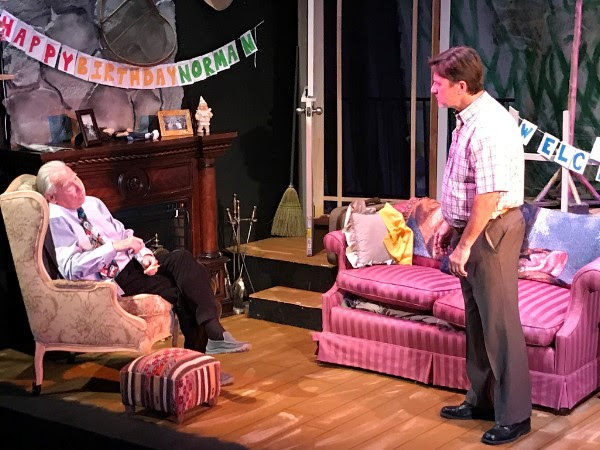 June August has the unenviable task of playing straight to Arnie Kleban's comedy, but she imbues her role with both dignity and a sense of humor. She also portrays Ethel as having a great deal of energy, as Ethel goes about doing everything she can to keep her husband - and herself - from giving in to despair. The scene where Ethel, alone in the house, succumbs to bitter tears while looking at pictures of her youth and her early married life, is moving and perfectly played.
Arnie Kleban, a veteran comedic actor, demonstrates his ability to turn in a brilliant performance in a serious role. Norman's sarcasm can be viewed in various ways, such as using humor to cover his forgetfulness, wanting to make sure that he does not disappear into the shadow of his whirlwind wife, or trying to come to terms with his own eventual demise. In my view, Mr. Kleban mines the dark humor in Norman's circumstances by playing Norman as being in on a joke that no one else, except maybe Ethel, understands. In Mr. Kleban's interpretation, Norman usually comes across as an erudite Archie Bunker who knows how to keep people laughing. Yet, the most powerful scenes occur when Norman drops his facade, and lets his doubts and sadness emerge. These scenes are almost painfully intimate, thanks to the power of Mr. Kleban's performance.
Ron Young is hilarious as the postal carrier, Charlie. Although Mr. Young is probably significantly older than Charlie, who is forty-two, Mr. Young's mannerisms and braying laugh are perfect for the character. The other three actors also make the most of their roles - Greg Aratin is thoroughly believable as Chelsea's fiancé, who refuses to be bullied; Daniela Ryan makes Chelsea's pain palpable; and teenaged Angus Feath is thoroughly believable as Billy, going from sullen to sweet and back in the blink of an eye.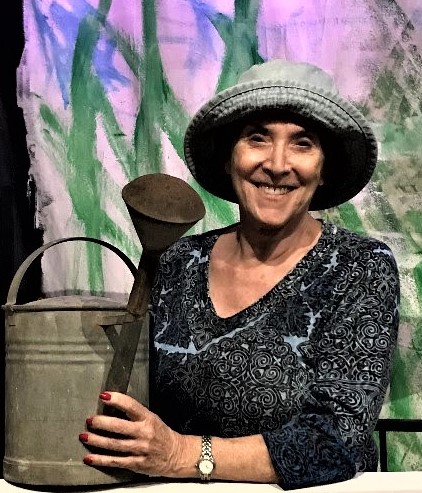 Director Steve Fisher, who is well-known to Coachella Valley audiences for his work at DTW, Palm Canyon Theatre, and Desert Rose Playhouse, sets a perfect pace for the dialogue. The blocking and characters' gestures are rich in detail, such as Norman's sucking on his eyeglass earpiece and Chelsea's and Norman's standing about ten feet apart, arguing, while Ethel stands literally and figuratively in the middle of the dispute.
I have previously complained about sound problems since DTW has moved to the facility in Indio. This time the sound (designed by Miguel Arballo) was perfect, as was Phil Murphy's lighting. Kudos also to Allan H. Jensen's brilliant set design, which silently tells the audience all about the family's Maine summers through the house's plethora of old photographs, and the games and books stored on living room shelves.
The program notes call attention to the stylized window panes, in which the tops and bottoms of the frames do not meet. In describing the set, DTW's artistic director, Lance Phillips-Martinez, writes, "The fractured set design provides the perfect palette for intellectual character study, or it provides the layout for a beautiful story about life and the way we choose to live it." I view the set as signifying a place with so much meaning that people try to remember it (or try to forget it) for the rest of their lives, but the memories have become cloudy over time. Perhaps Billy, looking back to the summer of 1979 as a man in his fifties, recalls some of the house perfectly, but just can't picture the rest.
I highly recommend attending this fine production, with its top-notch acting and rich details. The play is suitable for young teens on up.
The rest of the creative team and crew consists of Tresa Oden (Stage Manager), Mark Demry (Assistant Stage Manager/Sound Operator), Michelle Mendoza (Props), Maddox Martinez (Light Operator), and Violet Feath and Tess Martinez (Stagehands). Ron Phillips-Martinez, DTW's Chief Executive Officer, produced the show.
ON GOLDEN POND will run through February 25, 2018, with shows Thursday, Friday, and Saturday, Feb. 22-24, 2018, at 7:30 pm; and Sunday, Feb. 25, 2018, at 2:00 p.m.
All performances take place at the Indio Performing Arts Center, 45175 Fargo Street, Indio, CA 92201. Individual ticket prices are $28.00 (general admission-plays), $30.00 (general admission-musicals), $16.00 (ages 13-18), and $12.00 (ages 12 and under). Seating is reserved. For tickets, go to the Web site at www.dtworks.org or call (760) 980-1455.
Disclosure: I have performed with DTW in the past and have been cast in an upcoming production. I also know all the cast members and director.
The rest of DTW's 2017-18 season consists of:
GREASE, March 8-25, 2018.
The beloved 1972 musical about the '50s romance of innocent ingenue Sandy and bad-boy greaser Danny Zuko. Danny believes their hot summer fling is over ... until Sandy unexpectedly enrolls at his high school.
JEWTOPIA, April 19-29, 2018.
A barbed satire in which a young Jewish man wants out, to his parents' dismay, while his Christian friend wants in.

PHOTO CREDIT: Paul Hayashi