Latest News on Steve Fisher
Steve Fisher News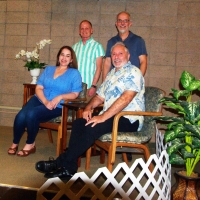 BWW Previews: A NIGHT IN PUGLIA at Script2Stage2Screen
by Stan Jenson - Feb 21, 2022
 "This is a romance for all ages and orientations," said Steve Fisher, Script2Stage2Screen's artistic director.  "Set in Italy, it's a sensual and sweet love story. Hal O'Connell, a member of Script2Stage2Screen's executive committee and active in numerous Valley theaters, will be directing."
Benefit Performance Of THE LAST BOY Set For April 27 At Town Hall
by A.A. Cristi - Jan 12, 2022
The Last Boy...a new play with music will be featured at 'a benefit on Broadway...a Yom HaShoah to remember' on Wednesday, April 27th, 2022 at 6:00pm at The Town Hall, 123 W. 43rd Street between Broadway and 6th Avenue.
THE LAST BOY IN THE SECOND REPUBLIC OF SHKID to Open Off-Broadway July 10th
by Chloe Rabinowitz - Jun 9, 2021
The Last Boy in the Second Republic of SHKID, will open at Off-Broadway's Theatre at St. Clements this July 10th, 2021, with a planned transfer to Broadway. This play with music is inspired by the incredible story of the boys of Terezín Concentration Camp's Dorm Number One, who created the longest-running underground publication of the Holocaust.
#SHAKESBEERS SHOWDOWN Goes To The Dark Side With #RevengOfThe5th
by Julie Musbach - Mar 19, 2019
The hops are strong in this one.
Photo Flash: Steven Fisher's New Holiday Musical THE LITTLE DANCER Comes to Theatre 71
by Stephi Wild - Dec 2, 2018
The Little Dancer, a new holiday family musical written by Commonwealth Youthchoirs (CY)'s Founder and Artistic Director Steven Fisher, had its world premiere on December 1st at Theatre 71, off Broadway. Helmed by Richard Vida,The Little Dancer tells the heart-warming story of how fourteen-year-old Marie Van Goethem, the model for Edgar Degas' one and only sculpture, became the most famous ballerina in the world.
Theatricum Presents First-Ever Revival of HAITI
by Julie Musbach - Jul 3, 2018
Will Geer's Theatricum Botanicum presents the first-ever revival of a historical melodrama about the Haitian revolution that graced the stage at New York's Lafayette Theatre in Harlem in 1938 as part of the Federal Theatre Project. Haiti by William DuBois will join Theatricum's summer repertory season beginning July 28. Performances will continue at Theatricum's beautiful outdoor venue in Topanga through Sept. 29.
Werner Herzog To Direct Fordlandia TV Series for Hyde Park
by Tori Hartshorn - Jun 14, 2018
Werner Herzog To Direct Fordlandia TV Series for Hyde Park

FremantleMedia North America Partners with Popular Fantasy Author Brandon Sanderson on DARK ONE
by Tori Hartshorn - Jun 12, 2018
FremantleMedia North America (FMNA) with Random House Studio today announced a milestone partnership with best-selling fantasy novelist Brandon Sanderson. The author is taking the Dark One property to a new level and making it a true multi-media experience - not only spanning the small screen with the TV series, but he's concurrently creating a graphic novel that will be published by Vault Comics. Sanderson's also penning a supplementary, multi-volume book series that will expand on the storyline from the show and further explore subsidiary characters. Additionally, fans will be able to enjoy his master storytelling through the Dark One podcast where it will shed further light on the incidents leading up to where the TV series will begin.
BWW Review: DARE at Desert Rose Playhouse
by Stan Jenson - Apr 22, 2018
'Message Plays' are a difficult breed. When they hammer you with their themes, they are more painful than an over-long sermon on a hot Sunday morning. However, when they click, as Desert Rose's production of Dare does on all cylinders, they deliver one of the highest functions of theatre: entertainment that educates. An outstanding company of actors, under the direction of Jim Strait, bring Texas playwright Allan Baker's new script to life, and our 'lessons' are eagerly lapped up!

ESPN's New Morning Show GET UP Debuts 4/2
by BWW News Desk - Apr 2, 2018
Mornings on ESPN will look different this spring when its new morning show GET UP, featuring Michelle Beadle, Mike Greenberg, and Jalen Rose, premieres Monday, April 2.
Steve Fisher Frequently Asked Questions
How many shows has Steve Fisher written?
Steve Fisher has written 1 shows including Susan Slept Here (Playwright).