BWW Review: ANYTHING GOES at Rancho Mirage Amphitheater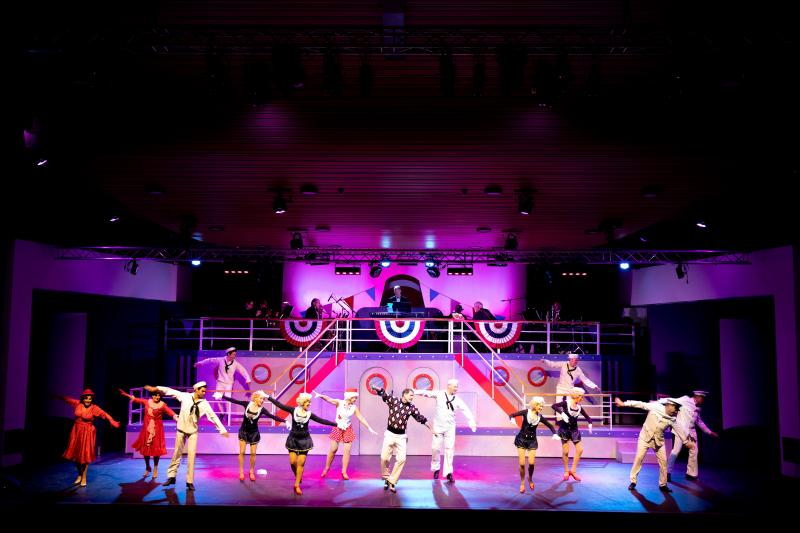 In fourteen years, Cole Porter's Anything Goes will be 100 years old and when it's done right, it holds up. Porter's songs are cheerful toe-tappers with that snappy roaring-twenties flapper sound punctuated by the slide of playful and sexy trombones. The stage is awash with synchronized tap dancing, and a well-honed vaudevillian overtone that keeps the zany plot zipping along.
Although, at its core, Anything Goes is a love story, it's not the least bit schmaltzy thanks to the romp and circumstance of Ray Limon's cheeky direction, delightful choreography, and the dazzling performances by the entire cast. In short, this LimonCarr production gets it more than right.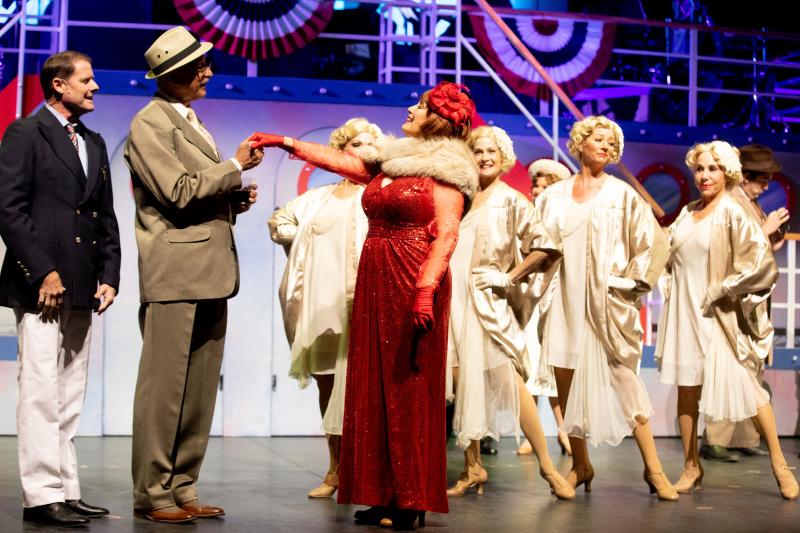 But first, the convoluted plot: Reno (Ann Peck McBride) is a nightclub singer/evangelist sailing from New York to England with her backup singers/dancers, the Angels: Charity (Brenna Delay), Virtue (Joan Hall), Chastity (Rita Wagner) and Purity (Joanne Mulrooney Miser) who are clearly not what their names suggest. Billy Crocker (Joshua Carr) is the assistant to the wealthy Elisha Whitney (Don Savage) a wealthy Wall Street broker who is also on his way to England. Billy has learned that the woman he loves, Hope (Sandra Rice), is on the ship with her mother, Evangeline (Robin LaValley), and Hope is on her way to England to marry her wealthy long-term fiancee, Evelyn Oakleigh (Bryan Miller).
Billy stows away, and unwittingly assumes the identity of the U.S. #1 criminal, Snake Eyes Johnson, provided to him by hapless mobster Moonface Martin (Gilmore Rizzo) who's taken on the identity of a clergyman carrying a violin case. Moonface's sidekick, the brassy Bonnie (Stacy Huntington), who's seemingly the brains in the duo's operation, accompanies him, and she carries a very tiny violin case. It's these types of small touches that make this production outstanding.
From there it's a madcap, hilarious disaster for romance as unlikely couples form, identities are disguised then revealed only to be disguised once again, all culminating in a ridiculously satisfying end.
Carr's Billy is as smooth, and satisfying as barrel-aged bourbon. His rich vocals, and skillful tapping are delightful and he gives a terrific comic turn in Act II that starts with Limon's choreography of Easy To Love. It's one of the best winks to the often absurdity of musical theater that I have ever seen. It's so clever, I am still chuckling. It's a great turn by Carr, Rice, and with the addition of Rizzo in a non-speaking, non-singing performance, the song makes it one of the best comedic numbers of the night.
Speaking of Rizzo, his Moonface is big, and in-your-face hilarious. He mugs and plays with the audience in a terrific performance culminating with a side-splitting performance of Be Like A Bird.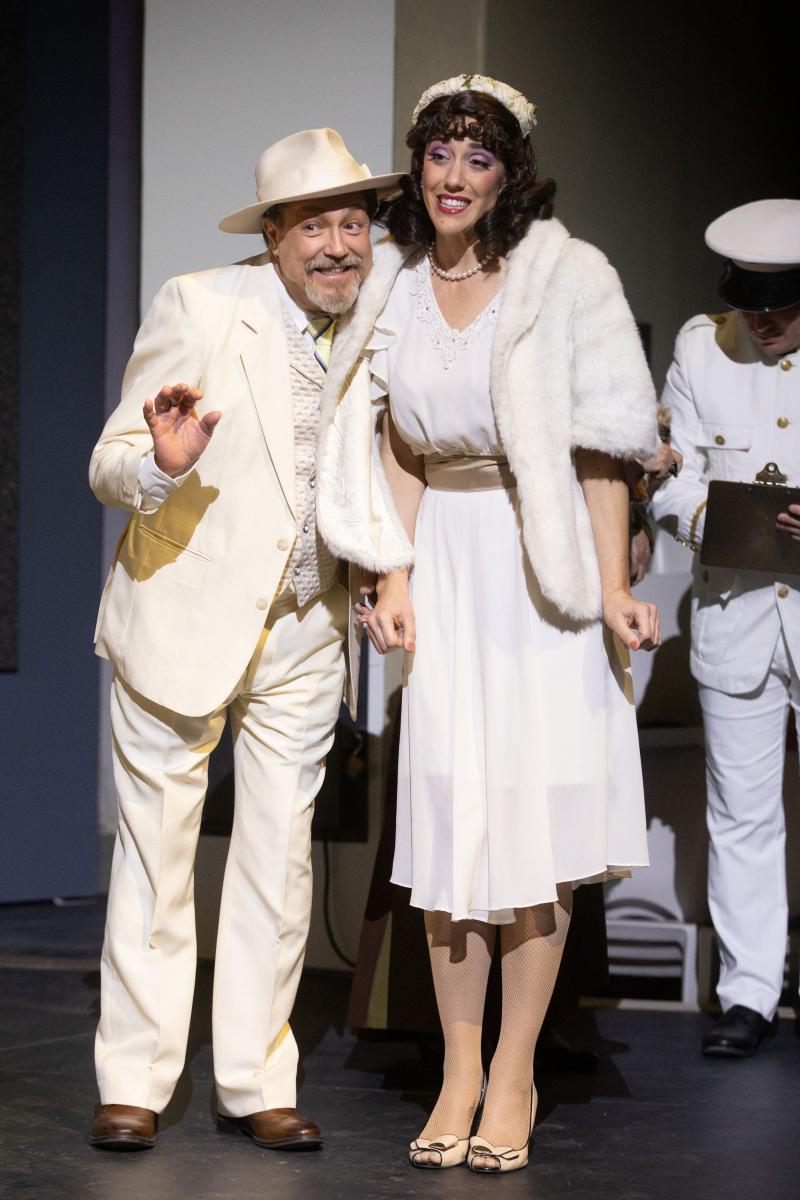 Miller's performance as the very British and joyfully doof-ish groom-to-be, Evelyn, builds beautifully to a marvelous turn in Let's Misbehave. He is the only character with a real arc, and it's wonderful watching him achieve that growth. I know several of the cast members, including Miller, and I was shocked to discover his name in the program. I hadn't recognized him at all.
McBride's Reno has a terrific range, and when she, Carr, and Rizzo perform Friendship, it's the perfect blend of their extremely strong vocals. It's a great number.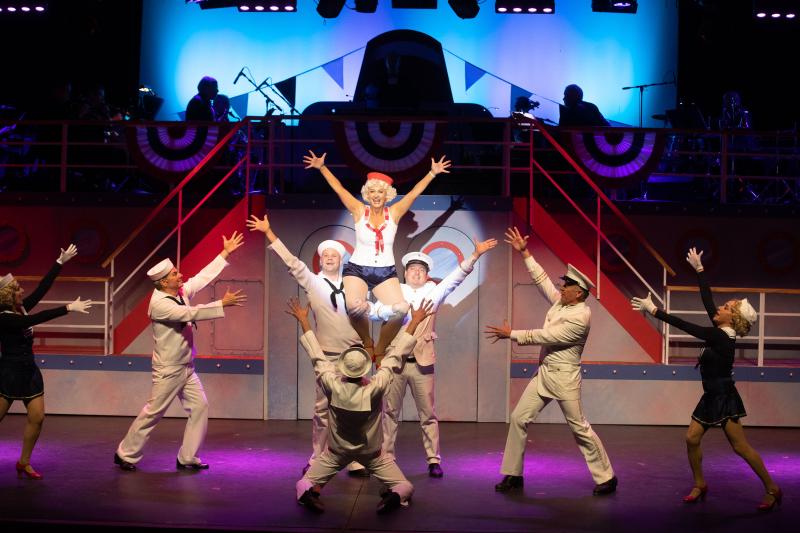 In all of the shenanigans, Huntington's Bonnie is a triple-threat standout with her tapping, singing and acting. She has us wrapped around her finger from her very first appearance.
Hope is probably the least well-written character, but Rice does a good job bringing her to life none-the-less; Savage's hapless Whitney provides a good laugh; LaValley's turn as Evangeline, with her over-pronunciations, added even more fun. There is not one missed moment for cranking up the laughter, and when the entire cast takes the stage in the big musical numbers it's pure joy.
Rounding out the cast: Billy Rodriguez as the Purser, Steve Morgan as Reverend Dobson, Robert Neill as the Captain; Matthew Tucker and Jonathan Hatsios in multiple roles; and two pretty amazing dancers, Patrick MacDonald and Matthew Ryan.
As to the technicals, David Hobday and Ground Hob Audio's sound design was great; Joel Howden's lighting design was perfection; set design from Stage Monkey and Jason Graham worked well, Heather Reba's costumes, combined with Kathryn Scott's wig design was all pro; and the eight piece band (Bob O'Donnell, Gary Tole, John Reilly, Alan Yankee, Robert Scarano, Todd Humphrey, Brad Vaughn), led by Scott Smith didn't miss a beat, or cue.
LimonCarr's Desert Theatricals (Ray Limon, Joshua Carr and William Rodriguez), in conjunction with the City of Rancho Mirage, has once again given us a fantastic night of music and dancing under the desert stars. Bravo!
photo credits: Michael Segal Photography