A Battle Of Styles And A Clash Of Colors! MURPHY'S CELTIC LEGACY Brings A Next-Generation Irish Dance Spectacular To The McCallum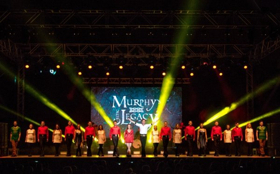 The McCallum Theatre presents Murphy's Celtic Legacy on Wednesday, February 13, at 8:00pm. This is no ordinary Irish Dance performance - it is a battle of styles, a clash of colors. The cast ofMurphy's Celtic Legacy gives an invigorating performance of traditional Irish dance. Featuring dancers and musicians from Riverdance, Lord of the Dance and Celtic Woman, Murphy's Celtic Legacy is the next generation Irish dance spectacular. Created by Chris Hannon, former principal dancer for Lord of the Dance, Murphy's Celtic Legacy features original choreography combining traditional Irish and modern dance techniques presented with song and live music.
Eire, a land that was once gloriously peaceful and harmonious, has descended into a greed-ridden territory where no one trusts their neighbors. Corrupt tyrants rely on fear and intimidation to beat others into submission. Disheartened and crushed, the Murphys flea in the hope of finding a better future that will nurture and cherish their descendants. Their voyage across the Atlantic is cut short by a fierce storm that washes them on to the calm, tranquil Island of Ishan where they celebrate their seemingly safe deliverance. Unknown to them, however, they are betrayed to the soulless King by the Dark Queen, Haidrass, who spies them from a distance. The Ishas, the indigenous community of the Murphy's new home, live in fear of the cold and ghostly rulers. The Murphys and Ishas unite in their shared quest for peace and overcoming evil. The Ishans' King succumbed to temptation and visited the forbidden volcano which left his and his beloved Queen's souls in tatters and ever since that tragic day, they roam Ishan in search of the Ishas to take their souls. The two tribes have parallel memories of happier times destroyed by others and a shared optimism about how life could be. Who will come out victorious?
Chris Hannon (Lead Dancer and Show Creator) began Irish dancing at the age of 8 under the direction of his mother and grandmother at their own internationally recognized North East based Hannon Murphy School of Irish Dancing, which Chris now co-owns. Having competed in every major competition across the world, at the young age of 16, he left Newcastle behind to tour with Michael Flatley and his show Lord of the Dance. By the age of 20, Chris was performing the leading role of Don Dorcha in both Lord of the Dance and Feet of Flames, and is only one of five principal dancers to have performed this role alongside Michael in both his productions. He enjoyed 13 terrific years touring around the United States, Mexico, Europe, Africa, the Middle East and Asia. Chris has performed at many prestigious events and venues throughout his career, including Buckingham Palace (for the Prince of Wales), G8 Summit, MSC Cruises, Alive Oman, Cystic Fibrosis Trust North, Irish Village Dubai, Tribute Night to Brendan Healy, 02 Arena London, and Kremlin Place, to name a few. After producing four successful pilot shows throughout 2013, Chris knew that the time was finally right to launch his own show. Murphy's Legacy premiered in January 2015 at a sold out Sage Gateshead, then went onto a successful tour of the UAE, Oman, Qatar and Bahrain. In 2016, Murphy's Celtic Legacy performed for a full summer season on MSC Splendida and MSC Opera, and was part of their 2017 line up
Tickets for this performance are priced at $70, $60, $40 an $30. Tickets are available at the Theatre's website at www.mccallumtheatre.com or by calling the McCallum Theatre Box Office at (760) 340-2787.
Related Articles View More Palm Springs

Stories

Shows