BWW Interview: Chatting With Rising Star Caitlin Cohn About Tom Stoppard, THE SECRET GARDEN and Her Transition Into More 'Mature' Roles
I recall a very exciting time in the world of musicals. It was late 2015 and all the land was abuzz with talk of Hamilton. But for a healthy cross-section of enthusiasts, something equally divine was stirring in the house upon the hill. It was what would be known as the Winter of The Secret Garden.
In the span of just a few months, New York would see two starry benefit stagings of the luscious musical by Lucy Simon and Marsha Norman... and, for those who had the benefit of location, an absolutely stunning production was co-produced by Cincinnati Playhouse and Baltimore Center Stage.
As a die-hard fan of the show and a firm believer that it possesses one of the finest scores ever written for the stage, I managed to catch all three presentations and (for good measure) tacked on a bonus Garden during my November trip to Manila, where Repertory Philippines was offering their own triumphant take on the piece.
Each of these four productions brought something new, inventive and lovely to the material. But there was one performance in particular that truly stood out as something singular and unique, a feat I had yet to witness in previous trips to the Garden.
In the Cleveland-Baltimore staging by Marcia Milgrom Dodge, a young actress named Caitlin Cohn delivered a central performance as Mary Lennox the likes of which I had never seen. It is a true beast of a role and I am frequently amazed that any child or teen actor is able to pull it off, let alone carry a 2.5 hour chamber piece. Cohn, then a student at NYU and already a seasoned veteran of the stage, lent a depth and strength to her portrayal that elevated the role to an entirely new plateau.
With polished acting chops and an effortless soprano voice, this was a Mary Lennox who both looked the character and had the "gravitas" to live up to the exacting physical and vocal demands of the part.
Speaking afterwards, she told me a bit about her childhood in theatre and upcoming university and career goals. "Wise beyond her years" doesn't even begin to describe the bi-coastal performer, who recently wrapped up a production of Arcadia at Palm Beach Dramaworks, filmed a pilot and aims to finish her studies in the near future.
In between projects, Cohn took a moment to chat about her life, work, philosophy and future.
-----------
Let's go all the way back! Where were you born and raised, and how did you first get involved in performing? Do you come from a family of performers? Was there a particular moment where you got the sense that it was something you could possibly pursue as a career?
Well! I was born in Newport Beach, CA, so about 40 minutes or so from LA. I adore it there, it's still very much my home, and it's nice because I can be near L.A. but also be by the ocean and away from the city. In terms of the "moment" I knew I wanted to be an actress- it's funny, I am one of those people that have just always known that this is what I needed to do. I have always loved getting to know people, and acting felt like a natural extension of my interest in people's unique stories.
For as long as I can remember, I have felt that performing - if done for the right reasons - is the most selfless action in the world. It's all about sharing your heart, opening your soul, and giving without inhibition. I am forever moved by what a privilege it is to do what I do. No one in my family was ever in the industry, although I am very blessed in that they have always been immensely supportive and involved. And, yes, fortunately, there have been countless moments where I am reminded, "this is why I love what I do..."
What was your first onstage role, and tell me a few of your 20+ theatre credits that stand out, and for what reason?
My first onstage role was as the door mouse in a children's theater production of Alice in Wonderland! I was the youngest one, only about five at the time, and I was tiny (which hasn't changed lol...).
Shortly thereafter, with my parents' help, I started auditioning and working professionally. I am deeply grateful for all of my experiences in this industry and they all symbolize something special that's connected to a certain time in my life, so it's a challenge to pick one.
That said, when I was seven I played Belinda in South Coast Repertory's production of A Christmas Carol, and it absolutely changed my life. It was extraordinary because I was surrounded by actors that genuinely believed in the goodness of the story they were telling, but also the gift that it was to tell it. I'll never forget standing in the wings before our closing performance with the actor who was playing my father, holding his hand, and looking up at him and saying, "this is magic," and he smiled and said, "Yes, it is."
I've always believed that. They instilled in me invaluable lessons that apply to not only acting, but life at large, and are my dear friends to this day.
Did you have any particular mentors, teachers or inspirations as a young artist?
Oh yes! I have learned countless amounts from so many teachers, both artistically and academically. I also consider my fellow actors, directors, and creative teams, my teachers.
But my former acting teacher, ChriS Marshall, whom I now consider my family, completely opened my mind to how I approach my work as an actress. He pushed me with warmth; he encouraged intelligent conversations about the theatrical process and how it relates to our world, and helped me to learn how to always bring my truth to a role.
For instance, letting me play Harper in Angels in America, and not settling for what people normally see when I walk into an audition room. Without a doubt, he taught me to be brave, and for that, I am forever grateful.
Let's talk about Chitty Chitty Bang Bang. It's a show that holds a dear place in my heart, as my first job in NYC was ushering the entire run of the Broadway production. What was the audition process like? Was this your first time on a major national tour, and what did you take away from the experience? The greatest challenges? Greatest joys?
Aw that's amazing, Matt! Not sure we've ever talked about this, but what an incredible production to welcome you into the Broadway community. To put it simply, it was a blast. Ridiculously talented people, a story that is so invigorating and alive, and moreover who wouldn't want to fly in a car on stage? Yes, it was my first time with a tour and it was thrilling.
We first met when you did a fabulous photo feature while starring as Mary in the Baltimore/Cincinnati Secret Garden. Such a breathtaking production, and a stunning performance. Tell me a little about your memories from that experience. How did you "become" Mary Lennox, and what is your relationship with that character?
Where to begin? Quite frankly, I could write an entire essay on this topic alone... Words will never describe what this process meant to me, to my heart, to my work, everything. It was a blessing and has continued to be.
First of all, The Secret Garden has been apart of my life since I was old enough to read. I would watch the movie daily and pretend I was Mary Lennox in my backyard. So, suffice it to say, I was very clear on the story I wanted to tell, and how I wanted to make Mary the hero rather than the victim.
Marcia Milgrom Dodge, who is the most magnificent director, does everything from the inside out. She breathes life into a story, and most importantly, does so with heart. Her impact on my life both professionally and personally has been immeasurable. She taught me to trust myself and gave me the freedom to try and fail, to grow, to succeed- I always joke that I owe her everything.
She and I were always on the same page about who we wanted Mary to be - a fighter - and re-birthing this story with her was a process I will always cherish. Furthermore, the cast and creative team was mind blowing. Everyone gave all of themselves to this show, we spent months together, we'll forever be family, and it's all love.
I write a lot about diversity and perception when it comes to race. In your case, we can apply that to age. You are a grown person who can still believably play a child. Has it been a strange transition, being seen for more mature roles? You obviously have the experience and skill to pull of very difficult pieces of material, so do you find it frustrating or limiting to constantly be put in for child and teen characters?
Thank you. The answer is yes and no. It has definitely been welcomed that I play more mature roles, that's where my head is at, and most certainly what I want. However, I've never felt it abnormal that I've played the roles I've played when I've played them.
It may not always seem this way, but younger characters are often just as three-dimensional and dynamic as the older, so I always just stay aware and bring as much of my own life experience to the table as possible. No question, there are times where looking young is both a blessing and also very much a curse.
The truth is that I am young, so it makes sense that I would be playing teenage girls at this time in my life, and I don't mind that... but it can be frustrating when people jump to conclusions about what you can and can't do just because of your "type."
Even as I typed the last question, it felt silly, because you are one of the most positive, well-balanced, clear-minded people I've met, regardless of age or profession. Where does that come from? Every time we talk, I come away refreshed and looking at my own life. How have you managed to be so "zen" while pursuing work in a fairly disappointing, tough industry?
Thank you Matt, that means the world. Well, I don't know that I am always able to manage it, but I certainly do try to maintain a healthy and happy headspace. Having been exposed to the industry since I was very young, I learned rather quickly that I would need to develop tools to heal my heart, grapple with rejection, and not let the bitterness overcome the beauty that I know this business really is.
I am a firm believer that everything is meant to be. It's how I live my life. Meaning that no matter what, I work as hard as I possibly can, bring my best self forward, and have faith in a higher power that what will follow is what is supposed to happen (that includes the good, the bad, and the ugly, all of which are necessary).
So it's sort of a team effort between my own self-will and being connected to spirituality. Be it bliss or heartbreak, I try to have gratitude for the bigger picture, trusting that I will be bettered from the experience.
I can't go a day without being asked, "What ARE you?" regarding my ethnic breakdown. I'm sure you spend a lot of your time being asked how old you are. Does that get weird or annoying, and are there any particularly funny or interesting stories about that? Trouble voting, getting into cast parties etc?
Lol! So many funny stories. The only instance in which that question becomes overbearing is when it comes to my work. Sometimes, before discussing questions about the performance itself, audience members tend to ask about my age first. I am not insulted by the question, although I always appreciate awareness of how it is being asked.
You've talked about the value in having had a fairly "normal" childhood experience, even while working quite a bit. So you went to school and did all the regular Orange County teen stuff. Was it challenging to find a balance between life in the spotlight and your regular day to day? Do you ever feel you were treated differently?
Yes, it's always been very important to me to have a normal, well-rounded, educational experience. I went to an incredible high school and made it a priority to be as involved in that community as possible.
I knew that in the future, because of what I do, I would not always have access to football games or parties in college, so I made sure to not take it for granted. Fortunately, I was able to work outside of school while maintaining a very fulfilling life in school as well.
It's also been nice in that a lot of my closest friends are not in the industry, so as supportive as they are, we can talk about their interests, and other things that have nothing to do with being an actor.
You've just come off of a successful run in my personal favorite Stoppard play. Please tell me EVERYTHING about that experience. How did you research the character, what was the cast dynamic and audience response like? What did you learn?
Having the privilege of playing Thomasina in Arcadia was a moving experience, and one that I have dreamt of for a long time. Tom Stoppard once said, "All men desire to know," and I think that statement summarizes why I adore Arcadia. The play is a literal revelation, and it celebrates the urgent quest for knowledge, the coexistence of love and science, and most importantly, that life is a beautiful cycle full of unanswered questions.
To have the privilege of delving into such rich dialogue and telling a story that requires exploration and heart is all I could ever ask for as an actor. And in our world right now, there is definitely a necessary urgency for the acquisition of both love and science, so it was invigorating to go on that journey with audiences. The challenge of performing Stoppard's work was making certain that I was doing justice to the text at all times.
Comparable to Shakespeare, every word has weight and is the heartbeat of the play, so it has to be thoughtfully maneuvered. Furthermore, Thomasina comprehends the complexities of the universe very clearly, so I was challenged with making very dense subject matter palatable and relatable.
Our cast and creative team were all fiercely intelligent artists. We had a very short rehearsal process for a massive piece so it was inspiring to witness how everyone so fearlessly jumped right in from day one. I hope that I gleaned just a bit of their wisdom and skill. They were wonderful, and we had a dreamy time together.
And you filmed a pilot for a new series called "#HotGirls." I'd love to know more about the project and the character you play. Any idea if and when it might be moving forward?
Yes! This was a riveting opportunity. I can't reveal too much, unfortunately, but the show addresses young women trying to navigate the darker aspects of the entertainment industry. It is a bold, aggressive, and raw depiction of the negative sides of Hollywood and also the ways in which our society is preconditioned to judge without justification.
The show has a French creative team, so working with them was super interesting because there were slight language barriers. As a result, everything had to be approached instinctively rather than always being verbally flushed out.
My character is complicated, and I think very real, so it's my hope that other girls will see their own wants, passions, insecurities, and vulnerabilities in her story. I am not able to say at the moment exactly what the future will hold for the show but I can say it has some brilliant people behind it...
It seems you'll be headed back to Palm Beach this year to take on yet another iconic show. Tell me about your role in Little Foxes. What is your previous experience with the show, and what early research are you doing?
Yes! I'm very much looking forward to going back to Palm Beach in the Fall to play Alexandra in Lillian Hellman's classic, The Little Foxes. Although it's a staple in American theatre, I actually had very little prior knowledge of the play before it was brought to my attention more recently.
I was fortunate enough to see Daniel Sullivan's current Broadway production with Cynthia Nixon and Laura Linney, which was stunning. The show takes place at the turn of the century in the deep south and is centered around a family dealing with the turmoil that ensues when their drive for wealth overcomes their morality.
Alexandra is an incredibly sharp, earnest, and bright young woman. She inhabits grace and forces herself to be a strong leader throughout the course of the show. It will be a wonderful process to play someone with such a significant arc. In terms of research, early 20th century Alabama has rich cultural attributes that are paramount in understanding what fuels this family's ambitions, so I'm definitely doing some historical background work.
Now having worked with the company once before, what interested you in coming back? And for those not familiar with the piece, what do you think makes it relevant in this day and age?
Palm Beach Dramaworks is a lovely place to work and they take such care of their actors. The theatre is beautiful and the artistic team is warm, giving, thoughtful, and so passionate about making theater that moves people to think.
Its an inspiring place to be and I'm honored to be welcomed back in this way. As for The Little Foxes, it encompasses the grit of family drama that everyone struggles with in some way, and does so with both wit and power.
Furthermore, the show is consistently relevant, and particularly now, because it discusses the dangers of American capitalism and how we must be cognizant of how ambition can be both a blessing and a curse if not in balance.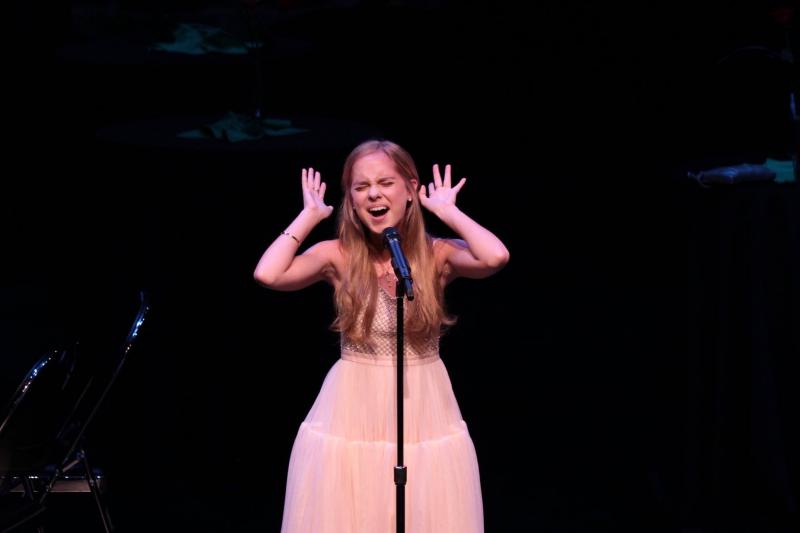 To close it out, what is the single greatest advice you can give to an aspiring performer or artist? Actually, expand it. What is the best advice you can give to anyone unsure of their career path?
I am not at a point in my life yet where I should be giving out advice, but here is what gives me peace: as I alluded to above, everything is meant to be. This means give all of yourself, work as hard as you can, believe in your dreams, but above all, have faith in your journey. God, a higher power, or whatever you believe in, did not put you here to fail.
There will be times where you will hurt (a lot), people you trust will surprise you, there will be days that won't be at all what you had intended...and all of that is ok. There is no need to compare because you are exactly where you need to be when you need to be there.
Try to come to terms with the fact that certain opportunities could have been yours, but if in the grand scheme of the universe they don't have your name on them, then they do not belong to you, they belong to someone else.
Other incredible things will be yours, and it doesn't mean that the ones that didn't work weren't right, it just means in that moment it was not the time. Magnify the goodness in your life as much as we magnify the disappointments. Don't do drama and don't jump to conclusions, it won't serve you. Instead of living in a state of fear and stress, try to live in a state of faith and comfort that you are always being taken care of by a higher power.
Have a clear foundation for why you do what you do, so that through thick and thin, you can take solace in having a constant. Surround yourself with love and light. Keep special people close and forgive them when the time comes. Don't be afraid to love fully, after all, it is our empathy and compassion that keeps the world going round.
Finally... what is your One Dream role in musical theatre, male or female?
Oh, Matt! I have so many. I would love to play Clara in The Light in the Piazza. That's a dream. So we'll put it out there and see what happens.
-----
Learn more about Palm Beach Dramaworks and The Little Foxes at www.palmbeachdramaworks.org.
*
Matt Blank is an arts journalist, educator, designer and lecturer. He most recently spent a decade on the editorial team for Playbill.com and as Editor-in-Chief of PlaybillArts.com, publishing over 7,000 articles and covering five Tony Award ceremonies. Follow him on Twitter @MattBlankPlease and Instagram @brdwymatt.