BWW Exclusive Interview: NILO CRUZ On Writing and Beauty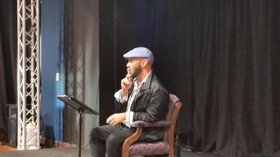 Anna in the Tropics. Sotto Voce. One of the most famous theatrical voices, who learned under Paula Vogel and taught Sarah Ruhl, and ended up winning the Pulitzer Prize. Nilo Cruz, now residing in Miami, has come a few hours' drive north to workshop an early reading of his newest work (though not his sole project, as he recently announced). It is here, at the Theatre Lab, that I meet him - we discover our shared status as Libras, he buys me lunch, and I spend nearly three days in the presence of one of America's most poetic voices. Humble and sincere as any of his characters, I realize quickly that he will leave an immeasurable impact on theatre long after I am gone. He speaks in the same way he writes, with unconscious music and interest in that which is beautiful. This weekend begins with him hearing his newest work, Alice N., for the first time. That evening, Sotto Voce publicly begins the festival celebrating his works, and his talk-back is best imagined as the first night on vacation before your body understands what to call the sensation of bliss.
Due to traffic on his end the next morning, we share a brief and humorous phone call, and I am lucky the traffic on the north side is less ferocious. It gives me the chance to see his collection East and West of the War performed in the same calm black box. He arrives, we share words, and as soon my coverage of the event is submitted, he takes an actor and I to a comfortable cafe a block away. We speak of Moscow, disagree on the Tolstoy - Dostoevsky debate (as writers often do), and ruminate on the future of theatre as he tells me his own history. He tells me about his father, his exile, his parents. Andy Barbosa is along, an actor who didn't know English when he was given his first script by Nilo, originating a role in East and West and performing under his direction in Hurricane. Barbosa is as sweet as he was earlier during performance, but his eyes sparkle radiantly when he describes Nilo's work process.
After the bill is paid, Andy has to leave us, so we take a stroll and he asks about my influences. Thankfully, the local campus dean stumbles into us and I am freed of any obligation to embarrass myself. The transition into the interview is unnoticeable, the discussion stretches seamlessly, and I have to rush to find my seat for the premiere reading of Alice N. During the talk-back, he is once again succinct, soft-spoken, and unbelievably wise. Sitting in his flat cap, legs crossed and leaning forward to answer, I am not sure anybody would believe that this man was a literary great - until they hear his words rolling like a gymnast through the room.
The shows have all reason to be discussed individually in their own right, and have been over the past few days. Now that both Nilo and my birthdays have passed, books and private notes already shared between us, his interview primes itself. Prying into the depths of his oeuvre, digging into his views on Cuba and regimes, and getting to the soul of his voice, Nilo Cruz takes each question with pause and bowls me over with the gentle rhythm and sharp delivery he absorbed from Emily Dickinson, Federico Garcia Lorca, and all the voices that resonate in his scripts still.
---
BWW: You're really considered the first celebrated Latin voice of playwriting in America. As the Broadway pattern of Russian dominance and stories begins to eclipse, and Latin History for Morons is building to be this fall's smash, do you think Broadway is ripe for more Latinx voices?
Nilo Cruz: Absolutely. As a matter of fact, not just Latin voices. We need more new voices period. I don't care if that has to be another ethnic background, we just need new voices. I'm talking about voices that are not just commercial theatre, not the kind of theatre that just caters to tourists in New York like the typical musical type thing. We need work on Broadway with more substance. And whether we need to pick a star in order to bring attention to those projects, then fine! Let's get stars!
BWW: Who do you consider your biggest contemporaries, and whose works continue to inspire your voice?
NC: I'm trying to think... Contemporary writers as in?
BWW: Those still putting out new works that are inspiring your voice.
NC: I love Suzan Lori Parks! I love Tony Kushner, I like Richard Nelson too. I like Sarah Ruhl very much, one of my students. I like, of course, Paula Vogel's work. I wish (Maria) Irene Fornes would still be writing, but unfortunately, she is very ill... I'd love to see a new play of hers. It's unfortunate that it's not going to happen... And I'm excited about new voices. Who is sure about this hyper-naturalistic work that is sort of appearing in Off-Broadway? I think that a work for the stage needs to be more theatrical, and I think playwrights should be expanding the notion of realism on stage. I think that language needs to be expanded. I think language needs to fly off the page, and take flight! And some of these new - I don't want to mention the name of some of the writers because I don't think that's correct - I have seen sort of this new wave of hyper-naturalistic plays. I might as well go to a bodega or a market and listen to people having a dialogue. That, to me, is not interesting. Language needs to be heightened! Whether it is heightened through rhythm (more than anything I'm interested in rhythm), I think playwrights need to write images for the stage. Unfortunately, some of these new plays don't evoke any kind of imagery, and the language really stays on the surface. It doesn't go deeper into the other levels of human behavior or emotion. It just is not profound enough.
BWW: Magical realism, the opposite of hyper-naturalism you're speaking about, is a central point of many of your works. The ghost of Federico Garcia Lorca in Beauty of the Father, Aparicio's invoked hurricane in Hurricane, the entirety of Hortensia and the Museum of Dreams, and even Bemadette Kahn's bending of time and perception in Sotto Voce. Do you find yourself influenced in this fashion by what you've read or more of your personal experiences in life?
NC: That's a very good question. (pause) It's interesting, because when I tried reading Gabriel Garcia Marquez when I was a teenager, I didn't think that what I was reading was magic realism. To me it was realism. I knew that reality very well - I would understand when one of his characters would be hanging clothes and she would sort of fly off with the clothes that were hanging on the clothesline. To me, that was a metaphor for dreaming, a metaphor for letting the imagination take flight. I've come across many characters in my life. I'm even that way in some ways! I let my imagination run free. Things like Rebeca, in Gabriel Garcia Marquez' book, eating soil. I've never eaten soil! But I can see someone from my land eating soil. To me that was not (magical realism). I thought it was very realistic.
BWW: To bring that realism into the realm of unreal politics... As one of the predominant modern Cuban writers, echoing along with Guillermo Cabrera Infante and Jose Marti, I'm curious as to your thoughts of the beginning of the Cuban thaw that began three or four years ago. Are we beginning to see, in your opinion, a warming between the cultures or have things taken a turn for hostility with the current political regimes?
NC: It's interesting, I've been seeing this closing and opening of doors with Cuba ever since I was a child. There's one moment you feel things are going to change, the relations are going to change, change between both countries, and you sort of see an aperture... all of a sudden, it closes. I think that's happening all over again. With the new regime here, and the on-going regime of the Castro brothers in Cuba. When you get a glimmer of hope that things will thaw immediately ... nothing happens. It's curious, I sort of document that in my play Two Sisters and a Piano - nothing really happens. All these things are happening across the world, the thawing of the Soviet Union, but nothing happens in these women's lives who are incarcerated. The incarceration in Two Sisters isn't just the literal incarceration of two women who are under house arrest, but is really a metaphor for Cuba. Cuba is sort of a prison. Whether it is the ocean or it's the ideology, that communist ideology, that imprisons the island. It's something that I do play with in that play, and still, Cuba is in the same- nothing has changed. It's still the same.
BWW: That open and closing, that false sense of change, do you see that elsewhere in the world? Saudi Arabia's restriction changes, Russia's economic policy, here?
NC: Well, change in parts of the world... I think that to change the comportment of people in the world is going to take some time. There are some ways of being, certain restrictions that are kind of embedded in the DNA of the people for some reason. You can't just change human comportment from day to night. That's a symbol, but I think sort of a glimmer of some liberty, but it's going to be a very gradual change.
BWW: Many fans will remember your Anna in the Tropics, your star-turn of literary splendor. A script that uses the importance of stories and love in a wholly original view. In nearly every one of your works, there lies at least one character fascinated by literature or stories, either as a reader or writer. Would you consider yourself more of a reader or writer, should you be set as one of your characters?
NC: I think in order for one to write, one must read. I think that there's a constant dialogue that writers need to have with the writing that is happening all around us, but also, with the present and with the past. You constantly have to be dialogue-ing with other artists, whether they are dead or alive. It's something that happens in all the art forms. We're constantly being inspired by each other. The one that is more immediate in terms of art form, that dialogue in individual arts - how visual artists are supported by each other. You can see how Seurat was influenced by Van Gogh or how Van Gogh was influenced by Gauguin. The same thing happens in literature. We always have to be studying, studying what other writers are doing, how they deal with certain subject matters, or how they use characters who convey a story. A constant dialogue with other artists.
BWW: I'm sure a lot of readers are unaware that you're a respected teacher as well as a playwright. You're teaching me a lot today, but you've also given playwriting lessons at Brown, Yale, and colleges across the country. You teach the importance of characters, development of beauty, and exploration in ways few others do. If you had to condense one of these lessons for a student, located somewhere where he cannot reach you and will not be given a chance to sit in your class, how would you advise him or her to write? Where can they find that beauty?
NC: Beauty is a difficult thing. It's difficult and it's not difficult (laughs). You just have to look for it. For instance, I find that beauty in theatre operates as a way of searching for justice. When we look at a character like Hamlet - what is Hamlet really seeking? What's the beauty of Hamlet? That he's really looking for truth, for justice. That quest for truth is what makes that play so beautiful, that the character goes out of his way, creates theatre within theatre, to encounter justice. Another example is Antigone - you look at Antigone -
BWW: The Greek or the French?
NC: Any form! (laughter) Any Antigone. That has become an iconic character in search of justice. She wants justice for her brother, right? That's the beauty in it. That's what we go see when we go, what we're looking for when we go to the theatre. Characters who are searching for justice. Now, beauty in that search for justice... We can find our way to alter the justice through language, finding beauty in dialogue, or the way that characters express themselves, or through images. Everything in a play, whether it's the dialogue, or the creation of images, and, of course, what later happens with the final production - everything is seeking that inclination of justice. Everything is working towards that. That's why I'm in the theatre, to be honest with you. Beauty, the concept of beauty, is the ultimate search for justice. All of that to say that line! (laughs)
BWW: In that search for justice, you're in an interesting position. You've been a prominent Latino playwright for over a decade now. You've been asked a million times what it means to be a Latino playwright. You've seen three separate presidents come and go, and an endless amount of change across the landscapes of America. How would you describe the Latino experience to a new playwright today , young hopefuls from Miami to Los Angeles, hoping to follow in your footsteps? What advice can you give to these youthful Borges and teenaged Marquez-s?
NC: More than anything, be courageous. Courageous. Write. One has to have courage to write. When I started writing, I had to find my courage to write about even my own country. It took me a while. I went about it in an indirect way because I never thought that I could embrace the pain of people from my country. What they had gone through, and especially those who had suffered exile. It took me a while to build the courage - I can't take on the whole responsibility to represent all those people on stage, but I could at least concentrate on a group of people and give voice to this room of people and that's a way of representing the culture. I want to encourage this new generation to be valiant! Take pen and paper, or a computer, and write! Start writing, and write about your community, write about your life. You don't have to write about it in a direct way, you can write about it in an indirect way, but start with the personal and see where that leads you. Then, if the personal changes, and it becomes something other than the personal, that's okay! At least you need to start from something. The thing is to be valiant and to write and to not be afraid. Don't be discouraged or afraid of other literature that one has read, or think that we're incapable of writing like the great masters. I think you have to start from somewhere, and little by little, you find your voice. Take courage and find your own voice as a writer.
Related Articles View More Palm Beach

Stories

Shows
Trevor Durham has been covering theatre for years, starting off as a Cappies Critic before he became a staff writer for ULoop, the FSView, working (read more...)