BWW Review: GCTC's BANG BANG Blends Humour and Drama in this Gripping Production at Ottawa's Irving Greenberg Theatre Centre
Canadian playwright Kat Sandler's Bang Bang is part of the Great Canadian Theatre Company's 2019-2020 season. It is a show that addresses controversial topics, including gun violence, police brutality, mental health, and the court of public opinion.
Lila (Cassandre Mentor) is a 30-year old black police officer, living at home with her mother, Karen (Lucinda Davis), with whom her relationship appears to be strained. In the opening scene, Lila yells at her mother from upstairs to lower the volume of her music. Instead, Karen rebelliously increases the volume. It is a role reversal of a stereotypical interaction between teenager and parent.
We discover that Lila has moved home after losing her job. When Lila was a rookie cop two years ago, she shot Derek Chambers, an unarmed black youth. Tim (Phillip Merriman), a white author, has written a successful play inspired by what he terms "The Incident", without Lila's consent or input. Tim shows up at Karen and Lila's house, uninvited, to tell them that there is now going to be a movie based on the play. Jackie Savage (Michael Ayres), the actor who has tentatively signed on to the role inspired by Lila, shows up a short time later with his bodyguard, Tony (Eric Coates), to get an understanding of Lila's perspective of The Incident.
The five characters have a discussion about what happened from Lila's perspective. Karen, a psychologist, reverts to mother-hen mode, trying to shelter her daughter from having to relive the traumatic experience.
Lila then finds out that Tim has taken some artistic license and changed certain events to make them more dramatic. In the play, Tim has made Derek's character into a hero, vilifying the character based on Lila in the process. On top of that, in the movie version, not only is Lila's character male, but he is also of Black-Caucasian mixed race, which leads to speculation that The Incident occurred because the main character was subconsciously racist.
The characters are complex and developed over the course of the play. At first, Tim seems meek and unassuming, but emerges as privileged, self-important, untalented and unsympathetic. Jackie alternates between warm and cold; at times he seems like he wants to understand where Lila is coming from, but then he demonstrates callousness, revealing his actor's façade. Tony is initially used as comic relief to diffuse the intensity of the drama, but becomes an increasingly important character, drawing from his own experiences as a former cop to provide some insight, becoming Karen and Lila's unlikely ally.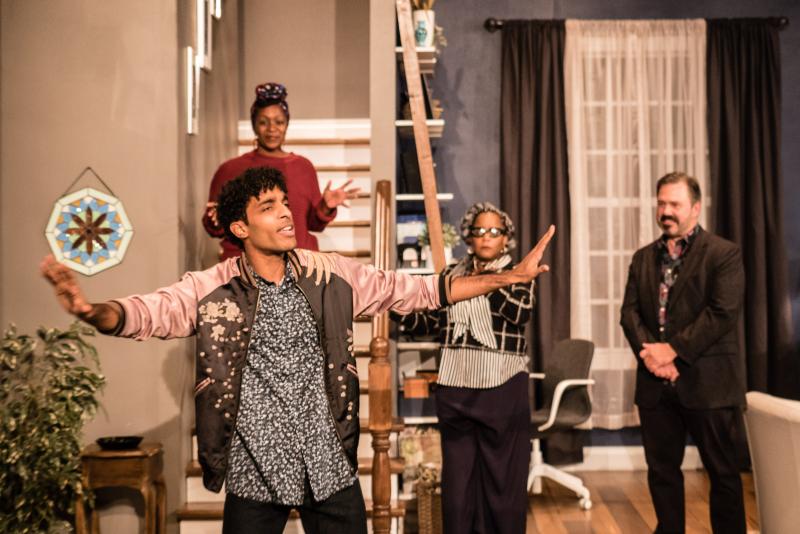 All five actors are outstanding in their roles. Davis is particularly impressive, using non-verbal communication to set the tone and add emotion to scenes. Coates, who is also the Artistic Director of the Great Canadian Theatre Company, has perfect comedic timing, providing several laugh-out-loud moments. Despite flubbing a couple of lines, Ayres makes a convincing movie star. Mentor and Merriman get to really showcase their talent in the second act, when liquor-fuelled emotions are running high.
The silent actor is the stunning piece of art hanging in the living room, entitled Joshua Finéus. The show's liner notes state that it was painted by a local artist, Laurena Finéus (www.lvurena.com).
One of the most impressive things about this show is how funny it is, while maintaining dark undertones and conveying a deep message. The storyline is highly relevant, with police shootings of unarmed black men becoming a disturbingly frequent occurrence.
Sandler puts some tough questions to her audience: when a highly publicized incident occurs, who has the right to tell the story? Does your story belong to you? If someone wants to write your story, do they need your permission? Are they obligated to tell both sides of the story? Should they consider your feelings? When does artistic license go too far? What if there are repercussions to the story being told? How responsible is the storyteller? Bang Bang doesn't provide all the answers, choosing instead to let the questions linger with the audience long after they leave the theatre.
Bang Bang is playing at Ottawa's Irving Greenberg Theatre Centre through November 10, 2019. For more information or to buy tickets, go to https://www.gctc.ca/shows/bang-bang.