Pollard's HEDWIG AND THE ANGRY INCH is a Breathtaking Rock N Roll Experience Not to Be Missed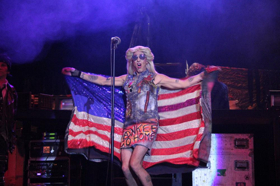 Some shows can challenge a reviewer when it comes to whether or not to recommend a particular production. There can sometimes be long internal debates about whether or not to advise audiences to spend their hard earned money buying those tickets. That is not the case with the Pollard Theatre Company's current production of Hedwig and the Angry Inch. No waffling or wavering here. The best advice about this particular production can be summed up in three words: See. This. Show.
With text by John Cameron Mitchell and Music and Lyrics by Stephen Trask, this show is a highly unique and ridiculously entertaining rock musical. Its setup is that the audience is actually attending a rock concert, one given by the titular character, Hedwig, and her band, the Angry Inch. Hedwig is performing next door to another rocker, Tommy Gnosis, with whom she once had a romantic relationship. Capitalizing on a recent encounter with Tommy, Hedwig is trying to claim her own piece of rockstar fame and stardom, while also telling the audience her life story, which includes growing up as a boy in East Berlin, meeting a U.S. soldier who convinces him to dress in drag and then get a sex change operation, and an escape to the U.S. which leads Hedwig down a path of lost identity, tragedy and self-discovery.
Any great story finds a way to weave together tragedy and comedy, sadness and joy, and Mitchell and Trask do so here with undeniable brilliance. As Hedwig sings and interacts with the audience or her band, we all experience the highest of highs and the lowest of lows right along with her. The show seamlessly takes us on a journey that is equal parts hilarious and heartbreaking. Mitchell gives Hedwig witty one-liners that are absolutely laugh-out-loud hilarious. Trask's lyrics are equally fantastic, every song is memorable, with lines you will likely be repeating in your head or out loud for days. He also manages to demonstrate his impressive skills with both face-melting rock 'n' roll as well as lovely, emotional, understated ballads.
There really is not a weak link among the show's songs, though there are a few are particular highlights. "The Origin of Love" is a lovely ballad telling an origin story about how humans came to be the way we are and why we spend our lives searching for our other half. While it's beautifully written and sung, it's also a profound rumination on the way we view love and how (or why) we spend our lives searching so desperately for it. It's a lot deeper than you might expect from a rock musical (the same can be said for another fantastic ballad, "Wig in a Box"). You might not expect that a song about a botched sex change operation would be a perfect rock tune, but here it is. "Angry Inch" is both a totally badass rock musical number and a very catchy tune that will get stuck in your head.
Pollard's production, produced in association with Tulsa Project Theatre, is co-directed by W. Jerome Stevenson and Matthew Alvin Brown, who clearly make an imposing creative team. Pulling off a nearly flawless production (a couple of minor technical glitches are noted below), they have clearly paid attention to almost every detail while giving their full attention to every important character moment, no matter how great or small. The chemistry and relationships between Hedwig and her band, especially her husband/backup singer/assistant Yitzhak, are perfectly calibrated and realized. Interactions with the audience, which can be tricky and often lead to disaster, are pulled off perfectly as well, always leading to a positive result.
Stevenson and Brown take another potential risk that totally pays off. They add a number of contemporary references, lines referring to both this moment in time and the place where the show is happening (Sapulpa even gets name dropped). It can be a mistake to try to force a show to feel as if it's happening right here, right now, but nothing here feels forced. It works seamlessly and wonderfully to make the show feel even more immediate and relevant. Hedwig is already a show that takes on big, universal human problems and questions, but these touches make Pollard's production feel even more relatable, more real. It also gives the show a chance to raise questions that it otherwise might not, questions about today's society, culture and political climate.
Along with co-directing, Matthew Alvin Brown also plays Hedwig, a role he has played before and is clearly very comfortable in. At times it seems a role he was born to play, he pulls it off with such real depth and truth. His comic timing is effortless and perfect during Hedwig's many witty one-liners but his ability to reach down into the emotional depths of Hedwig's tragic moments is just as remarkable, if not more so. His version of Hedwig is so sympathetic and believable, you may forget for a moment that you're watching an actor playing a role.
In all ways Brown's equal is Renee Anderson as Yitzhak. The character spends the vast majority of the show in silence, not speaking at all and only singing briefly, from time to time. Still, Anderson creates an entire character in silence, in only her facial expressions, often in just her eyes alone. She makes you feel what Yitzhak is feeling, to sympathize for him and totally understand what his relationship with Hedwig is like, even though he never verbalizes any of it. When Anderson gets the chance to cut loose with her voice and really sing, she unleashes a spectacular set of pipes that threatens to blow the roof off the place.
It should be noted that the performers playing Hedwig and Yitzhak will be changing midway through the show's run. At the midnight Saturday show during the second weekend, Jared Blount will take over as Hedwig and Beth Lipton will take on the role of Yitzhak. Recent press reports indicate that the show will be different, of course, but will be just as good. Don't let the change dissuade you from seeing this show and if you saw it during the first weekend, it's well worth seeing again with the second cast.
Along with both casts is a stellar band backing up Hedwig and Yitzhak. Onstage for the entire performance, they are Jason Hunt (also the musical director), Joel Anderson, Tristan Gfeller and Aaron Marshall. Along with being fantastic musicians, they also have a great chemistry with each other and with Hedwig and Yitzhak, providing some extra depth and texture to some of the more emotional, tragic moments.
Helping to shape those moments and the entire production is the technical team who do a mostly fantastic job. Michael Long's lighting design is really perfect, creating a rock concert feel at times while at other times taking us down into a quieter, more emotional place, allowing us to focus on the real life and tragedy of the characters. Joshua McGowen's design of the costumes, hair and makeup is just as perfect, with a really wonderful look given to both Hedwig and Yitzhak. The weakest link in the technical elements is the video projections by Jared Blount, which are really hard to see and, when they can be seen, not particularly interesting. That situation is not helped by the fact that there is way too much stage fog, something that really could be cut down.
Hedwig and the Angry Inch, though, is so much more than the sum of its parts, technical or otherwise. It's more than a rock musical featuring both badass rock 'n' roll and gorgeous power ballads. It digs deep into the human condition, exploring our very humanness through one of the most unique and wonderful characters ever put on stage. We have all been Hedwig or have known a Hedwig. We've all struggled with our own identity and place in this world, to widely varying degrees of success or failure. Hedwig's story is all of our stories and it's told in a way that is endlessly surprising, entertaining, hilarious and heartbreaking, sometimes all at the same time.
Note: Hedwig contains adult language and frank discussions of adult situations. It is intended for mature/adult audiences only.
Hedwig and the Angry Inch runs through October 28th at the Pollard Theatre, at 120 West Harrison Avenue, in Guthrie, Oklahoma. During the first two weekends, showtimes are 8pm on Friday and 8pm and Midnight on Saturday. During the third weekend, showtimes are 8pm on Thursday, Friday and Saturday. Ticket prices range from $15 to $30 and may be purchased through the company's website, www.thepollard.org, by calling the box office at 405-282-2800, or by visiting the box office, open 10am - 5 pm Tuesday through Friday, 1pm - 5pm on Saturday, and one hour prior to curtain on show days.
Pictured: Matthew Alvin Brown. Photo by Joshua McGowen.