Lyric's HELLO DOLLY! is a Dazzling Summer Spectacular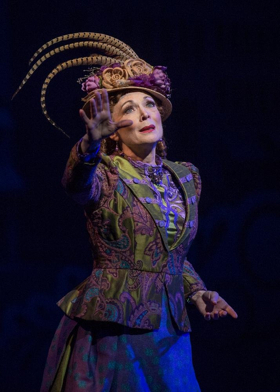 Sometimes, bigger is, in fact better. When Lyric Theatre takes up residence at the Civic Center Music Hall every summer, they capably fill that venue's enormous space. With their current production of Hello, Dolly! Lyric's entire team proves just how much big sets, big costumes, big cast size, big orchestra and big talent can all come together to create a perfect theatrical experience.
Based on the play The Matchmaker by Thornton Wilder, Hello, Dolly! is one of those beloved musicals that occupy a certain rarefied air in musical theatre history. The original Broadway production featured a classic and unforgettable performance by Carol Channing. She created one of the most iconic female lead roles in all of American musical theatre, one which has been filled by some of the greatest Broadway talents of our time. The original Broadway production also won 10 Tony Awards, which tied a record that held for almost four decades.
The Dolly of the title is Dolly Gallagher Levi, a sort of "professional meddler," by her own admission. She is a matchmaker, but also offers many other services, from ear piercing to dance lessons to varicose vein reduction. While teaching dance comes in handy often, it's matchmaking that she focuses on and she has as stellar record for setting people up and marrying them off. After we first meet her, she is working to find a wife for wealthy Horace Vandergelder, whom she actually intends to take for herself. At the same time, she is helping a young man, Ambrose, woo and marry Horace's niece, Emengarde. Horace's two employees, Cornelius and Barnaby, also become embroiled in Dolly's exploits when they escape from a day of work and visit New York City, where they meet Irene Molloy, who is supposed to marry Horace but does not want to, and her hat-shop employee, Minnie.
If it sounds like there's a lot going on, there is, but don't worry, it's handled perfectly in this book by Michael Stewart with music and lyrics by Jerry Herman. Nothing about the plot ever gets too complex or complicated and everything is handled in a very simple and straightforward way. There are definitely elements of farce here and they are also handled perfectly. Stewart's dialogue is witty and often laugh-out-loud hilarious. His slapstick is perfectly utilized and his door-slamming moments always make sense in context and are never there just as an excuse for a cheap laugh or sight gag.
Herman's music is also woven throughout the plot in wonderful ways. There are never groan-inducing moments where the singing comes out of nowhere. The music always works to enhance or further the storytelling. "Hello, Dolly" is of course the signature song, but there are other outstanding musical moments. "Ribbons Down My Back" is a lovely female solo. "Motherhood March" is a fabulous moment of music and song as a part of a hilarious comic sequence. "It Only Takes a Moment" is a beautiful love song and "Before the Parade Passes By" is an equally gorgeous ode to living life to the fullest before it passes us by.
With all these beautiful songs, and this enormous ensemble, it can be a tall order to pull it off perfectly, but Music Director David Andrews Rogers does just that. He keeps everything sounding just right and brings out the best in his singers. Matthew Sipress' choreography also gives the show many wonderful moments as Sipress keeps things light, lively and fun. There is an unfortunately interminable dance by the restaurant waitstaff at the beginning of act two, but one can only assume that it wasn't Sipress' choice to make it last that long.
Along with Rogers and Sipress, Director Ashley Wells has really done a fantastic job here in all aspects of this production. From the small moments that could easily be glossed over to the larger-than-life moments that involve every person on stage, she gives each beat its due and lets it land just right. One scene, for example, involving a person sitting at a table eating a meal, could last too long or be much too short. Wells makes it last the exact perfect amount of time. It's clear that she took great care in all of the details of this show and made sure that everyone involved accomplished the kind of greatness she wanted to achieve.
Also achieving greatness is Wells' spectacular cast. Dee Hoty is a force of nature as Dolly Gallagher Levi. Dolly is a master manipulator, a master at double-speak and subliminal messages, always finding ways to get people to do what she wants. She has a twinkle in her eye and an endless charm and charisma, all of which are perfectly brought to believable life by Hoty. Her comic timing is also impeccable, as are her singing voice and acting ability.
Hoty's equal is found in her male counterpart, George Dvorsky as Horace Vandergelder. While this character could be played in a very shallow or stereotypical way, as a sort of caricature, Dvorsky really gives Vandergelder wonderful depth and life. He also turns this reserved and miserly man into a truly lovable and often very funny character, one who has fabulous chemistry with Hoty's Dolly.
Also lovable and very funny is Matthew Alvin Brown as Cornelius, the shop clerk in his early thirties who has never been with a woman before. Brown gets a chance to really strut his comedic stuff here, from singing to slapstick to physical comedy. Brown always knocks it out of the park in his performances and he does so here, stealing many a scene, which says a lot considering the incredible star power around him.
One of those co-stars bringing the star power is Kristy Cates as Irene Molloy, who doesn't want to marry Horace and might find real love with Cornelius. Cates and Brown have fantastic chemistry and charisma together and make an adorable couple who are fun to watch. Cates also has one of the most purely gorgeous singing voices on stage and equals that talent with her great comic timing.
Virginia Newsome also has some of the best comic timing you'll see in her very funny role as Minnie. While the high pitched voice can be a little grating at times, she makes up for it with commitment to the role, energy, charisma and just being flat out hilarious. Gordie Beingessner is also hilarious as Barnaby, a role that gives him a chance to prove he has some extreme talent when it comes to physical comedy. As Ambrose Kemper, Jackson Walker has some nice comic moments but his love interest, Ermengarde is just about the most annoying character in musical theatre. The talented Megan Carpenter at least gives her all to that role. Ernestina Money is another weak character, mostly just a plot device, but Bailey Maxwell is really hilarious in a role that could just be annoying if played by a lesser actress.
There is nothing lesser about Lyric's technical elements in this production and they are all perfectly executed. Kimberly Powers' set design is big and beautiful, really creating the time and place without ever distracting from the action on stage. Just as wonderfully non-distracting is the lighting design by Helena Kuukka, always providing the right mood and atmosphere for the scene and never taking away from it. Jeffrey Meek's costumes are a sight to behold and may be worth the price of a ticket all by themselves. From the browns and plaids of the opening to the amazing bright colors of "Sunday Clothes," Meek has outdone himself.
As a whole, this production is professional theater of the highest level and a real joy to experience. Getting to see this kind of talent on stage and these kinds of professionals working together is something that should not be missed. The only thing not big enough about this production is the list of dates in the show's run.
Hello, Dolly! runs through Sunday, July 15th at the Civic Center Music Hall in downtown Oklahoma City. Remaining showtimes are 2:00pm on the 15th. Tickets may be purchased through Lyric's website at www.lyrictheatreokc.com or by calling (405) 297-2264.
Pictured: Dee Hoty. Photo by KO Rinearson.