BWW Review: GALLOW WALKERS Is A Must-See Creative Tour-de-Force At Shakespeare In The Paseo
One of the most creatively imagined productions the Oklahoma City arts scene has offered in recent memory...blurring the lines of genre - both musical and theatrical - by interweaving turn-of-the-century sideshow with modern-day circus and Americana folklore, GALLOW WALKERS: A PARANORMAL FOLK OPERA is unlike anything else you'll experience this spooky season, and is not to be missed.
While there isn't much of a plot to speak of, the moody, evocative songs blend together so strikingly with all the other creative elements on display that the audience is never at a loss for a visual and aural feast of the senses. Set in the rural southwest in an unspecified yet immensely specific time (the set and costumes suggest 1910s-1940s) the sparse yet wholly effective script tells the story of Jasper, a hangman-for-hire who falls in love with the elusive Lolita. Oh, did I mention they also may be hiding their true identities as a werewolf and a vampire? When you then throw into the mix the demonic Shadowman and an unnamed but ever-present Doll-like young woman who glides and twists through the air, you end up with a startling but intriguing evening of unexpected theatrical magic.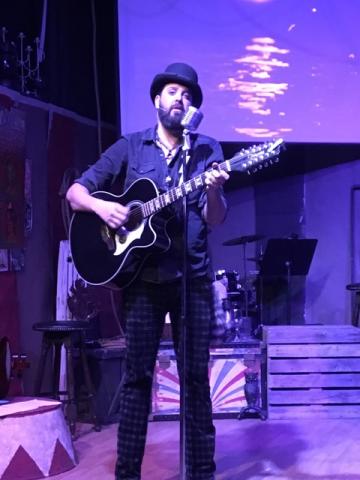 The mastermind behind this inventive spectacle is Michael Todd: the composer, lyricist, author, lead guitarist, protagonist, and all-around renaissance man for the new millennium. A musician who has toured all over the United States and Europe, Todd interweaves his preexisting songs with exciting new material to create this curious marvel of an show. Blurring genres from dust bowl folk, 1920s jitterbug, bluesy spirituals, and many more, each song's unique structure and style weaves together with the next to create a delightful musical smorgasbord. Todd's voice would feel equally at home in a smoky bar in the Wild West or on the Broadway stages of the Great White Way; he brings nuance and understated poignancy to each moment of his masterwork, and owns each refrain with the assurance of a truly compelling artist.
Which brings me to the rest of this company of artists...each performer brings their own unique skill - wholly unique but fitting together like a cog that keeps the wheel of this show rolling. Mateja Govich as the Shadowman serenades us with his richly textured baritone, while demonstrating impressive skills on the cello, adding a mournful soul to the fabric of the orchestrations. Jennifer Teel as Lolita possesses a voice of crushed velvet...smooth as silk, yet with jagged edges that bring out the repressed pain in her songs. Chelcy Harrell brings to mind the wispy remnants of forgotten a silent movie star as the unnamed aerialist - she shows off stupendous circus skills which are unparalleled in the Oklahoma City area. The instrumental talents of John Rouse, Amanda Fortney, and Ben Harrell - each playing multiple instruments and singing harmonies that make them an integral part of the storytelling and not simply a back up band. Both the direction by Michael Scott Gordon and the choreography by Hui Cha Poos are executed with an appropriately light touch: they allow the performers to shine on their own, guiding them where necessary but never impeding their creativity.
'Tying everything together is the delightfully macabre production design by Meghan Buchanan. Anchored by a large screen playing actual footage of early horror movies from the silent movie era - sometimes directly relating to the story but often simply creating a mood of tension and unease - Buchanan's set is full of vivid and layered details that deserve to be explored up close after the performance concludes.
Let me put it bluntly: you shouldn't miss Michael Todd's GALLOW WALKERS. Experience for yourself the bewitching alchemy this team has concocted...you'll be better off for it.
GALLOW WALKERS: A PARANORMAL FOLK OPERA plays at Oklahoma Shakespeare in the Paseo (2920 Paseo, Oklahoma City, OK 73103) through October 28th, 2017. Tickets can be purchased at the door, or online at www.MichaelToddMusic.com