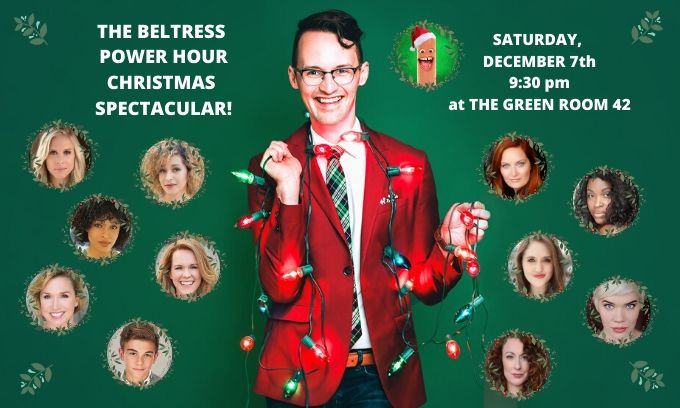 The Beltress Power Hour Christmas Spectacular! at The Green Room 4
Dates

12/7/2019

Theatre


570 Tenth Ave
New York, 10036
Twitter Facebook Instagram

Tickets Info

$20-$50
Phone: 646-707-2990




Christopher Metzger-Timson's hit show returns to The Green Room 42 to kick off the holiday season with a peppermint twist! Your favorite all-stars of The Beltress Power Hour are BACK and ready to belt out the most iconic Christmas tunes. The night will be filled with drinking games, audience participation, and, of course, a Power Hour Finale of the fiercest 60 seconds from all your favorite holiday songs! From Mariah to Whitney to Kelly to Babs- the belting is sure to impress while you sit back, relax, and put the spirit in holiday spirit!
Cast and Creative team for The Beltress Power Hour Christmas Spectacular! at The Green Room 4
Brandi Chavonne Massey (Wicked, Caroline, or Change)
Stephanie Gibson (R&H's Cinderella, Charlie and the Chocolate Factory)  
Blair Goldberg (Kinky Boots, Carrie)
Lexie Dorsett Sharp (School of Rock, The Addams Family)
Ximone Rose (Once On This Island)  
Holly Davis (Kinky Boots, Sister Act)
Amy Jo Jackson (NYC & Boston Cabaret Superstar)  
Alaina Mills (Beautiful)
Alex Kidder (Off-Broadway's A Dog Story)
Desireé Murphy (NSMT's The BodyGuard)
...and introducing our "Belter-in-Training": Sammy Dell (School of Rock)
With Special Guest, Instagram Sensation: @the.broadway.hotdog 
Musical Direction by Nolan Bonvouloir
Percussion by Ray Belli
Directed & Hosted by Christopher Metzger-Timson
The Green Room 4 Frequently Asked Questions
What shows are coming up next at The Green Room 4


Where is The Green Room 4 located?
The Green Room 4 is at 570 Tenth Ave, New York.
What shows have played recently at The Green Room 4