Photo Flash: Oscar Nominated Filmmakers Heidi Ewing & Rachel Grady Visit AWAKE AND SING
Oscar nominated filmmakers Heidi Ewing and Rachel Grady attended last night's acclaimed NY revival of Clifford Odets' 1935 masterpiece AWAKE AND SING! The two ladies were the first to leap to their feet at the conclusion of the show, leading the standing ovation.
Heidi Ewing and Rachel Grady produced and directed the hugely successful, current Netflix documentary ONE OF US, which stars AWAKE AND SING! cast member Luzer Twersky. Their other credits include JESUS CAMP (for which they both received Academy Award nominations), DETROPIA and THE BOYS OF BARAKA.
AWAKE AND SING! will conclude its acclaimed limited run this Sunday, December 24 at the Theater at the 14th Street Y, 344 East 14 Street (just west of First Ave.) The production officially opened December 6th to unanimous rave reviews led by Theater Pizzazz which hailed it as "a 21st century miracle!" A Yiddish version of AWAKE AND SING! was produced on Broadway by WPA's Federal Theatre Project in 1938 and it is this translation that is being performed in the current New Yiddish Rep revival with English supertitles.
The legendary Group Theatre presented the Broadway premiere of Clifford Odets' AWAKE AND SING! in 1935 and the play returned to New York three years later featuring a Yiddish-speaking cast directed by Jacob Mestel. This 1938 Federal Theatre production restored to the play some qualities it lost earlier when Odets' colleagues at The Group Theatre had asked him to tone down the Yiddish colloquialisms and syntax that were part of his New York ghetto characters' English. The playwright's initial impulse to let Jewish immigrants speak of struggle, poverty and survival in their own language and speech rhythms was realized anew in Chaver Paver's adaptation. Odets' distressed characters who longed for a life "not printed on dollar bills" could be heard speaking Yiddish nightly on Broadway, at Daly's 63rd Street Theatre, from December 1938 to April 1939.
Generally considered Clifford Odets' finest play, AWAKE AND SING! is the story of the Bergers, a lower-middle-class, three-generation Jewish family living in a Bronx apartment during the Depression. The play recalls that this country was founded as the land of opportunity for immigrants who came with an enduring belief in the American dream.
Under the direction of New Yiddish Rep artistic director, David Mandelbaum, the international cast of AWAKE AND SING! features Ronit Asheri (star of Yiddishpiel Theater), Amy Coleman (original productions of BEEHIVE and THE LAST SESSION), Lea Kalisch (COCOADIOS, BOUNTIFUL), Mira Kessler (GOD OF VENGEANCE), Moshe Lobel ("Untold Genius"), David Mandelbaum (WAITING FOR GODOT, YENTL), Eli Rosen (RHINOCEROS), Israeli film star Gera Sandler (A FILM UNFINISHED, JELLYFISH, A TALE OF LOVE AND DARKNESS), and Luzer Twersky ("Transparent," ONE OF US).
New Yiddish Rep is dedicated to creating modern theater which speaks to a diverse contemporary audience, including those who never might have thought they could connect to a performance in a language other than their own.
The final five performances of AWAKE AND SING! are tonight through Saturday at 7:30 pm, with matinees Saturday & Sunday at 2 pm. Tickets are available through www.NewYiddishRep.org or by calling 646-395-4310.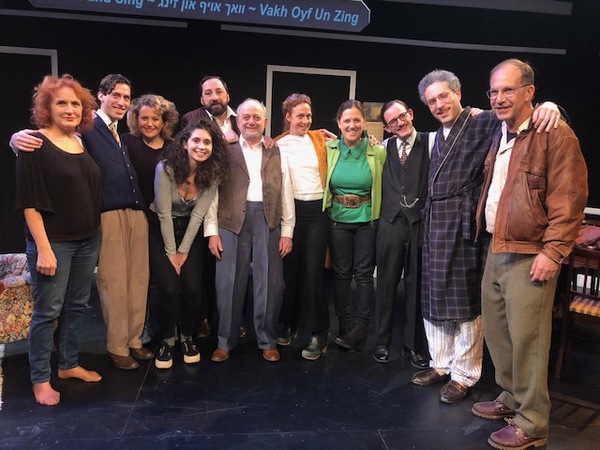 Rachel Grady & Heidi Ewing surrounded by the AWAKE AND SING! Company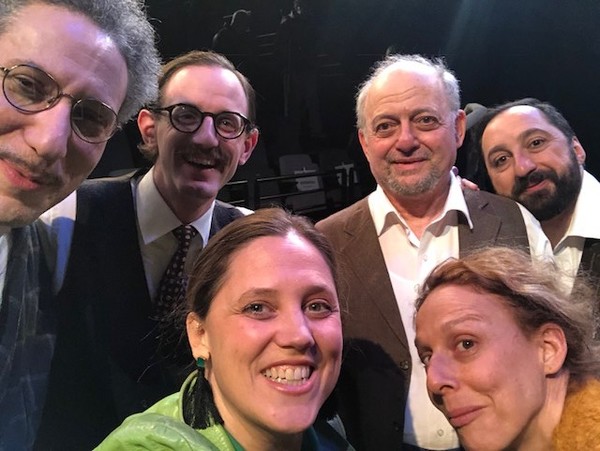 Eli Rosen, Luzer Twersky, Heidi Ewing, David Mandelbaum, Rachel Grady, Gera Sandler

Heidi Ewing, David Mandelbaum