Jenne Vath And Steven Hauck Join Cast Of THE DRAGON GRISWYND At This Summer's Dream Up Festival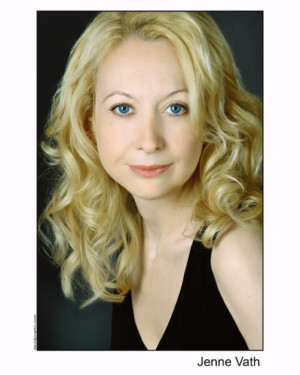 Jenne Vath and Steven Hauck join the cast of THE DRAGON GRISWYND, Carrie Robbins' playful and poignant fairy tale for all ages. The one-act will have its world premier in the Community Space Theater at The Theater for the New City, Crystal Field (Artistic Director), as part of the 2018 Dream Up Festival, committed to wide-ranging, original theatrical visions. THE DRAGON GRISWYND is based on a story by RD Robbins.
Griswynd, millenia old, last dragon on earth, lives in a burned-out volcano. The Humans have damaged Earth beyond repair and fled with the animals to a new planet they named EarthAgain. But they forgot one creature - this ancient dragon, left behind to ponder his lonely fate. Suddenly, a research android, sent by the Humans, enters Griswynd's lair! And then another! Now Griswynd's campaign to remedy his loneliness and hitch a ride to EarthAgain begins ...
Ms. Vath* takes the role of Research Android T22EA-F, also known as Marcia, one of Griswynd's two android visitors. Vath's previous work with Ms. Robbins include SAWBONES/THE DIAMOND EATER (NYITAward Nominee) directed by Tazewell Thompson, OBSESSIONS OF AN ART STUDENT and LE WEDDING DRESS (NYNW), THE ACTRESS (Thespis), and THE DEATH AND LIFE OF DR. CUTTER (Goddard Center). Previous work at Theater for the New City includes PRAGUE 1912, LINCOLN ON HESTER STREET, FEAR ITSELF, THE EXPERIMENTALS at TNC's Annual LES Festival (2007-2018), all directed by George Ferencz. 2018 work includes Regeneration Theater, La MaMa, Yorick Theatre, and Jim Freeman's film RISEN.
Research Android T22-EA-M, who goes by the nickname Frank, is played by Mr. Hauck*. Hauck has appeared on Broadway in THE VELOCITY OF AUTUMN and IRENA'S VOW. Off-Broadway credits include ONE ARM(New Group/Moisés Kaufman, director), THE SCREWTAPE LETTERS(Westside Theater), and CROSSING SWORDS (Outstanding Performance Award/New York Musical Theater Festival.) He has featured roles in the Spike Lee Joints OLDBOY, THE SWEET BLOOD OF JESUS, and the Netflix series SHE'S GOTTA HAVE IT. Other film credits include COLLATERAL BEAUTY, OCEAN'S EIGHT, and THE EYES. TV: Baz Luhrmann's THE GET DOWN, Tina Fey's 30 ROCK, and UNBREAKABLE KIMMY SCHMIDT, MR. ROBOT, THE BLACKLIST, ELEMENTARY, THE AMERICANS, AND THE MARVELOUS MRS. MAISEL.
The Dragon Griswynd is played by New York native Charles Turner*, an accomplished actor on stage and screen, who is often the understudy for James Earl Jones and has spent much of the last few Broadway seasons in YOU CAN'T TAKE IT WITH YOU at Lincoln Center's Beaumont, ON GOLDEN POND with Leslie Uggams, A TRIP TO BOUNTIFUL with Cicely Tyson, and THE GIN GAME, also with Cecily Tyson. Turner has gone on for Mr. Jones many times.
THE DRAGON GRISWYND is directed by Joseph R. Sicari, who has directed Leslie Uggams, Doris Roberts, Ed Asner, Harold Gould, Pat Harrington, Larry Pressman, Barbara Bain, and Bonnie Franklin in productions of PLAZA SUITE, THE SUNSHINE BOYS THE CREATION OF THE WORLD AND OTHER BUSINESS, THE PRICE, ROUND AND ROUND THE GARDEN (Dramalogue Award - Best Direction), George Furth's MUSIC MINUS ONE, and CARNIVAL among many others.
THE DRAGON GRISWYND is Stage Managed by Lisa R. Stafford*.
THE DRAGON GRISWYND will run for eight performances:
Thursday, September 6 at 6:30 pm
Saturday, September 8 at 3:30 pm and 8 pm
Wednesday, September 12 at 6:30 pm
Friday, September 14 at 9 pm
Saturday, September 15 at 3:30 pm and 8 pm
Sunday matinee, September 16 at 3:30 pm.
All performances will be held at Theater for the New City's Community Space Theater, 155 1stAvenue (9th/10thStreets), New York City.
Tickets are $20 at the door or through Smarttix: https://www.smarttix.com/Modules/Sales/SalesMainTabsPage.aspx?ControlState=1&SalesEventId=7952&DC=
THE DRAGON GRISWYND is an Equity Approved Showcase.
* Equity Member appears with permission of Actors' Equity Association.
Presented by Theater for the New City, Crystal Field (Artistic Director) as part of the Dream Up Festival in association with Days of the Giants, LLC www.daysofthegiants.com
Related Articles View More Off-Off-Broadway

Stories

Shows
More Hot Stories For You