Gabi Shook To Headline Improvised Musical ON THE SPOT
The performance is at 8 pm on Monday, October 10th.
On The Spot, the now 7-year-running improvised musical comedy show, is turning Monday night into an institution at the Broadway Comedy Club, and this month is partnering with Gabi Shook (Bullets over Broadway and Beauty and the Beast at The Barn Theatre) to create a night of spontaneous theatre like no other.
For tickets and more click here: linktr.ee/onthespotnyc
In their usual format, On The Spot casts multiple singers to perform songs that inspire the show's improv actors (who are hearing the pieces for the first time on the night) to create the book to a musical. On this occasion, Gabi will be responsible for providing the show's music. With every song she sings, the performers will have to, with no prior preparation, string together a coherent show... on the spot.
On The Spot has, in the past, featured such guest singers as Christine Dwyer (Wicked), Matt DeAngelis (Waitress), Ashley North (Kinky Boots), and Jelani Remy (Ain't Too Proud). They have been unanimously praised by critics, even going so far as to be called "The funniest improv show in NYC," by Popdust.
Gabi Shook is an actor-singer. Her credits include Elf the Musical at Great Plains Theatre, Bullets over Broadway and Beauty and the Beast at The Barn Theatre, as well as Heathers at Beck Center for the Arts. This is not of her first appearance at On The Spot, having appeared with them on multiple occasions throughout the years. Her turn as headliners is highly anticipated by the cast and production team.
"Gabi always delivers a great show," enthuses On The Spot producer Nathan Armstrong, "We fully expect this show to be a complete and total party."
The performance, which will take place at 8 pm on Monday, October 10th at the Broadway Comedy Club, will feature members of On The Spot's rotating improv cast. They will include Alison Wien (Drunk Shakespeare), John Xavier Miller (Black Guys Matter), Teresa Morrison (Lady in the Peach Dress), and Andrew Del Vecchio (Comedy Hall of Fame). Musical accompaniment will be provided by Oliver Glynn. Technical direction and scene calls will be made by Thomas Burns Scully. On The Spot is produced by Nathan Armstrong and Patrick Reidy.
The Broadway Comedy Club is located at 53rd and 8th in Manhattan, with Subway access from Columbus Circle, 57th-7th, and 50th-8th.
Tickets $15
| | |
| --- | --- |
| Vote Now for the 2022 BroadwayWorld Off-Broadway Awards | |
| voting ends in | |
More Hot Stories For You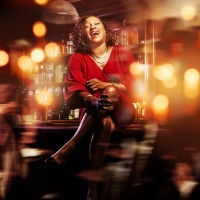 THE WIFE OF WILLESDEN Extends at the Kiln Theatre and Sets New York Premiere

December 9, 2022

Kiln Theatre has announced a two-week extension for Zadie Smith's critically acclaimed smash-hit The Wife of Willesden due to public demand – now running at Kiln Theatre until Saturday 11 February 2023. Directed by Artistic Director Indhu Rubasingham, the production sees Clare Perkins reprising her role as Alvita.
---
STEALING MONA LISA Comes to Theater For The New City This Month

December 9, 2022

August 21, 1911, wasn't just another day at the Louvre in Paris. Security guards discovered that the Mona Lisa, at a time when art work was being photographed, was missing. Who took the Mona Lisa? The cry spread across newspapers and nations.
---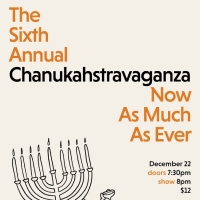 The Sixth Annual Chanukahstravaganza Comes to Littlefield This Month

December 8, 2022

Lana Schwartz and Ilana Michelle Rubin are two Jewish (you might have guessed), native New Yorkers who always get pretty lonely around the holiday season. For the sixth year in a row, they've invited some of the funniest Jewish comedians in New York City (where else?) to help them celebrate the Miracle of Lights: Chanukah. Hannukah. Hanukah. However you choose to spell it. There will be songs, there will be laughter, there will be surprises, and you know there will be gelt. Lots of gelt. Tons of it.
---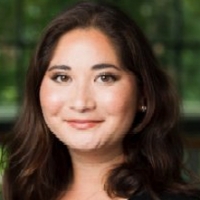 Einhorn Prize Reading Announced At Triad Theater, December 11

December 7, 2022

On Sunday December 11 at 2pm, there will be a presentation of the winners of the first David A. Einhorn Playwriting Prize The event will be held at the Triad Theater, 158 W. 72nd Street. The event will run 90 minutes and include readings of the 1st and 2nd prize winners, some words about David Einhorn, and a talkback on the topics addressed by the plays.
---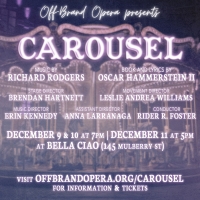 Off-Brand Opera Presents CAROUSEL, December 10 & 11

December 7, 2022

Off-Brand Opera returns this fall with a fresh take on Carousel, the beloved Rodgers & Hammerstein classic. Carousel will be presented with a fresh take on the classic work, featuring performers from a variety of artistic backgrounds in restaurant Bella Ciao's intimate basement cabaret space.
---