York Theatre Company Presents Developmental Reading Of OMG...BROADWAY!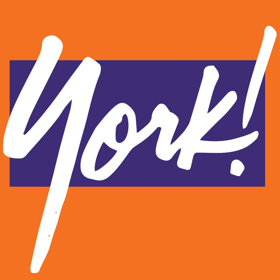 The York Theatre Company (James Morgan, Producing Artistic Director; Evans Haile, Interim Executive Director; David McCoy, Chairman of the Board), dedicated to the development of new musicals and the preservation of musical gems from the past, as part of its acclaimed Developmental Reading Series, will present the staged reading of OMG...BROADWAY!, a whimsical and wacky musical sending up of the business show with book, music and lyrics by Karlan Judd (Cheer Wars) for two performances only on Friday, August 11, 2017 at 1:00 p.m. and 4:00 p.m. at The York Theatre Company at Saint Peter's (619 Lexington Avenue, entrance on East 54th Street, just east of Lexington Avenue).
The readings are open to the public with a $10.00 advance reservation fee for each reading (Complimentary for York Theatre's Plus Members; $5 for York Theatre Members). Reservations can also be made on the day of the reading (pending availability) for a suggested $5.00 donation in person at the box office. Directed by York favorite
Bill Castellino
(Cagney, Marry Harry), and with music direction by
Ron Abel
(Me & Ella), the seven-member cast will feature Nicholas Barnes (Skippyjon Jones, Greenwillow),
Ally Bonino
(Merrily We Roll Along, Myths and Hymns),
Joy Franz
(Les Liaisons Dangereuses, Into the Woods, Assassins),
Jay Rogers
(
Once Upon a
Mattress, When Pigs Fly), Tristan Shuler (Spamilton),
Robin Sky
e (Marry Harry, Southern Comfort, Parade), and
Ari McKay Wilford
(Once, Gotham). The Production Stage Manager is
Shanna Allison
. When the outrageously talented and fresh-faced Mumzy Taylor is unfairly rejected from her dream role in the Broadway megahit Serpent of the Opera, she retreats into her own madcap and delusional world. Stuck slinging hash at the Broadway Diner, Mumz wanders down the Road of Bat**** Crazy. Thirty years later, three young actors give her the chance to exact revenge on the one person who ruined her life. It's a zany ride-and wait, could that be someone's pinky lying on the stage? Anything can happen on Mumzy's Great White Way.
Karlan Judd
(Book, Music, and Lyrics) is a musical theatre writer and composer originally from Phoenix, Arizona, currently living in New York City. His musical Cheer Wars (co-written with
Gordon Leary
) won the
Richard Rodgers
Award for Musical Theatre. Other musicals include Marnie's Musical (with Gena Oppenheim), Hunger: still lifes from the Donner Party Expedition (Selection at 2009 Chicago Stages! Festival), Mrs. Smith Goes to Washington, Lemonade and The Case of the B-Team Cheerleader. His work has been performed in NYC at The Henry Longacre Theatre, The Peter Norton Space,
Joe's Pub
,
Symphony Space
, The Triad Theatre, The York Theatre and The D Lounge. He has completed residencies at
Goodspeed Musicals
, CAP21 and the Berkshire Playwrights Lab. His choral music is published by Yelton-Rhodes Music (www.yrmusic.com). His choral work "We, in memory of Brandon Teena,
Matthew Shepard
, and James Byrd" has been performed by several choruses and as part of anti-hate demonstrations.
Bill Castellino
(Director) has directed the world premiere productions of Cagney (NYC, FL, Toronto, LA), Soulmates (LV, FL), Great Divorce (NY, National Tour), Grumpy Old Men (Winnipeg), Jolson at the Winter Garden (FL, LA), Dr. Radio (
Florida Stage
), Lizzie Borden (Goodspeed), Heartbeats (
Pasadena Playhouse
, FL, Goodspeed,
Cleveland Playhouse
), Miklat (
Florida Stage
), Fishwrap, A House Divided (TN Rep), The Singing Weatherman, Happy Holidays (
Pasadena Playhouse
), Presidents (National Tour), How to Be an American! (York), Real Actors of NYC, Crash Club, Another Summer, Hats Off (Boston), New Punims (FL, Boston), and Breathe, among others. Other credits include Marry Harry (York), Storyville (York), Ionescopade (LA, DC, York), Tarzan (Regional Premiere), Rent (Regional Premiere), Nightclub Cantata (LA), Gypsy, Rap Master Ronnie (LA, Chicago, DC, FL, Boston), The Rocky Horror Show, The 25th Annual Putnam Country Spelling Bee, Carousel, The Mystery of Edwin Drood, Godspell, La Cage aux Folles, The Music Man, West Side Story, Joseph and the Amazing Technicolor Dreamcoat, Tommy, Mardi Gras & The Last Word (NYC), Little Shop of Horrors, Beehive, Evita, Oliver, Cabaret, Abyssinia, The Last Five Years, Spitfire Grill, Smokey Joe's Cafe, Hair, Slab Boys, and Nunsense, among others. Tours: Fame, Jolson, Chess, Esther. Television: Stop the World-I Want to Get Off (A&E), "Bell'Aria" (PBS), "The Presidents" (PBS), and Rap Master Ronnie (Show time). Castellino has written eight musicals and twelve revues; he has produced and directed countless special gatherings, civic celebrations and corporate events. Awards: Outer Critics Circle, Jefferson, Telly, LA Weekly, Drama-Logue. Nominations: Lortel, Carbonell. Member: SDC, AEA, DG, AFTRA.
Ron Abel
(Music Direction) is an award-winning composer, producer, and musical director who has worked with everyone from opera diva
Jessye Norman
to pop diva
Taylor Dayne
. He has created nightclub and concert acts for stars including
Lucie Arnaz
,
Michele Lee
,
Shirley Jones
, and
Valarie Pettiford
. Ron has also been seen on
Fran Drescher
's TVLand series "Happily Divorced" playing himself! He has written the scores for the award-winning musicals Twist of Fate and Rockwell and is currently developing Hazel: A Musical Maid in America, Bricktop, and Reintroducing Laurette Bishop.
The York's Developmental Reading Series presents over 30 readings and workshops of new musicals by emerging and established authors throughout the year, a vital part of the writing process. The strong commitment to developing new work is an important part of what makes the York unique in the musical theatre community. The series serves as an incubator for shows to be considered for Mainstage productions, thus serving the York's unique mission of taking new musicals through the complete development process to full production. Projects developed through the series have included Broadway's Avenue Q and In Transit and the York's Cagney.
York Theatre Company
offers the York! Membership Program, an exclusive membership package for as low as $75.00-with elite benefits that includes a 30% discount on tickets to York Theatre Productions, exclusive member pre-sale opportunities, 50% off on all lobby concessions, 20% off on all lobby merchandise, in addition to special member-only receptions. The York also offers a York Plus! Membership Program with additional perks, including complimentary tickets to Mainstage productions and invites to several VIP-only presentations throughout the season. For additional information, please visit
www.yorktheatre.org
.
The
York Theatre Company
is the only theatre in New York City-and one of very few in the world-dedicated to developing and fully producing new musicals and preserving neglected, notable shows from the past. For over four decades, York's intimate, imaginative style of producing both original and classic musicals has resulted in critical acclaim and recognition from artists and audiences alike. Under the guidance of Producing Artistic Director
James Morga
n since 1997, the York has focused on new musicals in its Mainstage Series-most of them world, American, or New York premieres-by some of the field's most esteemed creators, and has also helped launch the careers of many talented new writers. Over 35 cast recordings from
York Theatre Company
productions are now available on CD, including its acclaimed revival of Closer Than Ever (2013 Off-Broadway Alliance Award for Best Revival); commercial transfers of such York premieres as The Musical of Musicals (The Musical!), Souvenir (Tony Award Nomination for actress
Judy Kaye
), and Jolson & Company, and revivals of Pacific Overtures and Sweeney Todd (four Tony Nominations including Best Revival) have all showcased the importance of the York and its programs. Recent New York premieres have included Marry Harry, A Taste of Things to Come, and Rothschild & Sons. News of past shows that premiered at The
York Theatre Company
: the critically acclaimed musical Yank, which received its Off-Broadway debut at the York in 2010, has just opened to rave reviews in London. And, it was recently announced, the original York Theatre/Off-Broadway cast of the hit musical Cagney, which received its New York premiere in 2015 and subsequently transferred to the Westside Theater, will begin performances in the fall in Los Angeles.