'WICKED CLONE' to Offer Pure Bottled Blood Imported from Transylvania on Opening Night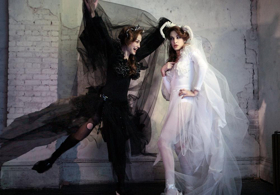 Grammy Award-winning composers Mihaela and Gabriela Modorcea (Indiggo Twins) identical twin sisters born in Transylvania, will present the opening night celebration of their new cinematic musical WICKED CLONE or HOW TO DEAL WITH THE EVIL, at St. Luke's Theater (308 West 46th Street).
The celebration will come complete with the purest bottled blood, imported from Transylvania by their father, Vald the Impaler, who has come to New York City for the first time, to see his daughters perform on stage at St. Luke's Theater.
Based on their Barnes & Noble Art Bestselling novel of the same title, created, written and performed by Indiggo Twins, the production turns the age-old vampire cliché upside down, revealing who and what vampires truly are through an original true story.
WICKED CLONE or HOW TO DEAL WITH THE EVIL is the tale of a vampire bitten by a human being. Born without a heartbeat, memories or Inspiration, Mihaela runs from Transylvania to New York and pulls her fangs out in order to love and become a human. Her "Wicked Clone" twin sister Gabriela follows her through space and time to bring her back to her vampiric roots.
Featuring fairy tale elements of traditional Transylvanian folklore with themes related to Goethe's Faust, Ibsen's Peer Gynt or Dante's Divine Comedy, WICKED CLONE or HOW TO DEAL WITH THE EVIL is the compelling story of two identical twin sisters born in Transylvania in 1483, who live and work in NYC today - It is a rebirth for spectators eager to join The Twins' Immortal Ride!
WICKED CLONE or HOW TO DEAL WITH THE EVIL is a "cinema musical," a blend of theater and film that aims to transport the audience deeper into the story. The twins will be performing 21 pop-gypsy compositions & hot-blooded choreographies wearing royal garments of Transylvanian inspiration.
Indiggo Twins is comprised of multi-talented identical twin sisters Mihaela and Gabriela Modorcea - Romanian-born American professional actresses, singers, writers, composers, dancers, music producers. Several top music producers have written with and for Indiggo Twins including Swizz Beatz (Beyoncé, Jay-Z), Rockwilder (Christina Aguilera), Peter Zizzo (Celine Dion, Avril Lavigne), and Paul Oakenfold (Madonna). ?Their original song "LA LA LA" was featured and credited on the multi-platinum and 4 times GRAMMY award-winning album "Watch The Throne" of Jay-Z and Kanye West, specifically on "Murder to Excellence" which is widely considered and reviewed as "the centerpiece of the album." (The New York Times). The song earned the sisters a spot on Complex Magazine's Top 20 Best White Vocals in Rap History list. The Mordorcea sisters both graduated with honors from the National University of Theatrical Arts and Cinematography, Bucharest, Musical Theater.
Book, lyrics, music and choreography by Indiggo Twins. Performances of WICKED CLONE are every Sunday at 7:30 PM. Tickets are $39.50 - $49.50 and can be purchased through Telecharge.